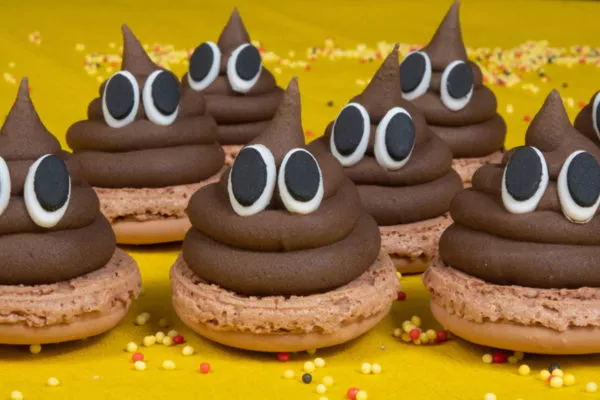 Mini poopy macarons
Do you want to bake macarons? With this recipe we let you know how to make the tastiest macarons in a fun jacket!
What you need to make your mini poopy macarons:
Ingredients
300 g FunCakes Mix for Macarons
125 g FunCakes Mix for Buttercream
FunColours Gel - Brown
FunCakes Fondant Bright White
FunCakes Fondant Raven Black
150 g unsalted butter
125 ml water
70 g egg white
Necessities
FunCakes Edible Glue
FunCakes decorating bag
FunCakes icing sugar
Wilton decorating tip #12
Wilton decorating tip #10
Wilton perfect height rolling
Patisse Macaron Bakingmat
PME Oval plunger cutter set/3
Preheat the oven to 150°C (convection oven 130°C)
Prepare 300 g FunCakes Mix for Macarons as indicated on the package. Colour the batter brown with the FunColours Gel. Place tip #12 in a decorating bag and fill it with the batter.
Place the macaron mat on a baking plate and pipe dots in the circles. Tap the baking tray with the macaron mat a few times on the table and let it dry by air for 2 hours. Bake the macarons for 15 minutes. Let them cool down on the baking mat before removing them.
Prepare 125 g FunCakes Mix for Buttercream as indicated on the package. Colour the buttercream brown with the gel and fill a decorating bag with tip #10.
Roll out the black and white fondant thinly and use the oval plunger cutters to cut out the eyes and the pupils and stick them on each other with some edible glue.
Place the macarons with the bottom facing you on your working surface and pipe swirls with the brown buttercream. Finish the poopy macarons with the eyes. Keep them in the fridge until you serve them.
Just a little while before you can enjoy your macarons. Don't forget to share your creation:
#funcakesbyme