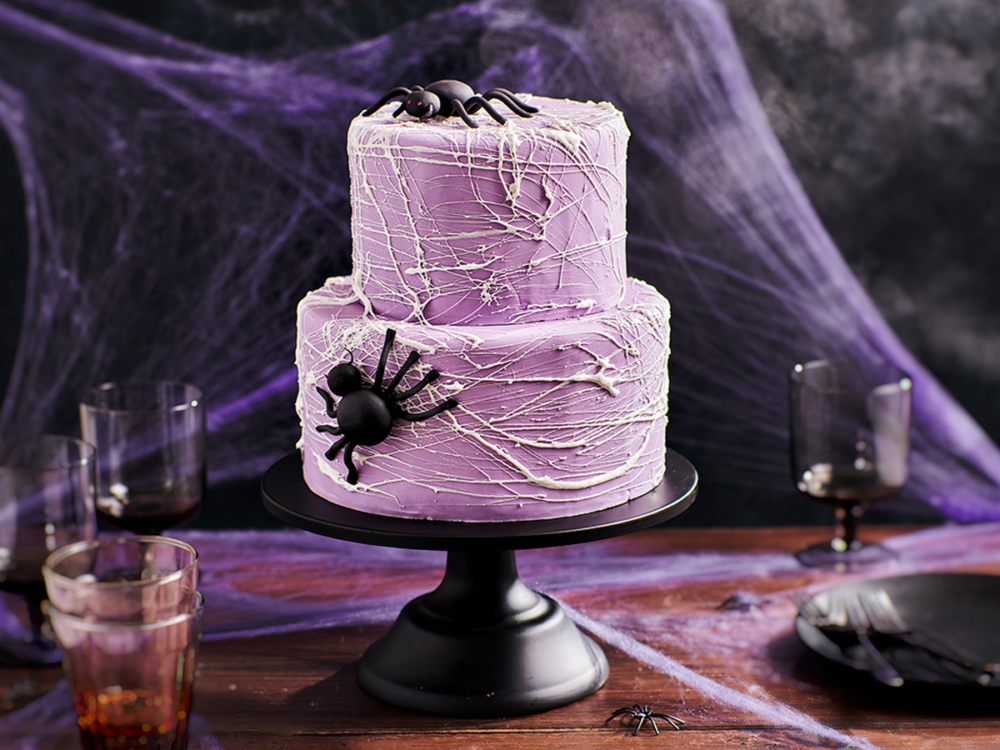 Spiderweb cake
Do you want to make an impressive cake for Halloween? And do you want to scare everyone but also be able to snack during your Halloween party? Then go for this spider web cake. Spiders ready, set, go!
1 hour and 50 min. preparing
What you need to make your spiderweb cake:
Ingredients
400 g FunCakes Mix for Sponge Cake Deluxe
300 g FunCakes Mix for Buttercream
800 g FunCakes Sugar Paste Pastel Lilac
100 g FunCakes Sugar Paste Black
FunCakes Nonpareils Red
FunCakes CMC - Tylo Powder
FunCakes Flavour Paste Raspberry
FunCakes Edible Glue
375 g unsalted butter
340 ml water
6 eggs (approx. 300 g)
Big bbq marshmallows
Jam of your choice
Necessities
FunCakes Cake Boards Silver/Gold - Round - 15cm pk/3
FunCakes Bake Release Spray
Wilton Decorator Preferred® Deep Baking Pan Round Ø 20x7.5cm
Wilton Decorator Preferred® Deep Baking Pan Round Ø 15x7.5cm
Wilton – Wide Glide – Rolling Pin 50 cm
Wilton Cake leveler 25cm
Wilton Cooling grid
Wilton Basic Turntable
Wilton Decorator Preferred Spatula with Angle 22.5 cm
Wilton Plastic Dowel Sticks set/4
PME Long Plastic Scraper
Plastic gloves
Knead the black sugar paste smoothly with a pinch of FunCakes Tylo Powder and make two large spiders with it. Use red nonpareils for the eyes. Stick the spider together with some edible glue and ideally let it dry for two days.
Preheat the oven to 180°C (convection oven 160°C).
Prepare 400 g FunCakes Mix for Sponge Cake Deluxe according to the instructions on the package. Grease the baking pans with bake release spray and divide the batter between the two baking pans. Bake the biscuits for about 30-35 minutes and immediately after baking, turn them onto a cooling grid and let them cool down.
Cut the biscuit both twice with the cake leveler. Fill them with jam of your choice and buttercream. Cover the cake all around with a thin layer of buttercream, let it set for half an hour in the fridge and cover the cakes with the lilac fondant.
Stack the cakes on top of each other with gold/silver cardboard and dowels cut to size.
Place some large marshmallows in a microwave safe bowl and melt them for about 30 seconds until melted.
Put on the plastic gloves and take a scoop of marshmallows between your hands. Pull your hands apart a few times to create 'threads'. Fold these 'threads' around the cake, repeat this until you are satisfied. Finish the cake with the large spiders.
Just a little while before you can enjoy your cakes. Don't forget to share your creation:
#funcakesbyme