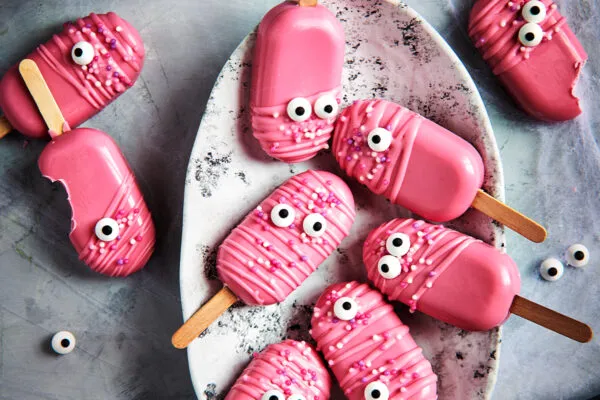 Halloween cakesickles
Get into the Halloween spirit with these pink cakesickles. With the drizzle and eyes, they look just like mummies! Make them with Raspberry-flavoured Deco Melts or any of the other Deco Melts flavours.
1 hour and 30 min. preparing
What you need to make your halloween cakesickles:
Ingredients
640 g FunCakes Mix for Cake Brownie
500-600 g FunCakes Deco Melts - Raspberry Flavour
100-125 g FunCakes Chocolate Melts Dark
FunCakes Candy Eyeballs Set
FunCakes Nonpareils Lots of Love
3 eggs (ca. 150 g)
135 ml water
70 g soft unsalted butter
Necessities
FunCakes Decoration Bags 30 cm
FunCakes Baking Cups White
Wilton Recipe Right® 12 Cup Muffin Pan
Silikomart Silicone Ice Cream Mould Classic Mini
Preheat the oven to 180°C (convection oven 160°C).
Prepare 640g FunCakes Mix for Cake Brownie as indicated on the package. Divide the baking cups between the muffin baking pan. Spoon the batter into the baking cups and bake the cakes for about 20-25 minutes. If you have any batter left over, bake a second time. Let the cakes cool completely.
Melt the FunCakes Deco Melts Raspberry Flavour in the microwave according to instructions on the package, but don't let it get too hot.
Using the rounded side of a teaspoon or a brush, spread a layer of Deco Melts on the ice cream mould, insert the stick and leave to set in the fridge for 10 minutes. Repeat this 2 more times so you get a good thick layer. In between, you will need to reheat the Deco Melts a little.
Crumble 8-10 brownie cupcakes in a bowl (you can eat the rest or freeze them) and add some melted dark chocolate melts. Add just as much until you obtain a smooth dough. Push some of the dough into the ice-cream mould smeared with Deco Melts, making sure the dough does not rise above the edge. Cover the dough with a layer of melted Deco Melts and put in the fridge to stiffen. After this, carefully remove them from the mould and repeat the process until you have enough cakesickles.
Place all the 'ice creams' next to each other and put some melted Deco Melts in a decorating bag. Cut a small tip from this and drizzle the Deco Melts over the cakesickles. Decorate immediately with nonpareils and eyes.
*You don't need to keep them in the fridge.
Just a little while before you can enjoy your treats. Don't forget to share your creation:
#funcakesbyme