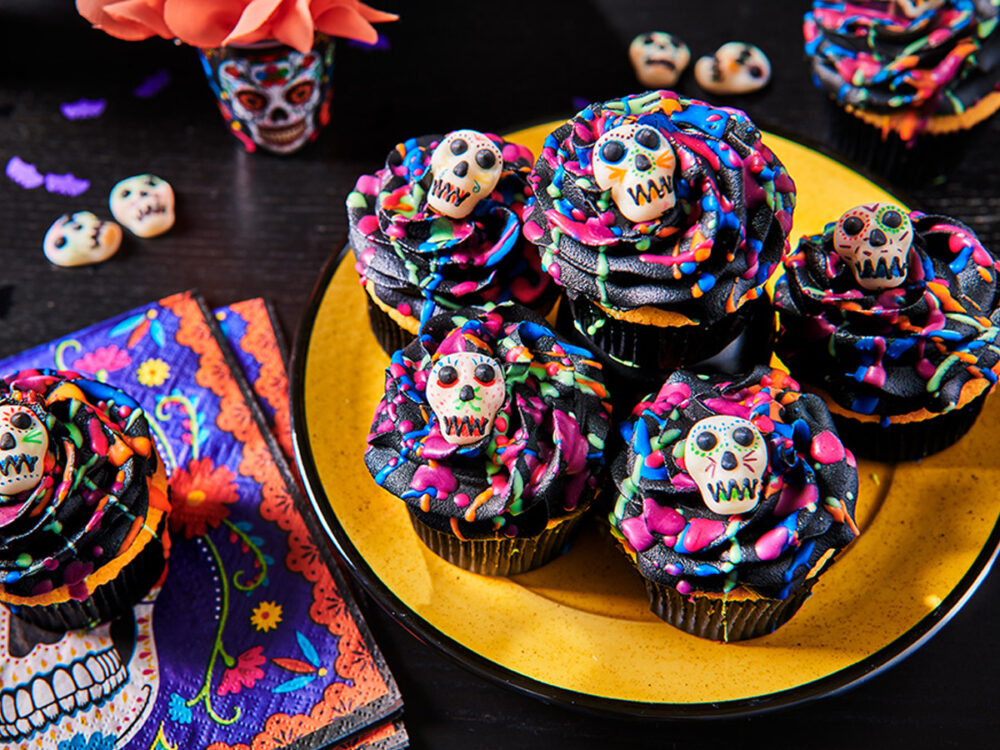 Halloween splash cupcakes
Step into the enchanting Halloween world with our eerie Halloween Splash Cupcakes! These vibrant treats feature a luscious buttercream swirl topped with a spooky skull, and of course, the thrilling splash awaits. Your guests are in for an adventure like no other! 👻
1 hour and 10 min. preparing
What you need to make your halloween splash cupcakes:
Ingredients
500 g FunCakes Mix for Cupcakes
200 g FunCakes Mix for Buttercream
FunCakes Flavour Paste Tonka Bean
FunCakes Choco Drip Purple
FunCakes Choco Drip Hot Pink
FunCakes Choco Drip Royal Blue
FunCakes Choco Drip Spring Green
FunCakes Choco Drip Orange
FunCakes Food Colour Gel Black
FunCakes Sugar Paste Decorations Skull Set/8
FunCakes Edible Pen Primary Colours Set/5
FunCakes Edible Pen Purple
FunCakes Edible Pen Pink
500 g zachte ongezouten roomboter
200 ml water
5 eggs (approx. 250 g)
Necessities
FunCakes Decorating Bags
Wilton Decorating Tip #1M Open Star
Wilton Recipe Right® Muffin Baking Pan 12 cupcakes
FunCakes Baking Cups Black
*Ideally, make the black buttercream a day in advance. Prepare 200 g FunCakes Mix for Buttercream as indicated on the package. Flavour with the FunCakes Flavor paste Tonka Bean and colour it with the FunCakes Food Color Gel Black. Set aside overnight so the colouring can soak in well.
Color the skulls with the edible markers as you see fit.
Preheat the oven to 180°C (convection oven 160°C) and divide the baking cups among the muffin tray.
Prepare 500 g FunCakes Mix for Cupcakes as indicated on the package. Divide this among the baking cups and bake the cupcakes for about 19-23 minutes until light brown and cooked. Let them cool from the muffin tray on the countertop.
Mix the black buttercream well with the mixer and put it in a decorating bag with tip #1M. Make nice swirls on the cupcakes and let them set in the refrigerator for an hour.
Melt the FunCakes Choco Drips according to instructions on the package in the microwave and drizzle each colour over the black swirls. Decorate with a coloured skull.
Just a little while before you can enjoy your cupcakes. Don't forget to share your creation:
#funcakesbyme