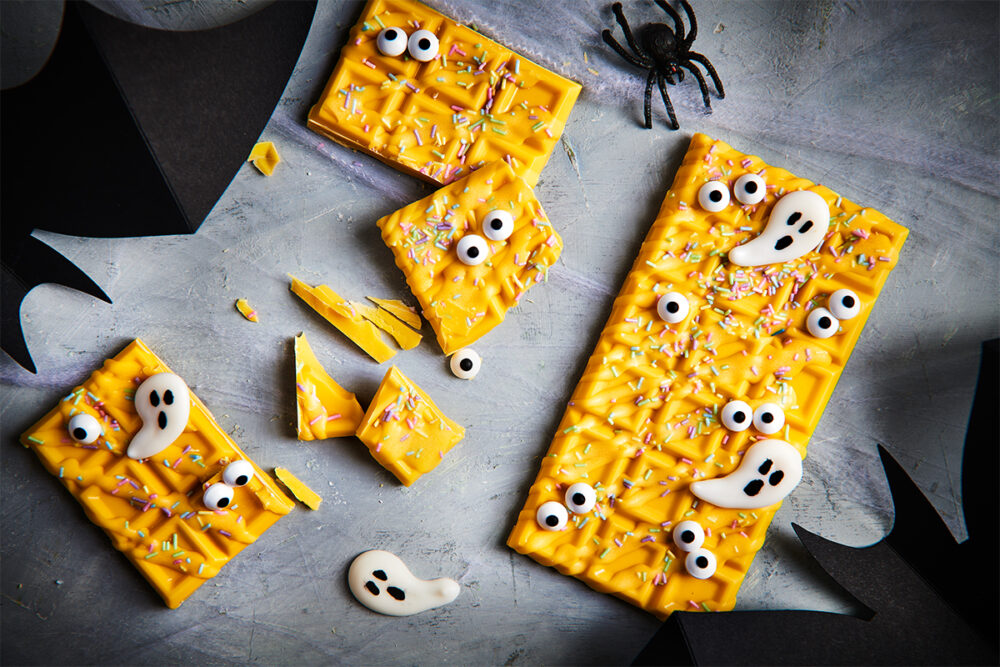 Halloween candy bar
A Halloween treat doesn't have to look scary to be 'spooky'. With a few decorative eyes and ghosts, you can make these candy bar instant cakesickles instantly spooky!
What you need to make your halloween candy bar:
Ingredients
350-400 g FunCakes Deco Melts Yellow
125 g FunCakes Deco Melts Yoghurt Flavour
FunCakes Candy Eyeballs Set
FunCakes Sugar Strands Pastel
FunCakes Food Pen Black
Necessities
FunCakes Decorating Bags 30 cm
Wilton Parchment Paper Roll
Silikomart Chocolate Mould Tablette
Cocktail skewers
Melt the 125 g FunCakes Deco Melts Yoghurt Flavour according to instructions on the package, place in a decorating bag and cut off a very small tip. Pipe caps onto a sheet of baking paper and use a cocktail stick to make ghosts by moving the melts downwards. Let this stiffen in the fridge. Once stiffened, use the FunCakes Food Pen Black to make eyes and mouths on the ghosts.
Melt the FunCakes Deco Melts Yellow as directed on the packaging and pour into the mould. Leave to set in the fridge. Use the remaining Deco Melts to make another bar, again heating it in the microwave.
Put some melted Deco Melts Lemon in a decorating bag, cut off a small tip and drizzle this over the bar. Immediately sprinkle FunCakes Sugar Strands Pastel on top and stick the ghosts on the bar with some melts.
The candy bar does not need to be stored in the fridge.
Just a little while before you can enjoy your chocolate. Don't forget to share your creation:
#funcakesbyme