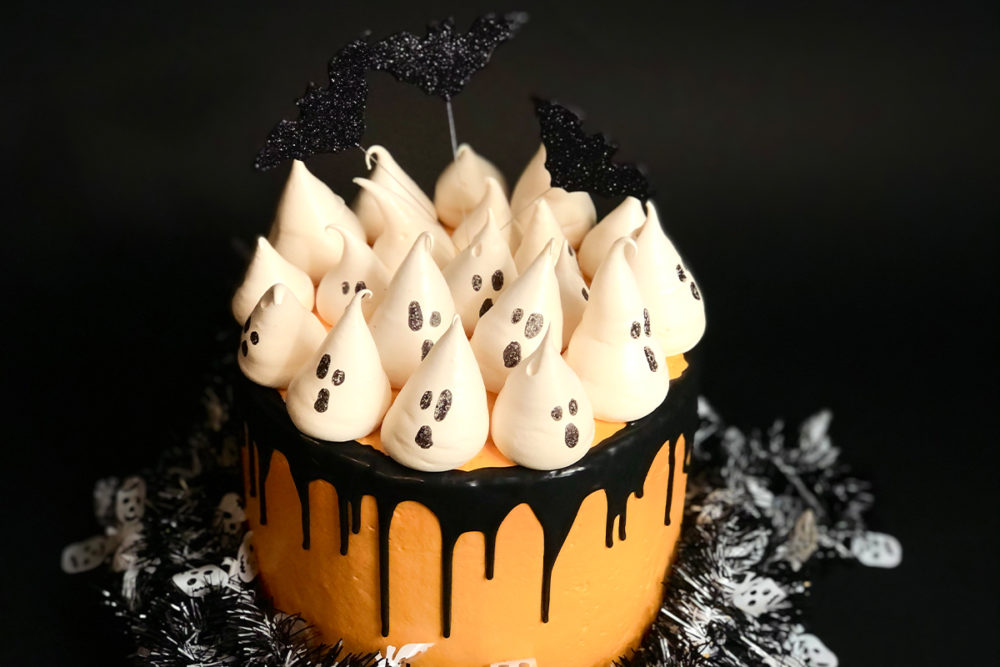 Spooky halloween cake
During the spooky Halloween season, ghosts are of course not to be missed. That's why we made a special spooky cake. Bake this cake with your family and celebrate Halloween together!
What you need to make your spooky halloween cake:
Ingredients
500 g FunCakes Mix for Sponge Cake Deluxe
400 g FunCakes Mix for Buttercream
FunCakes Deco Melts Black
125 g FunCakes Icing Sugar
FunCakes Fondant Black
FunColours Gel Orange
FunColours Gel Purple
FunColours Gel Bright Green
FunColours Brush Food Pen Black
FunCakes Edible Glue
RD Edible Glitter – Black
500 g unsalted butter
450 ml water
125 g sugar
10 g maizena
8 eggs (approx. 400g)
4 egg white
Necessities
FunCakes decorating bags
FunCakes Bake Release Spray
Wilton Wide Glide Rolling pin 22,5cm
Wilton Tip #2A Round
Wilton Cake Leveler 25cm
Wilton cooling grid
Wilton Decorator Preferred Spatula Angled 32,5cm
Wilton Basic turntable
Wilton pachment paper
PME Deep Round Baking Pan Ø 20 x 7,5cm
PME Extra Long Scraper
PME Flower Pics Small
Culpitt Floral Wire Silver Set/50 – 24 gauge
Cookie Cutter Bat 7,5 cm
Knead the black fondant well and roll it out to a thickness of about 2 mm. Cut out a number of bats here and insert a piece of silver wire that you dipped in the glue. Let this dry well, preferably a day or two. When the bats are well dried, coat them very lightly with edible glue and sprinkle them with the black glitter.
Preheat the oven to 110 ° C (convection oven 100 ° C).
Make sure you have a fat-free bowl and whisk and beat the egg whites until stiff. Put the fine granulated sugar together with the icing sugar and cornflour in a bowl and mix together. Add this spoon by spoon to the egg white foam while turning. Mix at high speed until it is a nice shiny mass and it draws stiff peaks.
Put the foam in a decorating bag with tip #2A. Cover a baking tray with a sheet of parchment paper and fill the entire baking tray with swirls of all sizes. Let this dry in the oven for 1½ hours.
Prepare 250 g FunCakes Mix for Sponge Cake Deluxe as indicated on the package and color the batter orange. Grease the baking pan with baking spray and put the orange batter in the pan. Bake the sponge cake in a preheated oven for 30-35 minutes. Let it cool down by using a cooling grid. Bake a purple sponge cake in this way.
Finish the buttercream as indicated on the package, divide it into two portions and color 1 portion orange and 1 portion green.
Cut the cakes in half 2 or 3 times with a cake leveler, stack alternately with the colored biscuits and fill with the green buttercream. Cover the entire outside with a thin layer of orange buttercream and let it set in the refrigerator for 15-30 minutes.
Then cover the cake one more time with the orange buttercream and pull the sides tight with the help of a side scraper. Let it stiffen in the refrigerator for another 15-30 minutes.
Melt some of the black FunCakes Deco Melts as indicated on the packaging and put this in a decorating bag. Cut off a small tip and let the black Deco Melts slide down from the edge of the cake. Put in the fridge again for 5-10 minutes so that the Deco Melts can stiffen and get a shine.
Spray some Deco Melts in a flower pic and insert the bats on wire. Put this in the fridge for 5 minutes so that the Deco Melts can stiffen and the bats on wire do not roll away.
Draw faces on the meringues with the black edible marker and stick them on top of the cake with some melted Deco Melts. Insert the flower pic with the bats between the ghosts.
Just a little while before you can enjoy your cakes. Don't forget to share your creation:
#funcakesbyme