If there is one thing that makes us happy, it is flowers! A bunch of flowers, flowers in bloom, dried flowers and of course flowers made of sugar paste, buttercream or royal icing. Flower power is full of colourful and cheerful flower cakes, cupcakes, macarons, donuts and much more!
Create with FunCakes a beautiful flower power sweettable or just a subtle flower cupcake, learn all kinds of techniques how to swirl flowers and discover our flower assortment! On this page you will find everything you need to make a beautiful flower creation. Check out our points of sales to get your products right away.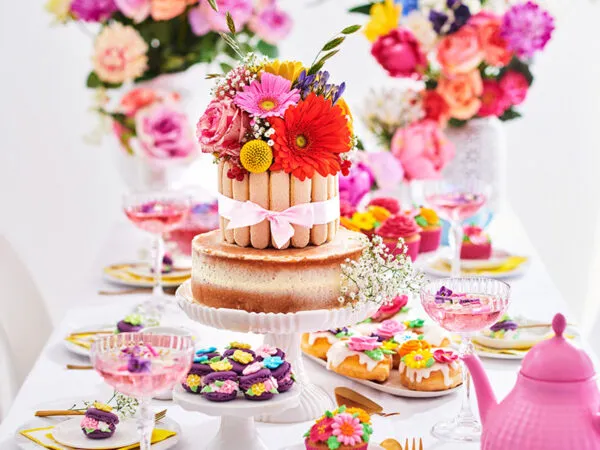 Featured recipe
Flower power cake
Speaking of Flower Power … This cake steals the show! Combine all kinds of cheerful colours, fresh flowers, fruit, a floral flavour and finish it off with lady fingers and a bow.
Prepare 330 g FunCakes Mix for Sponge Cake Deluxe and 200 g FunCakes Mix for Buttercream as indicated on the package. Flavour the buttercream with the flavour paste lemon.
Cut the cakes with the cake leveler twice, fill and spread all around with buttercream. To get the cakes nice and tight, put them on a turntable and use the scraper.
Meanwhile, prepare the flowers. To do this, melt some Deco Melts as indicated on the packaging and line a baking sheet with parchment paper. Cut the flowers to size and dip the ends of the stems into the melted Deco Melts.
Click on the button below to find the complete recipe with all ingredients and baking times.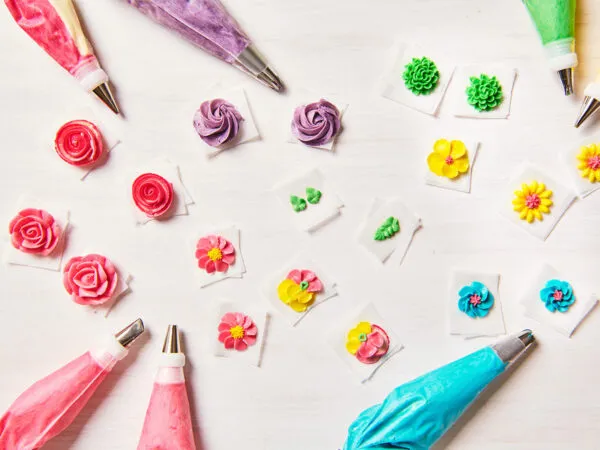 Getting started with buttercream
Make your own buttercream flowers
A beautiful flower cake or flower cupcakes with flowers made of buttercream. Beautiful colours, all kinds of flowers and lots of buttercream.
In this blog we'll tell you all about how to make buttercream flowers and what you need to make them. Turn on your mixer already, because you are going to make a lot of buttercream, add a lot of colours and fill a lot of decorating bags! Practice, practice and more practice is the key.
All on one table
Make your own floral sweet table
If you know FunCakes, you know that we love sweet tables! This is maybe even our favorite one. A lot of colours, such a good and happy vibe and a lot of lovely flower recipes. A perfect sweet table for a spring or summer birthday, brunch or any other occasion.
Finally it's spring again! As more and more flowers start to blossom we feel super inspired by all these beautiful shapes and colours! But there is more to them than good looks. We collected some fun facts for you that you may not have heard before!