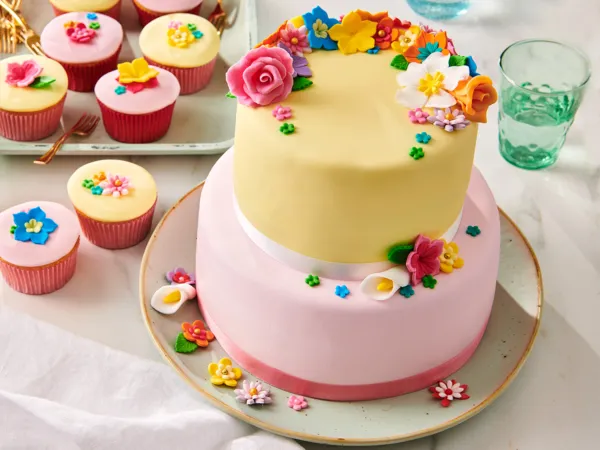 Colorful flower cake
Full of color with this irresistible fondant cake! The perfect decoration and very tasty. Finger lickin' good, right?
What you need to make your colorful flower cake:
Ingredients
400 g FunCakes Mix for Sponge Cake Deluxe
300 g FunCakes Special Edition Mix for Swiss Meringue Buttercream
550 g FunCakes Fondant Pastel Pink
450 g FunCakes Fondant Pastel Yellow
Various colors of FunCakes Fondant for the flowers
660 g unsalted butter
250 ml water
6 eggs (approx. 300 g)
Necessities
FunCakes decorating bags
FunCakes Bake Release Spray
FunCakes Cake Cards Silver / Gold - Round - 15 cm
Wilton Plastic Dowel Sticks
Wilton Cake leveler 25cm
Wilton Decorator Preferred® Deep Baking Pan Round Ø 15x7,5cm
Wilton Decorator Preferred® Deep Baking Pan Round Ø 20x7,5cm
Wilton rolling pin 50cm
Wilton cooling grid
Wilton rolling pin small
PME Blossom Plunger Cutter Set/4
PME Daisy/ Daisy Plunger Cutter 27mm Medium
PME Rose Leaf Plunger Cutter Medium
PME Daisy/ Daisy Plunger Cutter Set/4
FMM Rose Cutter 5 Leaves 50mm
Silikomart Sugarflex Veiner Mini Flowers
Preheat the oven to 180°C (convection oven 160°C).
Prepare 400 g of FunCakes Mix for Sponge Cake Deluxe as indicated on the package. Divide the batter over the two baking pans and bake them for about 30-35 minutes. Let them cool down by using a cooling grid
Cut the biscuits twice with the cake leveler, fill and cover all around with the Swiss Meringue Buttercream and let the cakes stiffen in the fridge.
Make a lot of colorful flowers with the various plungers, cutters and various colors of fondant. Let them air dry for two hours.
Cover the 15 cm cake with the yellow fondant and the 20 cm cake with the pink fondant. Stack them on top of each other using a cake box and cut-to-size dowels.
If necessary, finish the cakes with a nice ribbon. Put some Swiss Meringue Buttercream in a piping bag and pipe a half moon with the cream on the top cake. Stick flowers diagonally against this and use edible glue for the smaller flowers.
Just a little while before you can enjoy your cakes. Don't forget to share your creation:
#funcakesbyme