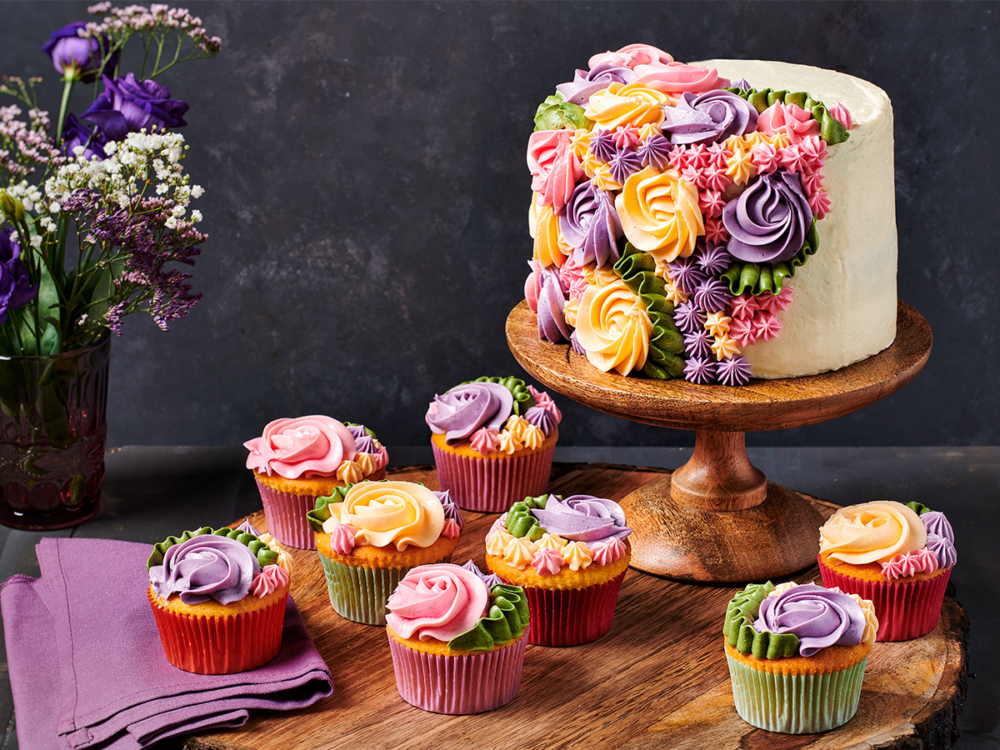 Buttercream flower cake
A cheerful colorful flower cake. Make your cake bloom with all kinds of flowers in all kinds of colors made from buttercream. Let your creativity go!
1 hour and 30 min. preparing
1 hour and 30 min. waiting
What you need to make your buttercream flower cake:
Ingredients
250 g FunCakes Mix for Sponge Cake Deluxe
400 g FunCakes Mix for Buttercream
FunCakes Flavour Paste Whipped Cream
FunColours Gel Purple
FunColours Gel Pink
FunColours Gel Leaf Green
FunColours Gel Orange
425 ml water
400 g unsalted butter
4 eggs (approx. 200g)
Jam
Necessities
FunCakes decorating bags
FunCakes Bake Release Spray
Wilton Decorator Preferred Deep Round Baking pan Ø 20x7,5cm
Wilton cooling grid
Wilton Comfort Grip Spatula Taps 22,5 cm
Wilton Tip #1M Open Star (multiple)
Wilton Tip #104 Petal
Wilton Tip #032 Open Star
Wilton Tip #021 Open Star (multiple)
Preheat the oven to 180°C (convection oven 160°C).
Prepare 250 g of FunCakes Mix for Sponge Cake Deluxe according to the instructions on the package. Grease the baking pan and divide the batter over the pan. Bake the sponge cake for 30 – 35 minutes and then let it cool down using a cooling grid.
Prepare 400 g FunCakes Mix for Buttercream as indicated on the package. Finish the buttercream with the whipped cream flavor paste, add to taste.
Using the cake leveler, cut the sponge cake twice and fill with the jam of your choice and buttercream, cover the entire outside of the cake with buttercream and let it stiffen in the fridge for half an hour.
Divide the rest of the buttercream into several portions and color with the colored gels. Divide the tips over the decorating bags and fill them with the colored buttercream. Spray rosettes, dropflowers and zigzags on half of the cake as you see fit. Put the cake in the fridge until ready to use.
Just a little while before you can enjoy your cakes. Don't forget to share your creation:
#funcakesbyme