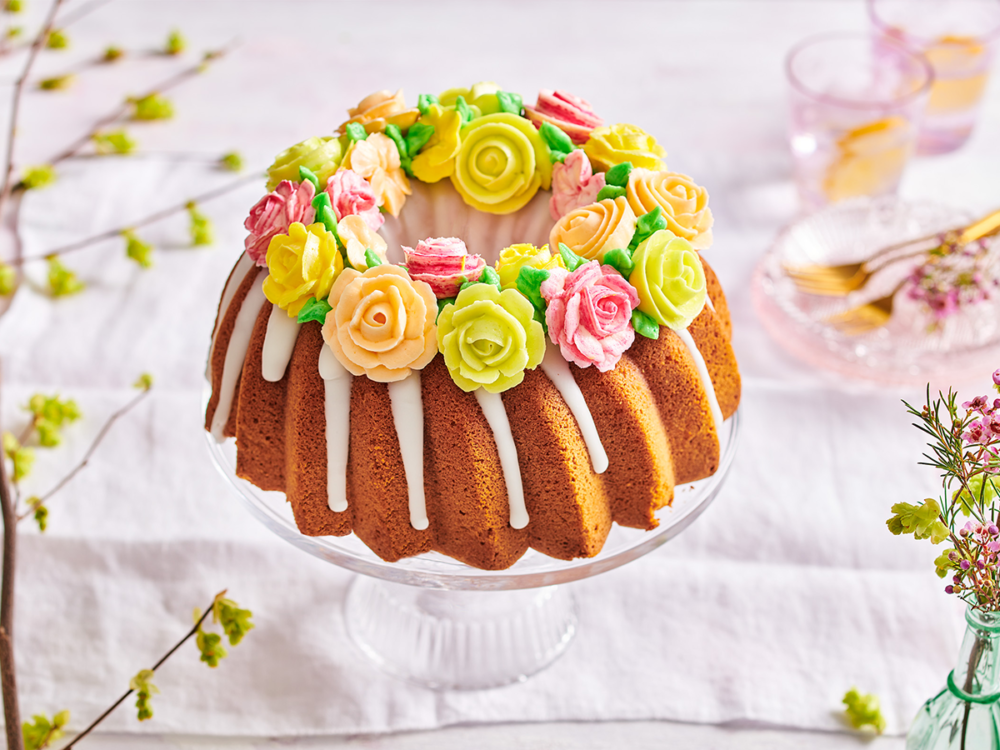 Spring bundt with buttercream flowers
Spring is coming. Trees that are in bloom, flowers that start to grow and the sun that starts to shine. The perfect preparation for spring is this fresh, cheerful and colorful bundt. Put your bundt in bloom with the delicious buttercream flowers and top it off with the dip 'n drip!
What you need to make your spring bundt with buttercream flowers:
Ingredients
500 g FunCakes Mix for Cupcakes
200 g FunCakes Mix for Buttercream
FunCakes Mix for Dip 'n Drip White
FunColours Gel Yellow
FunColours Gel Pink
FunColours Gel Orange
FunColours Gel Bright Green
500 g unsalted butter
200 ml water
5 eggs (approx. 250g)
Necessities
FunCakes decorating bags
FunCakes Bake Release Spray
Wilton cooling grid
Wilton Tip #104 Petal
Wilton Tip #012 Round
Wilton Tip #353 Leaf
Wilton Standard Adaptor/ Coupler (multiple)
Wilton Decorating Nail Set
Wilton parchment paper
Patisse Bundt Pan Cast Aluminium 3 Ø24CM
Preheat the oven to 180°C (convection oven 160°C).
Prepare 500 g FunCakes Mix for Cupcakes as indicated on the package. Grease the bundt pan with baking spray, scoop the batter into the bundt pan and bake the cake for about 55-60 minutes. Let the bundt cool down by using a cooling grid.
Prepare 200 g of FunCakes Mix for Buttercream as indicated on the package. Divide the buttercream into several portions and color with the colored gels.
Make flowers with the different tips on the flower nail. Make sure you have piece of baking paper of 5×5 cm glued on the nail, so you can easily place them on a plate. When you have made all the flowers, put them in the freezer so that you can easily stick them on your cake.
Heat some dip 'n drip in the microwave for 10 seconds and put it in a decoaring bag. Let the drip slide down the edge of the bundt and let it dry. Pipe a ring of buttercream on top of the bundt (the color doesn't matter) and carefully attach the frozen buttercream flowers to it. The flowers have thawed in half an hour and the bundt is ready to cut.
Just a little while before you can enjoy your cake. Don't forget to share your creation:
#funcakesbyme