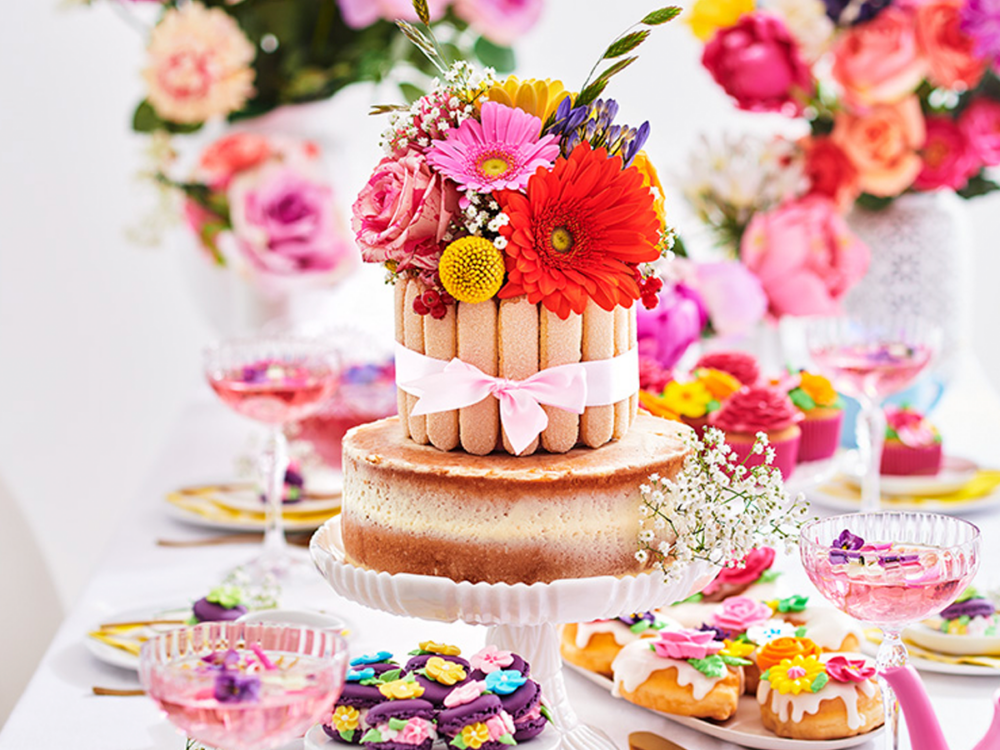 Flower Power cake
Speaking of Flower Power … This cake steals the show! Combine all kinds of cheerful colours, fresh flowers, fruit, a floral flavour and finish it off with lady fingers and a bow.
1 hour and 15 min. preparing
What you need to make your flower power cake:
Ingredients
330 g FunCakes Mix for Sponge Cake Deluxe
200 g FunCakes Mix for Buttercream
FunCakes Flavour Paste Lemon
FunCakes Deco Melts White
250 g unsalted butter
233 ml water
5 eggs (approx. 250g)
Lady fingers
Necessities
FunCakes Cake Cartons Silver/Gold - Round - 15cm pk/3
Wilton Decorator Preferred® Deep Baking Pan Round Ø 20x7,5cm
Wilton Basic Turntable
Wilton Small Cake Leveler -25cm-
Wilton Comfort Grip Spatula with Angle 22,5 cm
Wilton Cooling Grid
Wilton Plastic Dowel Sticks set/4
PME Deep Round Baking Mould Ø 10 x 7,5cm
Patisse Cake Edge Side Scraper 20cm
Preheat the oven to 180°C (convection oven 160°C) and grease the baking pans with baking spray.
Prepare 330 g FunCakes Mix for Sponge Cake Deluxe as indicated on the packaging. Divide the batter between the two greased baking pans and bake for about 30-35 minutes until done. Let the cake cool down by using a cooling grid.
Cut the cakes with the cake leveler twice, fill and spread all around with buttercream. To get the cakes nice and tight, put them on a turntable and use the scraper. After icing, place the cakes in the refrigerator for half an hour to allow them to stiffen.
Meanwhile, prepare the flowers. To do this, melt some Deco Melts as indicated on the packaging and line a baking sheet with parchment paper. Cut the flowers to size and dip the ends of the stems into the melted Deco Melts. Carefully place the flowers on the baking sheet and place in the refrigerator for 5 minutes to allow the Deco Melts to set.
Insert 4 dowels into the bottom cake and cut them to size. Place the smallest cake on a cake board cut to size and stack the cakes. If necessary, put some buttercream between the layers and on the cardboard, so the cake won't slide.
Coat the back of the lady fingers with some buttercream and stick them along the cake. Put a pretty ribbon around them if necessary.
Cover the top cake on top with a piece of cling film. Now carefully insert the flowers through the cling film into the cake.
Just a little while before you can enjoy your cakes. Don't forget to share your creation:
#funcakesbyme