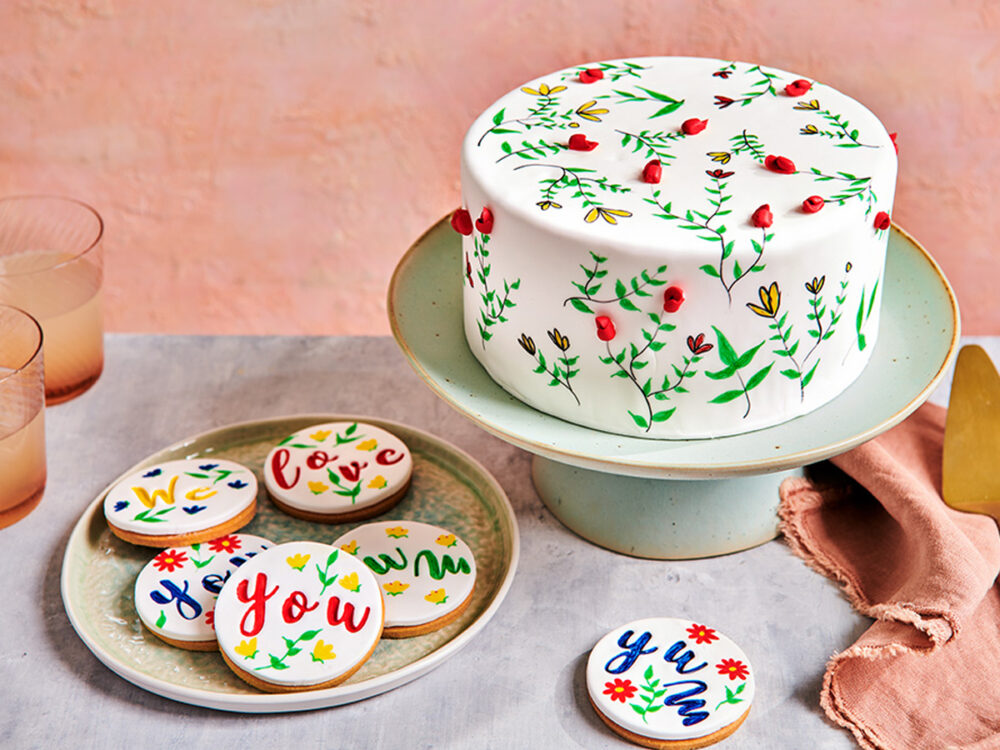 Flower cake
Are you or are your children a big fan of drawing and baking? Then you can go wild with the FunCakes food pens and this recipe! Draw your own flowers and patterns on the cake and let your creativity run wild!
1 hour and 30 min. preparing
What you need to make your flower cake:
Ingredients
250 g FunCakes Mix for Sponge Cake Deluxe
200 g FunCakes Special Edition Mix voor Swiss Meringue Buttercream
100 g FunCakes Mix for Royal Icing
600 g FunCakes Sugar Paste White
FunCakes Food Colour Gel Red
FunCakes Food Pen Primary Color Set/5
FunCakes Magic Roll-Out Powder
440 g unsalted butter
165 ml water
4 eggs (approx. 200 g)
Jam of your choice
Necessities
FunCakes Decorating Bags
FunCakes Bake Release Spray
Wilton Tip #102 Petal
Wilton Standard Adapter/Coupler
Wilton Rolling Pin 50cm
Wilton Decorator Preferred® Deep Baking Mold Round Ø 20x7.5cm
Wilton Parchment paper
Wilton Cake leveler 25cm
Wilton Cooling Grid
Preheat the oven to 175°C (convection oven 160°C).
Prepare 250 g FunCakes Mix for Sponge Cake Deluxe according to the instructions on the package. Grease the baking pan with Bake Release Spray and raise the baking pan with a strip of parchment paper on the inside of the pan. Spoon the batter into the pan and bake the sponge cake for about 30-35 minutes. Let the cake cool down by using a cooling grid.
Prepare 100 g FunCakes Mix for Royal icing according to the instructions on the package. Color the royal icing red and put it in a decorating bag with adapter and tip #102. Pipe small flower buds on a sheet of parchment paper. Make sure that the thick part of the nozzle is on the baking paper and make a kind of loop. This is your first petal.
Now place the nozzle perpendicular to the bottom of your first sprayed leaf and curl the second leaf over it. Let it air dry, preferably overnight.
Cut the sponge cake with the cake leveler 2 or 3 times and fill with jam of your choice and the swiss meringue buttercream. Cover the entire outside with a layer of cream and let it set in the refrigerator. Then apply a second layer of cream and let it set again in the refrigerator.
Knead the fondant well and roll it out to a thickness of about 2 to 3 mm and cover the cake with it.
Draw twigs with leaves and flowers on the cake with the edible markers and stick a red flower bud here and there with some royal icing.
Just a little while before you can enjoy your cakes. Don't forget to share your creation:
#funcakesbyme