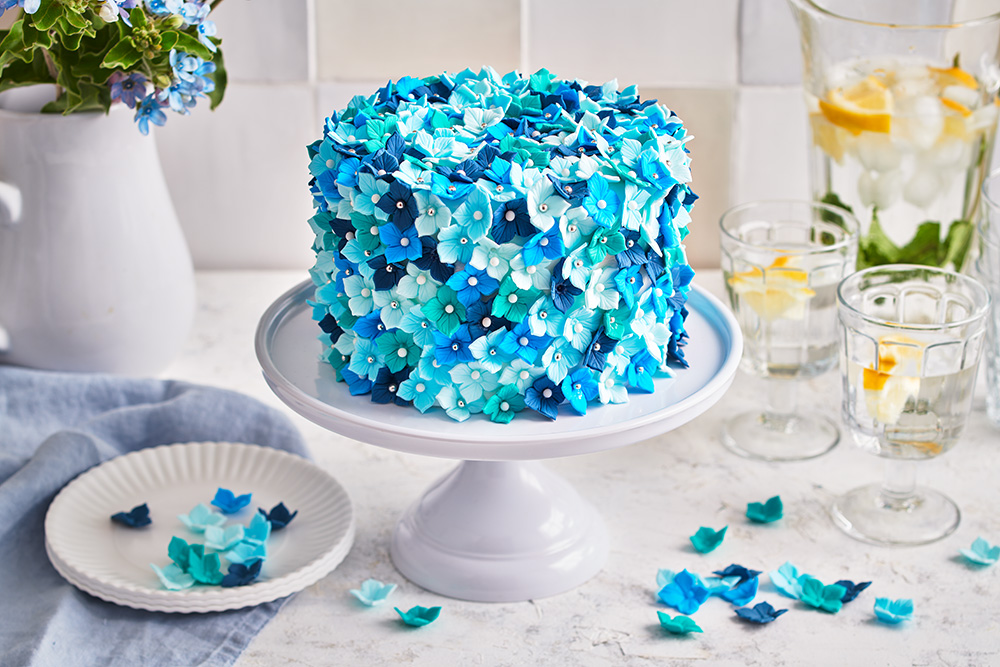 Blue flower cake
Go all out with this blue flower cake. It is a bit of work, but the result is a cake that will blow everyone away. Fun to make for a birthday or as top piece on a wedding cake.
What you need to make your blue flower cake:
Ingredients
150 g FunCakes Mix for Sponge Cake Deluxe
125 g FunCakes Mix for Buttercream
FunCakes Flavour Paste Violets
FunCakes Sugar Paste Multipack Blue Colour Palette 5x100g
FunCakes Sugar Paste Turquoise
FunCakes Sugar Paste White
FunCakes Soft Pearls Medium Metallic Silver
FunCakes Sugar Pearls Medium White Gloss
FunCakes Piping Gel
3 Eggs (approx. 150 g)
150 g unsalted butter
125 ml + 15 ml water
Necessities
FunCakes Bake Release Spray
Wilton Decorator Preferred® Deep Round Pan Ø 15x7,5cm
Wilton Parchment Paper Roll
Wilton Rolling Pin 50 cm
Wilton Cake Leveler 25 cm
Wilton Comfort Grip Spatula Curved 22,5 cm
Wilton Cooling Grid
Wilton -Perfect Height- Rolling Pin 22,5cm
Silikomart Sugarflex Veiner Hortensia
Dekofee Profi Brush 1
Plastic sleeves
Preheat the oven to 180°C (convection oven 160°C).
Grease the baking pan with baking spray and line the baking pan with a strip of parchment paper. Spoon the batter into the pan and bake the sponge cake for about 30-35 minutes. Immediately after baking, place on a cake rack, remove the parchment paper and allow to cool.
Cut the biscuit twice with the cake leveler, fill and spread a thin layer of buttercream all around. Leave this to set in the fridge for at least half an hour.
Cover the cake with very thinly rolled out white sugar paste. Use the 250 g and the 100 g packets from the multipack.
Knead the blue and turquoise sugar paste smoothly and roll it out very thinly. Cut out a lot of hydrangeas from all the colours and put them under a plastic cover, so they stay soft.
Now use the veiner to get a little hydrangea flower and stick it on the cake with a little piping gel.
You can also do this with some left over buttercream in a decorating bag.
The easiest and quickest way is to make all the hydrangeas first and place them on crumpled kitchen paper. This way they will dry slightly shaped and you can stick the flowers on the cake one after the other.
Finally, stick some white and silver pearls into the hydrangeas with a little piping gel.
Just a little while before you can enjoy your cakes. Don't forget to share your creation:
#funcakesbyme