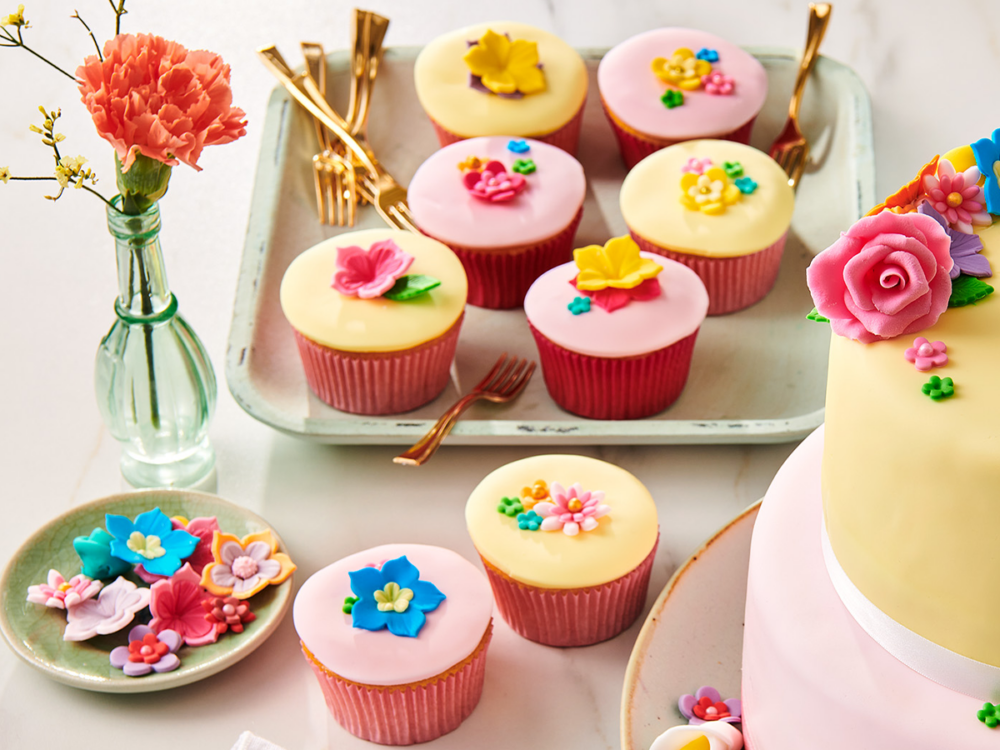 Cupcakes with sugar paste flowers
An elegant cupcake with many kinds of fondant flowers. That sounds incredibly well, doesn't it? Get into the spring atmosphere with these cupcakes right away!
2 hour and 30 min. preparing
What you need to make your cupcakes with sugar paste flowers:
Ingredients
500 g FunCakes Mix for Cupcakes
100 g FunCakes Special Edition Mix for Swiss Meringue Buttercream
250 g FunCakes Fondant Pastel Yellow
250 g FunCakes Fondant Pastel Pink
FunCakes Edible Glue
Various colors of FunCakes Fondant for the flowers
250 g unsalted butter
70 ml water
5 eggs (approx. 250 g)
Necessities
FunCakes Baking Cups Light Pink
FunCakes Baking Cups Pink
Wilton Recipe Right® Muffin Pan
Wilton Wide Glide Rolling Pin 15cm
PME Daisy/ Margriet Plunger Cutter
PME Blossom Plunger Cutter
Silikomart Sugarflex Veiner Mini Flowers
Cookie Cutter Ring Ø 6,5 cm
Ice cream scoop
Preheat the oven to 180°C (convection oven 160°C)
Prepare 500 g FunCakes Mix for Cupcakes according to the instructions on the package. Divide the baking cups over the muffin pan. Divide the batter over the baking cups with an ice cream scoop and bake the cakes in about 18-22 minutes.
Make different colorful flowers from various colors of fondant and let them air dry for two hours.
Roll out some pink and yellow fondant to a thickness of about 2 mm and cut out as many rounds as you have cupcakes. Cover the top of the cakes with Swiss Meringue Buttercream and stick a round of fondant on top. Stick the flowers back on top with some edible glue.
Just a little while before you can enjoy your cupcakes. Don't forget to share your creation:
#funcakesbyme