10 x festive Christmas desserts
Are you in charge of this years Christmas dessert? Then you're probably wondering what to make. To get you started, in this blog we have 10 delicious desserts that are perfect for Christmas dinner! From cupcakes to desserts in a glass and from recipes that take 15 minutes to recipes that require a bit more preparation. We'll bet you that you will find the perfect recipe on this page! Happy baking and merry Christmas.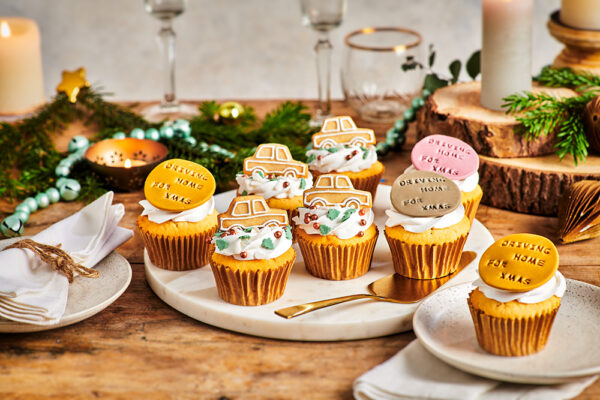 #1 Driving home for Christmas
Christmas cupcakes
Now that we can celebrate Christmas together again, we like to do so with our loved ones. A small cupcake will do for everyone after the starter and main course. Make a cute Christmas message in the sugar paste with the cookie stamp for the ultimate Christmas feeling.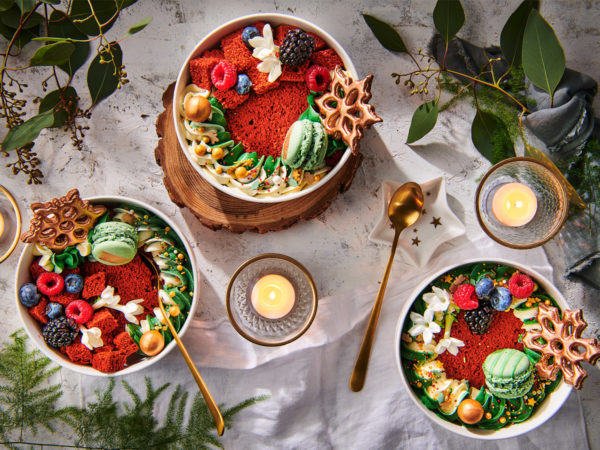 #2 fill your bowl
Christmas Cake Bowl
The Red Velvet Cake bursts out of this Christmas Cake Bowl and the christmas wreath of green and white buttercream gives it its festive feeling. When you've put all your time and thought into your starter and main course of Christmas dinner, it's nice that you don't have to work so hard for your dessert. Make the cake a day in advance so you only have to decorate it on the evening itself. Delicious as an end to your Christmas dinner! You can also make the cake bowl the next day using the leftovers from Christmas diner dessert.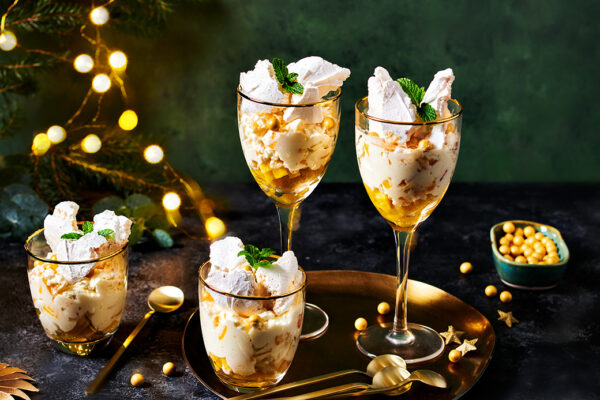 #3 Christmas dessert in a glass
Festive Eton Mess with yellow fruit
Put an Eton Mess in a nice glass and the dessert becomes even more festive than it already is! We gave the traditional version a twist by adding yellow instead of red fruit. With some gold choco balls added to it, this dessert is perfect for the holidays. This chic dessert is the perfect end to Christmas dinner.
This dessert is ready in 15-30 minutes and it requires relatively little preparation. Therefore, prepare it on the evening itself and serve immediately.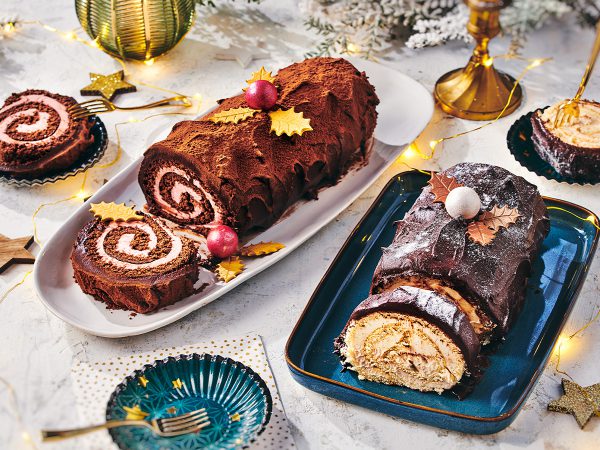 #4 Roll it up
French Bûche de Noël
Christmas log of Yule log, is a traditional French dessert that's served on Christmas Eve. This delicious recipe takes quite some time, but in the end you have the most delicious dessert you can imagine. Also great if you have a lof of guests, because this serves 10-12 people!
This dessert needs a bit more preparation. Prepare it the day itself in the morning or afternoon so you have enough time to let it set in the fridge.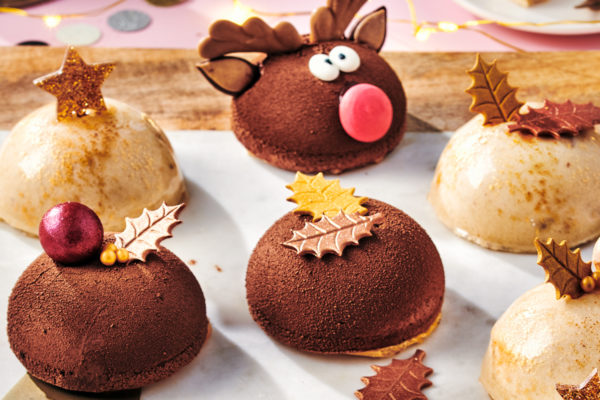 #5 a dessert for everyone
Christmas chocolate dome cakes
Tastes differ so why not serve two types of these festive dome cakes as your Christmas dessert? Because they are not that big either, everyone will leave a little appetite for this. Plus, these beauties steal the show during Christmas dinner. Be sure to make them a day in advance.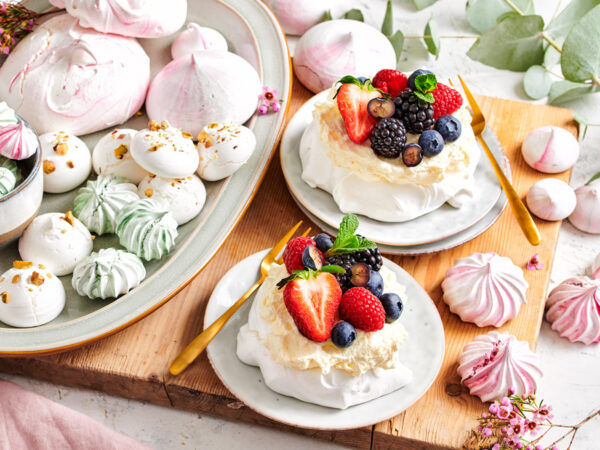 #6 a fruity dessert
Pavlova with fruit
The ultimate dessert and a great option for this Christmas dinner. Perfect when you are full from your dinner, but still have room for a small dessert. Super easy to make. Add some water and sugar and you're almost done! Top it off with some whipped cream and fruit and you're ready to go!
Make this Christmas dessert before your guests arrive. It needs some time to dry in the oven.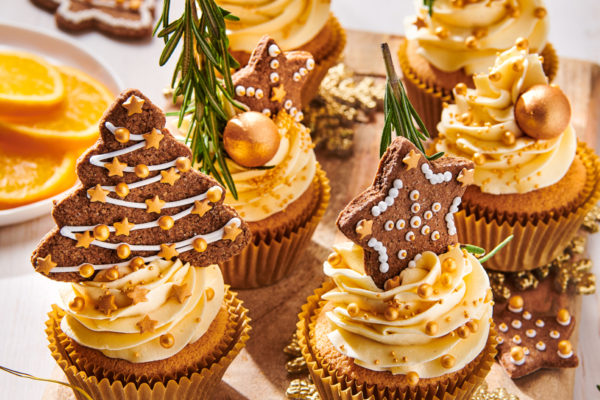 #7 Christmas in a cake
Christmas cupcakes with gingerbread cookies
When you think of Christmas, you think of gingerbread. So why not serve these gingerbread cookie cupcakes for dessert this Christmas? Decorate them with the Christmas tree and star cookies and they will give everyone at the table a smile.
You can make the cupcakes and cookies a day in advance and just decorate it with the day you will serve them.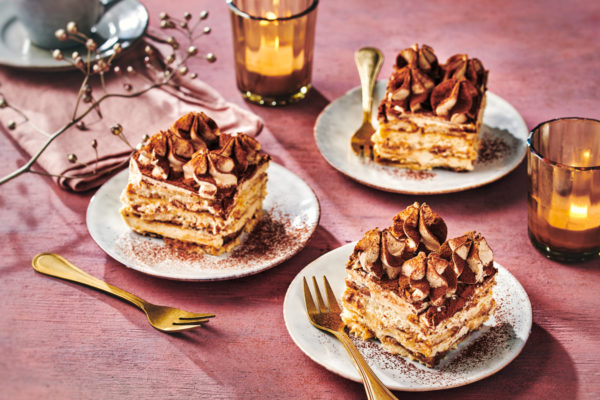 #8 a classic
Italian tiramisu
Tiramisu is originally an Italian dessert and has become a classic! Try making it with FunCakes products this year and we're sure that it will become your own classic dessert at Christmas time.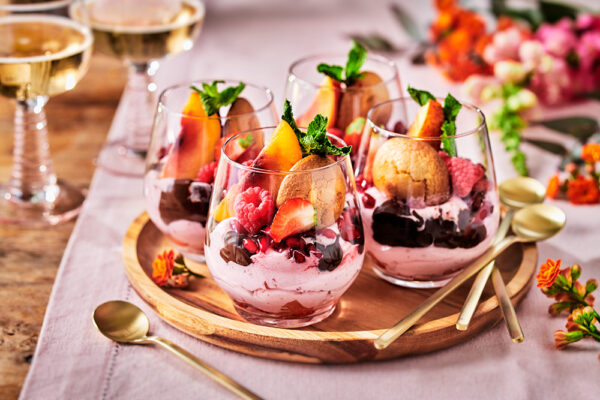 #9 a party in a glass
Strawberry bavarois fruit dessert
Give your Christmas dessert a fresh twist with strawberry bavarois. The macaroon has a delicious almond taste and is a nice combination with the fresh fruit and the chocolate ganache. Serve it in a glass and you have a dessert that not only tastes good, but looks great too!
The great thing about this dessert is that it is very versatile. You can make it in summer, but also in the winter for Christmas!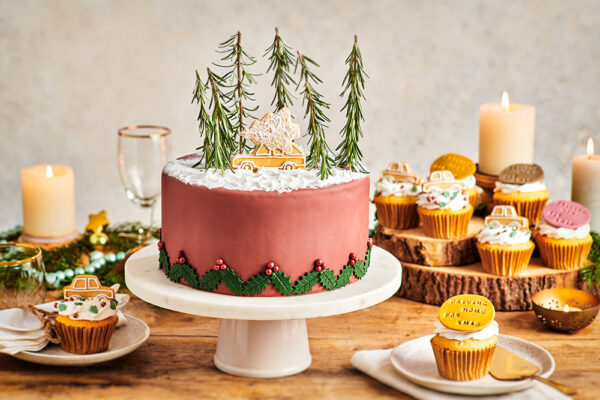 #10 a showstopper for dessert
Christmas cake
Are you hoping to have a white Christmas this year? If it's not snowing outside, just make it snow on your cake! When you decide to make this cake for your Christmas dessert, make sure everyone leaves some room for this amazing cake! With the sugar paste, Enchanted Cream® and rosemary on top it gives you the ultimate Christmas feeling.