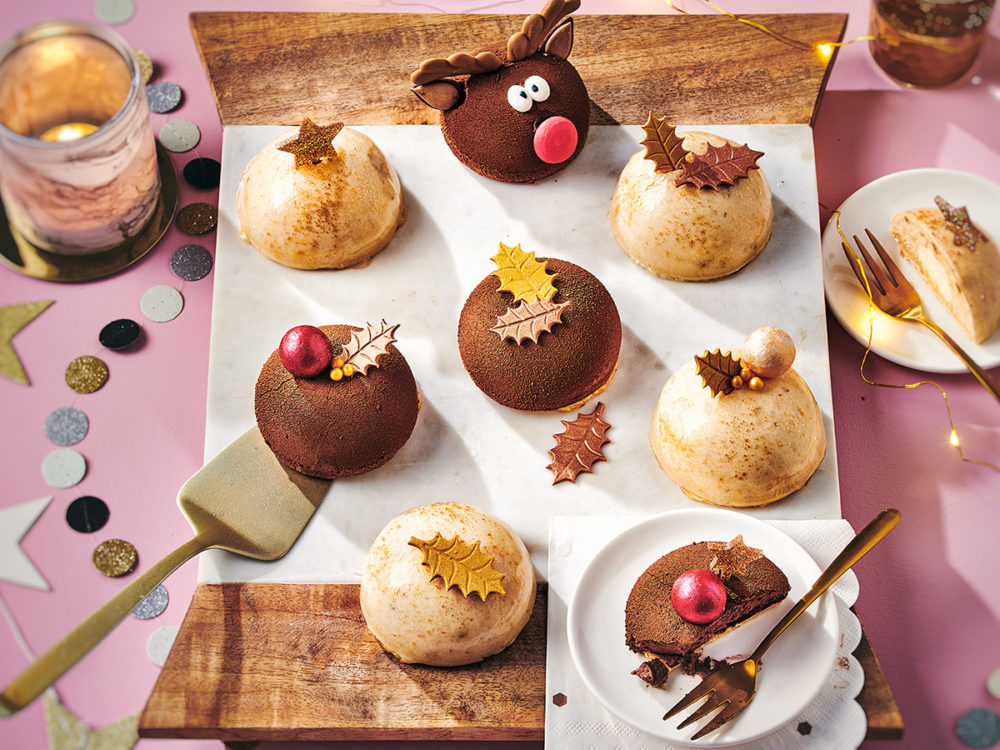 Caramel glaze cake domes
Driving home for Christmas… Everyone has a reason to come to you with these festive caramel glaze cake domes. These beauties steal the show during Christmas dinner.
Ingredients
125 g FunCakes Mix for Buttercream
50 g FunCakes Mix for Bavarois -Hazelnut-
FunCakes Mirror Glaze
FunCakes Edible FunColours Sparkle Dust -Shimmering Gold-
FunCakes Pearl Choco Balls Gold
250 ml whipped cream
170 g grinded cookies of your choice
210 g unsalted butter
185 ml water
Necessities
FunCakes decorating bag
Wilton cooling grid
Silikomart Semisfera Mould Ø 7 cm
Silikomart Semisfera Mould Ø 3 cm
Round cutter Ø 6 cm
Parchment paper
Prepare 125 g of FunCakes Mix for Buttercream as indicated on the package. Put this in a decorating bag and fill the 3 cm mould with this. Set aside in the freezer. You will not use all the buttercream, but you can freeze the remaining buttercream and store it for next time.
Prepare 50 g of FunCakes Mix for Bavarois as indicated on the package. Put the bavarois in a decorating bag and fill the half 7 cm mould with this. Please note! Do not fill them completely. Now take a frozen ball of buttercream out of the freezer and push them into the middle of the bavarois. Return to the freezer overnight.
Mix the cookie crumbs with the melted butter and use this to make a plate of about 3 mm thick on a piece of parchment paper. Push the round cutter six times into the cookie crumb plate and place it in the freezer.
Remove the plate with cookie crumbs from the freezer and carefully remove the circles. Place on each cookie base  a bavarois ball. Put the mirror glaze in a measuring cup with spout,warm in the microwave for about 10 – 15 seconds and pour it directly over the pastries. Sprinkle some golden glitter dust over it and let the pastries defrost in the fridge. Decorate with pearl chocolate balls and maybe some golden holly leaves of fondant.
Just a little while before you can enjoy your pastries. Don't forget to share your creation:
#funcakesbyme