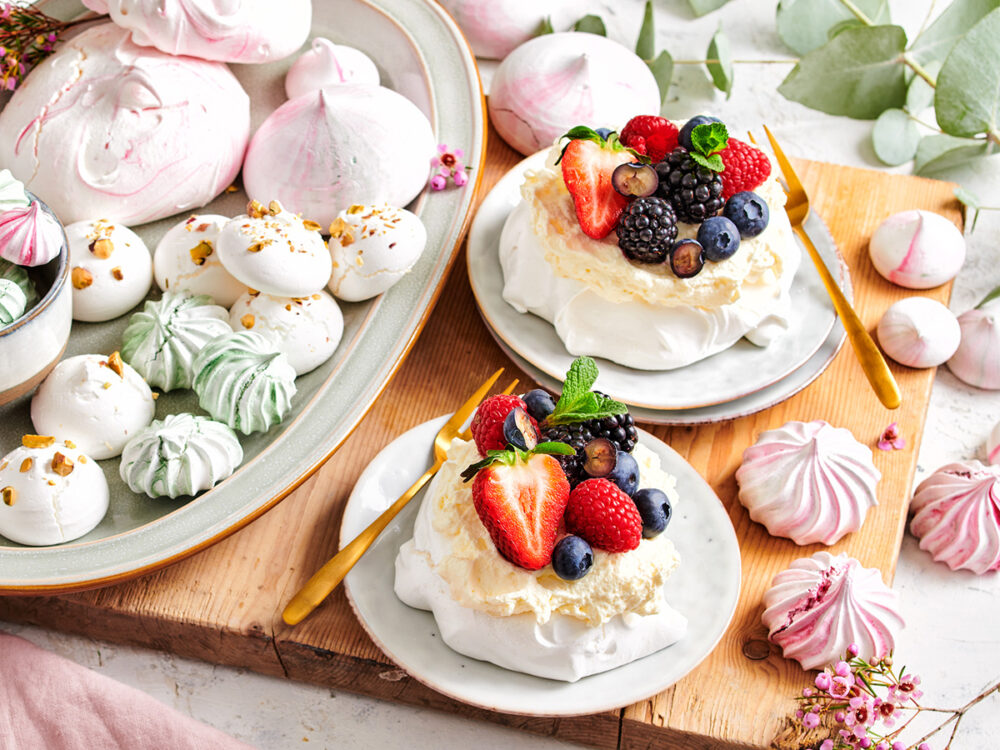 Pavlova's with fruit
The ultimate dessert and a real must have for a high tea. Super easy to make. Add some water and sugar and you're almost done! Top it off with some whipped cream and fruit and you're ready to go!
2 hour and 30 min. cooking
What you need to make your pavlova's with fruit:
Ingredients
14 g FunCakes Meringue Powder
75 g FunCakes Whipped Cream Stabilizer
500 ml Whipped Cream
375 g sugar
125 ml water
Fresh fruit
Preheat the oven to 120°C (convection oven 100°C).
Mix 14 g FunCakes Meringue Powder with 125 ml water and 125 g sugar in a fat-free bowl until the sugar has dissolved. Put this in the mixing bowl and mix on high speed to a firm white foam. Now mix in a thin stream, add 250 g sugar and let it mix on high speed for about 8 minutes until it forms firm peaks.
Tip! To make your mixing bowl and whisk properly grease-free, you can clean your bowl and whisk with lemon juice.
Using a tablespoon, scoop 6 to 8 heaps of foam onto a baking tray lined with parchment paper, make a small well in the center with the back of the spoon. Dry the pavlovas for 2 to 2 ½ hours in a preheated oven. The drying time depends on the size of your pavlovas.
Beat the 500 ml whipping cream firmly with 75 g FunCakes Whipped Cream Stiffener – sweetened. Pay attention! You don't have to add sugar anymore. Spoon a generous dollop of sweetened whipped cream on each pavlova, spreading it slightly if necessary. Decorate the pavlovas with fresh fruit of your choice.
Just a little while before you can enjoy your treats. Don't forget to share your creation:
#funcakesbyme