Searching for Easter eggs, fresh pressed juices, warm bunns and lots of sweets with the Easter recipes from FunCakes. That's the ideal recipe for a happy Easter brunch. Enjoy a table full of delicious food together, while the kids are busy decorating their Easter eggs. Stuffed chocolate Easter eggs, Easter bundts and decorated cupcakes, everything is served during Easter.
Present this Easter a colourful brunch for your family and friends. It's a great moment to connect with each other while filling your stomach with delicious Easter themed cupcakes, cookies and chocolates. Got inspired? Check our points of sale to get your products right away.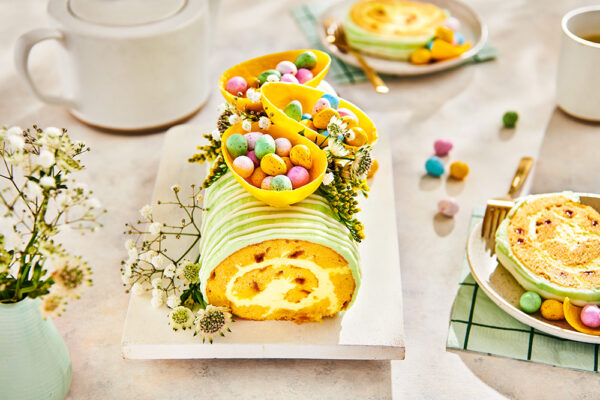 Featured recipe
Easter cake roll
Every Easter brunch table needs a showstopper like this Easter cake roll. Combine all the cheerful colours, make a delicious buttercream filling and decorate the cake with Easter eggs.
Make the FunCakes Mix for Lemoncello Cake and FunCakes Mix for Buttercream according to the instructions on the packages. Roll up the cake in a tea towel and let it cool down.
Colour a few tablespoons of buttercream soft yellow. Unroll the cake slice and spread a thin layer of buttercream between it and roll it back up.
Colour the rest of the buttercream soft green and spread this all over the outside of the cake roll.
Melt some white and yellow Deco Melts and drizzle it over the cake roll.
Click on the button below to find the complete recipe with all ingredients and baking times.
We are happy to give our Easter recipes a nice colour. The ideal colours for Easter are pastel colours. Pastel colours create a fresh look that perfectly matches with spring. You can easily give your treats an Easter touch with our range of pastel fondant.
Featured product
Chocolate Mould Egg
Something you can't miss during your Easter brunch are Easter eggs. So be sure to make Easter egg chocolates with this FunCakes mould.
In addition to the pastel colours during Easter, there is one thing we can't do without and that's chocolate. During Easter we see a lot of chocolate Easter eggs and chocolate Easter bunnies. But it doesn't stop there because you can also use chocolate in a cake or as a glaze for cake pops. Nothing is too crazy, as long as it is tasty!
Shop for Easter
Did you get inspired and ready to get started? You can easily shop your Easter products at a store nearby or online at one of the many web shops. Find a point of sale via the button below!