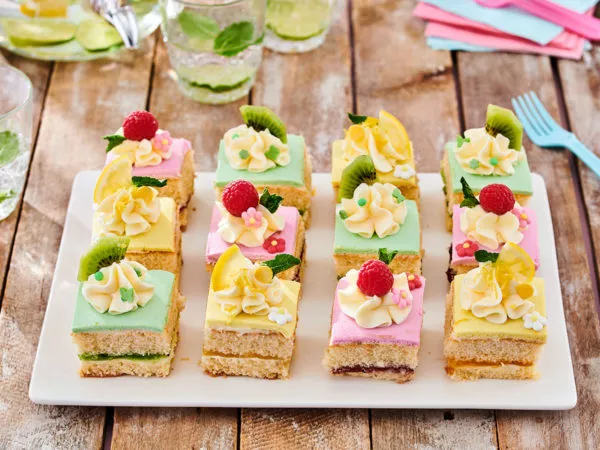 Spring petit fours
Spring is coming and that means time for some fresh and fruity flavours. That's why we created these delicious spring petit fours that are perfectly balanced between fruity and sweet.
What you need to make your spring petit fours:
Ingredients
400 g FunCakes Mix for Sponge Cake
200 g FunCakes Mix for Buttercream
1 kilo FunCakes Marzipan -Floral White
FunCakes FunColours Gel - Bright Green
FunCakes FunColours Gel – Pink
FunCakes FunColours Gel – Yellow
FunCakes Fruity Spread -Kiwi-
FunCakes Fruity Spread -Passionfruit-
FunCakes Fruity Spread -Lemon-
FunCakes Fruity Spread -Raspberry-
FunCakes Sprinkle Medley -Spring-
FunCakes Sugar Decoration Little Flower
6 eggs (approx. 300 g)
240 ml water
250 g unsalted butter
Kiwi
Lemon
Passionfruit
Raspberries
Mint leafs
Necessities
FunCakes Bake Release Spray
FunCakes Decorating Bags
FunCakes Magic Roll-Out Powder
Wilton Decorating Tip #1M
Wilton -Wide Glide- Rolling Pin
Wilton Cake Leveler
Wilton Cooling Grid
PME Deep Oblong Pan 22,5 x 32,5 x 7,5cm
Preheat the oven to 175°C (convection oven 160°C).
Prepare 400 grams of FunCakes Mix for Sponge Cake as indicated on the package. Grease the baking pan using baking spray. Whisk the batter in the pan and bake the cake in 35 – 40 minutes. Release the cake immediately on a cooling grid after baking and let it cool down completely.
Prepare 200 grams of FunCakes Mix for Buttercream as indicated on the package. Cut of the edges of the biscuit, cut the cake once horizontal using a cake leveler and three times lengthwise. Apply a layer of buttercream on a piece of cake and a layer fruity spread on another piece of cake. Stack it with the greased sides facing each other. Repeat for the other slices. Then spread the top with a thin layer of buttercream.
Divide the marzipan in four equal parts and colour two pieces yellow, one piece green and the other one pink. Roll out the marzipan on a flat surface covered with magic roll-out powder similar to the shape of one piece of cake and put it on the cake. Colourwise you use the green marzipan with the kiwispread, the yellow marzipan with the lemon and passion fruit and the pink marzipan with the raspberry spread. Cut off the edges of the marzipan.
Cut the cake into squares. Put decorating tip #1M in a decorating bag and fill with the leftover buttercream. Top each little cake of with a small swirl of buttercream and decorate with pieces of fruit. Stick a mint leaf in some cake pieces and decorate with the spring medley and little sugar flowers.
Just a little while before you can enjoy your pastries. Don't forget to share your creation:
#funcakesbyme