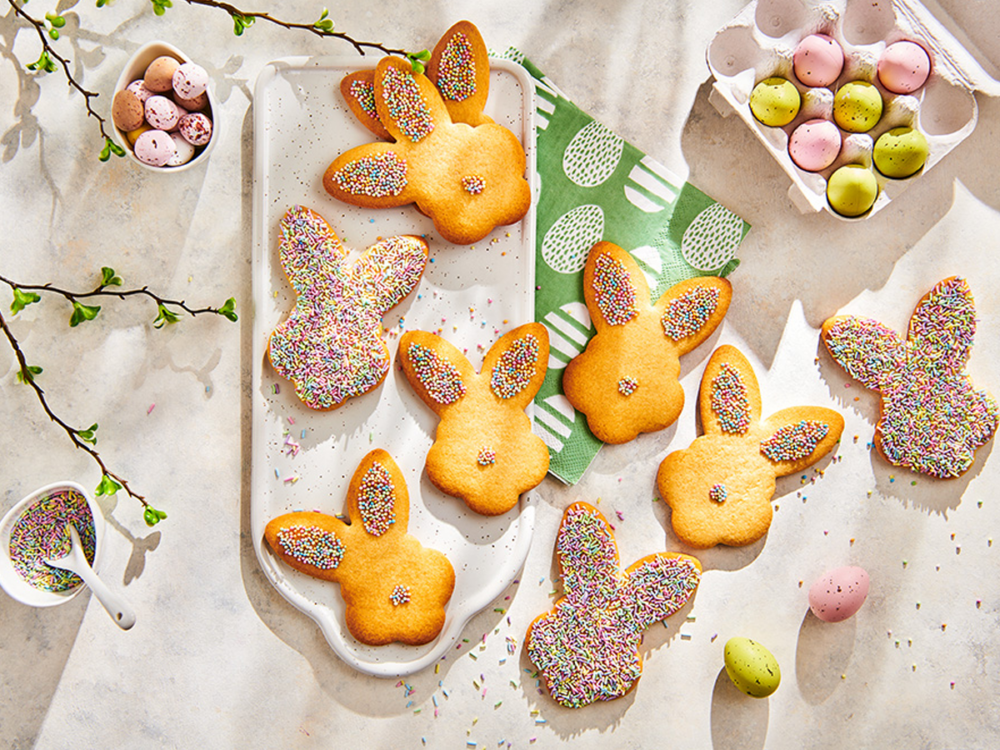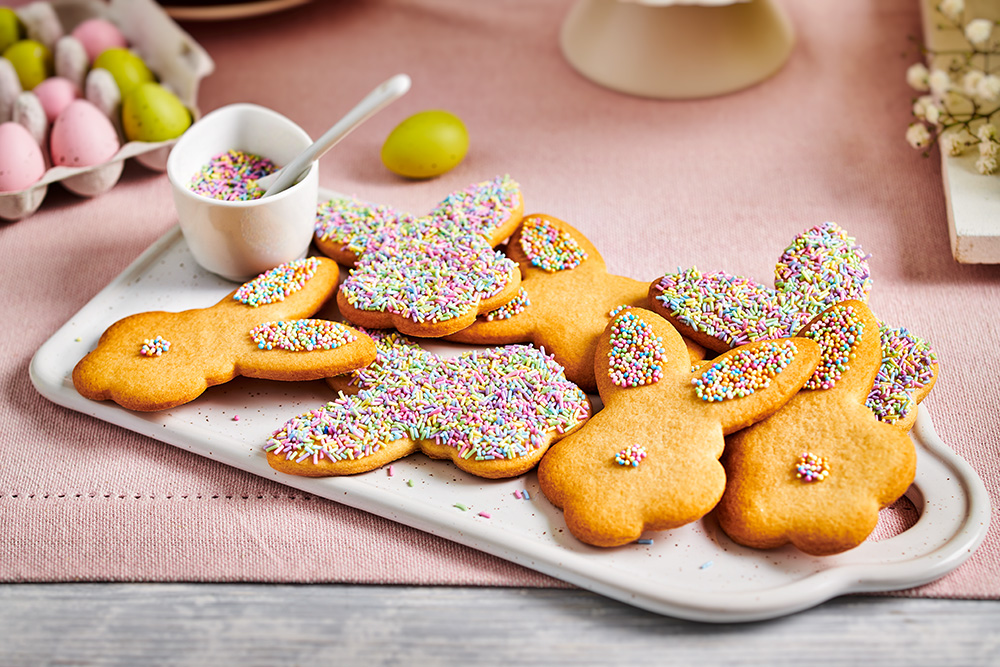 Easter bunny cookies
How cute are these bunny cookies for Easter? They are really easy to make. Bake some cookies and decorate them with the pastel sprinkles from FunCakes.
What you need to make your easter bunny cookies:
Ingredients
500 g FunCakes Mix for Cookies
FunCakes Nonpareils Pastel
FunCakes Sugar Strands Pastel
FunCakes Piping Gel
150 g unsalted butter
1 eggs (approx. 50 g)
Necessities
Wilton Parchment Paper
Wilton Decorating Brushes Set/5
Wilton Wide Glide Rolling Pin 50 cm
Wilton 101 Cookie Cutter Set
PME Fine Decoration Brushes Set/5
Cling Film
Prepare 500 g FunCakes Mix for Cookies according to the instructions the package, wrap it in plastic wrap and let it set in the refrigerator for one hour.
Preheat the oven to 180°C (convection oven 160°C).
Knead the dough from the fridge until smooth and roll it out on a little flour to a thickness of about 2-3 mm. Cut out rabbit heads and place on the baking sheet. Bake the cookies for about 11-15 minutes until light brown and then let them cool flat on the counter.
Spread half the cookies with a thin layer of piping gel and sprinkle with FunCakes pastel sugar strands. On the other half of the cookies make a nose and the inside of the ears with piping gel. Sprinkle with FunCakes pastel musket seeds.
You can also use an apricot jelly instead of piping gel. Heat the apricot jam in the microwave, press it through a sieve and spread it on the cookies.
Just a little while before you can enjoy your cookies. Don't forget to share your creation:
#funcakesbyme