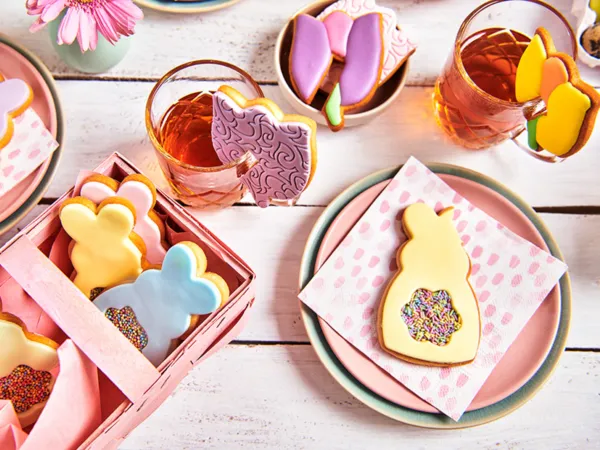 Easter cookies
These tasty Easter bunny cookies are sure to delight! A perfect treat for Easter and Spring, they're soft and chewy with colorful sprinkles for added sweetness. Kids and adults alike will love these delicious homemade cookies!
What you need to make your easter cookies:
Ingredients
500 g FunCakes Mix for Cookies
FunCakes Sugar Paste Multipack Pastel Colours 5x100g
FunCakes Piping Gel
FunCakes Nonpareils Pastel
FunCakes Sugar Strands Pastel
1 egg (approx. 50 g)
150 g unsalted butter
Necessities
Wilton Rolling Pin 50 cm
Wilton Rolling Pin with Rings 50 cm
Wilton Cookie Cutter Flower & Butterfly Set/2
Wilton Cookie Cutter Rabbit with Tail
Patisse Parchment Paper Sheets 38x30cm pk/20
Dr. Oetker Baking Brush with Wooden Handle 19,5x2,4 cm
FMM Impression Mat Vintage Lace
Prepare 500 g FunCakes Mix for Cookies as indicated on the package, wrap in cling film and place in the refrigerator for at least one hour to stiffen.
Preheat the oven to 180°C (convection oven 160°C).
Knead the dough from the fridge and roll it out on a floured work surface to a thickness of about 2-3 mm. Cut out several bunnies and tulips. Cut out a slit from the tulips so that it can stick to the edge of a cup. Place them on a baking sheet lined with parchment paper and bake the cookies for 10-15 minutes until light brown. Let them cool on the countertop.
TIP! Make sure your dough is not too warm. Your cookies will then not hold their shape as well during baking. You can place the plate with cookies in the refrigerator for 15 minutes and then slide directly into the oven to bake. This way they will keep their tight shape and not run out.
Knead the Sugar Paste and roll it out to a thickness of 1-2 mm. Cut out the bunnies and use a small cutter from the set to poke out a hole. Stick the Sugar Paste onto the cookies with a little piping gel. Sprinkle some nonpareils or sugar strands in the center.
For the tulips use the impression mat and cut out a slit from the sugar paste as well. Stick this with some piping gel on the cookies.
Just a little while before you can enjoy your cookies. Don't forget to share your creation:
#funcakesbyme