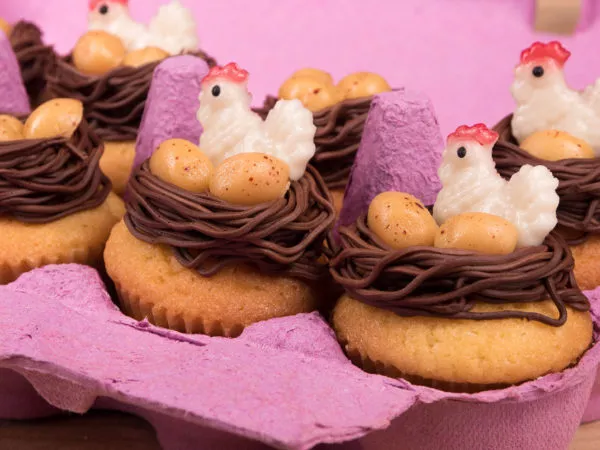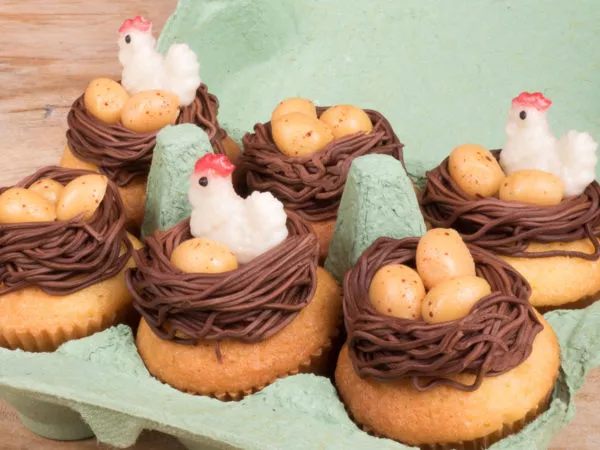 Mini chicken and egg cupcakes
These cupcakes with eggs and chickens are perfect for with the coffee or brunch. After tasting these cupcakes, you want nothing more then keep eating.
What you need to make your mini chicken and egg cupcakes:
Ingredients
500 g FunCakes Mix for Cupcakes
125 g FunCakes Mix for Buttercream
FunCakes Edible FunColours Gel – Brown
FunCakes Marzipan Decorations Chicken and Egg
400 g unsalted butter
125 ml water
5 eggs (approx. 250 g)
Necessities
FunCakes Decorating Bags
FunCakes Baking Cups Brown
Wilton Decorating Tip #233
Wilton Recipe Right® Mini Muffin Pan
Preheat the oven to 180°C (convection oven 160°C).
Prepare 500 grams of FunCakes mix for Cupcakes as indicated on the package. Place the baking cups in the muffin pan. Fill a decorating bag with the cupcake batter, cut off a the tip and fill the cups with batter. Bake the cakes in 18 – 20 minutes in de middle of the preheated oven.
Prepare 125 grams of FunCakes Mix for Buttercream as indicated on the package. Colour the buttercream with the brown colour gel. Put decorating tip #233 in a decorating bag, fill the decorating bag with buttercream and pipe little nests on the cakes. Place the chickens and eggs in it.
Just a little while before you can enjoy your cupcakes. Don't forget to share your creation:
#funcakesbyme