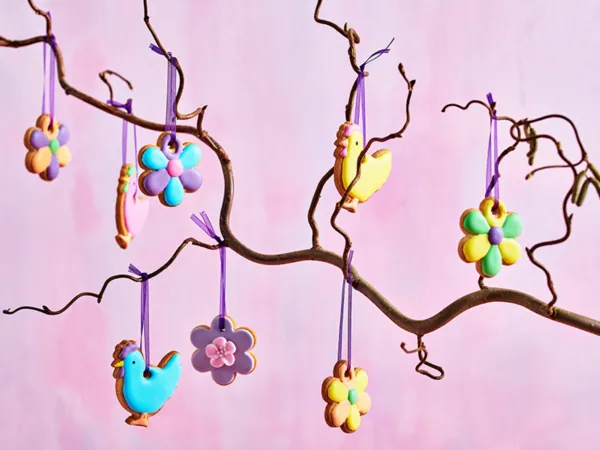 Happy Easter cookies
Whip up something extra sweet this Easter with our delicious cookie recipe! Get creative with royal icing, some happy colours and typical Easter figures like chickens and flowers.
What you need to make your happy easter cookies:
Ingredients
500 g FunCakes Mix for Cookies
450 g FunCakes Mix for Royal Icing
150 g FunCakes Sugar Paste White
FunCakes Food Colour Gel Set/8
FunCakes Sugar Paste Multipack Pastel Colours 5x100g
FunCakes Edible Pen Red
FunCakes Edible Pen Orange
FunCakes Edible Pen Black
FunCakes Edible Pen Grey
FunCakes Sugar Decorations Flower Mix Purple Set/24
FunCakes Sugar Decorations Flower Mix Pink Set/24
FunCakes Piping Gel
55 ml water
1 egg (approx. 50 g)
150 unsalted butter
Necessities
FunCakes Decorating Bags
Wilton -Wide Glide- Rolling Pin
Wilton Decorating Tip #003 Round
Wilton Decorating Tip #010 Round
Wilton Standard Adaptor/Coupler
Wilton Parchment Paper
Cookie Cutter Chicken 6cm
Patisse Cookie Cutter Flower
Prepare 500 g FunCakes Mix for Cookies as indicated on the package and leave to set in the refrigerator for at least one hour.
Preheat the oven to 180°C (convection oven 160°C).
Knead the dough from the fridge and roll it out on a floured work surface to a thickness of about 2-3 mm and cut out chickens and flowers. Using decorating tip #010, make a hole and place them on a baking sheet lined with parchment paper. Bake the cookies for about 10-15 minutes until light brown and let them cool down on the counter.
TIP! Make sure your dough has not gotten too warm before it goes into the oven otherwise they will run slightly. You can refrigerate the plate of cut-out cookies for 15 minutes and then bake immediately for the best results.
Prepare 450 g FunCakes Mix for Royal Icing as indicated on the package and divide it among as many bowls as you want to make colours. Now dilute each dish with a little bit of water until the icing has become yogurt thickness.
TIP: Important is the 10 second rule. When you run the icing from your spoon into your bowl it should form a smooth mirror again in 10 seconds. If this happens faster your icing is too thin and will run off your cookie, you can add some stiff icing to make it thicker again. If it takes longer than 10 seconds your icing is too thick, add a few extra drops of water.
Now colour the thin icing and leave the trays under a wet tea towel for about 20 minutes. This will give it a chance for air bubbles to rise to the surface. After this, stir the bubbles away and put it in a decorating bag with an adaptor and tip #003. Decorate the cookies with icing as you see fit. Let the cookies air dry overnight.
Note: If you put the icing in your decorating bag immediately after colouring, the bubbles on your cookie will pop open and give ugly open holes.
Knead the Sugar Paste smoothly and roll it out thinly. Cut out white chickens and coloured flowers and stick it on the cookies with some piping gel. For the white chickens, use edible markers to decorate them.
Just a little while before you can enjoy your cookies. Don't forget to share your creation:
#funcakesbyme