We want to show the world that flavour combinations are an unparalleled source of creativity and fun. Whether it's the best flavour combinations, the most unusual but amazing flavour combinations, or our beloved FunCakes Flavour Pastes – we want to inspire everyone! Get creative and discover the world of flavour.
As we said, with FunCakes you can discover a lot of flavour combinations. We want to show you everything. Products, recipes, tips and more! On this page you'll find all kinds of trends, the best flavour combinations and product you should definitely try!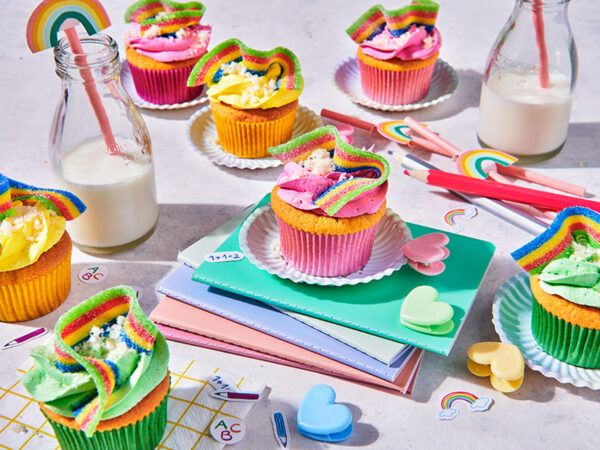 Nostalgic
Sour candy cupcakes
A candy (almost) everyone loves! Of course we had to make a cupcake out of it. With the sweet and salty flavour and with an extra candy popping effect. check out the recipe:
Prepare 500 g FunCakes Mix for Cupcakes as indicated on the package and divide among the baking cups.
Prepare 150 g FunCakes Mix for Enchanted Cream® as indicated on the package and flavour with the FunCakes Flavour Paste Lemon Zest or Apple Green.Divide the cream into three portions and color with the 3 FunCakes Edible Colorings.
Prepare 3 decorating bags with decorating tip #2D and put the coloured Enchanted Cream® in them. Swirl beautiful rosettes on the cupcakes and push in a sour roll. Just before serving, sprinkle some icing sugar on top.
Trend alert!
Make your own butter board in just 4 steps
Butter boards: a real upcoming trend that of course we have to give our own spin to! A butter board is nothing less than a finger food platter, but just a little bit different. Spread butter, or buttercream, on a board and top it off with your favorite snacks and toppings! Just as fun as a finger food platter, but just a little sweeter (or saltier)
Super easy to make and extra fun to put on the table during a party, birthday or other occasion. Bake your favorite brownie, cake or cookies, dip it in the buttercream and decorate it with your favorite topping if you like. That way, everyone has something delicious.
In our blog, we'll share step by step how you can create your own butter board. Of course, we haven't forgotten about the sweet tooth or the savory lovers!
New product
Bake with our new Flavour Pastes
Looking for a flavour to add to your bakings? Don't worry, because we've got you. For this campaign we released 5 new trending flavours! From Lemon Zest to Elderflower. Add those flavours to your Buttercream, Echanted Cream®, Baking mix, drink or anything you like!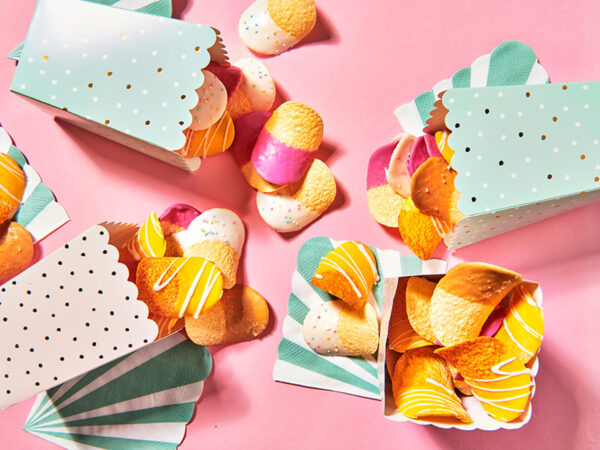 A surprising flavour combination
Pringles with Deco Melts