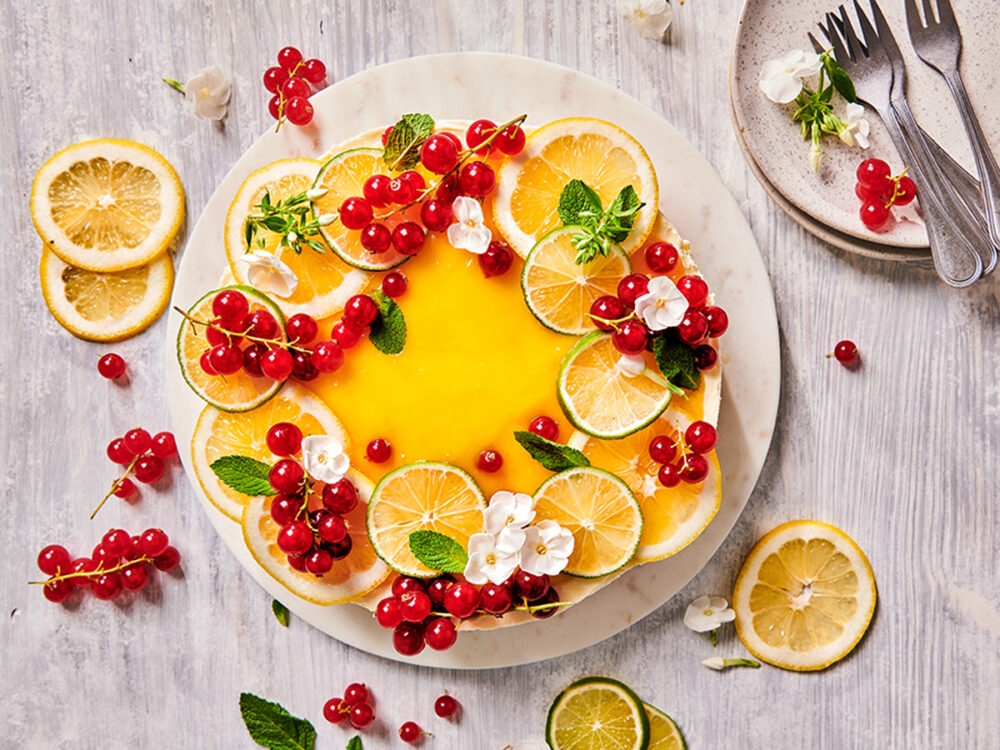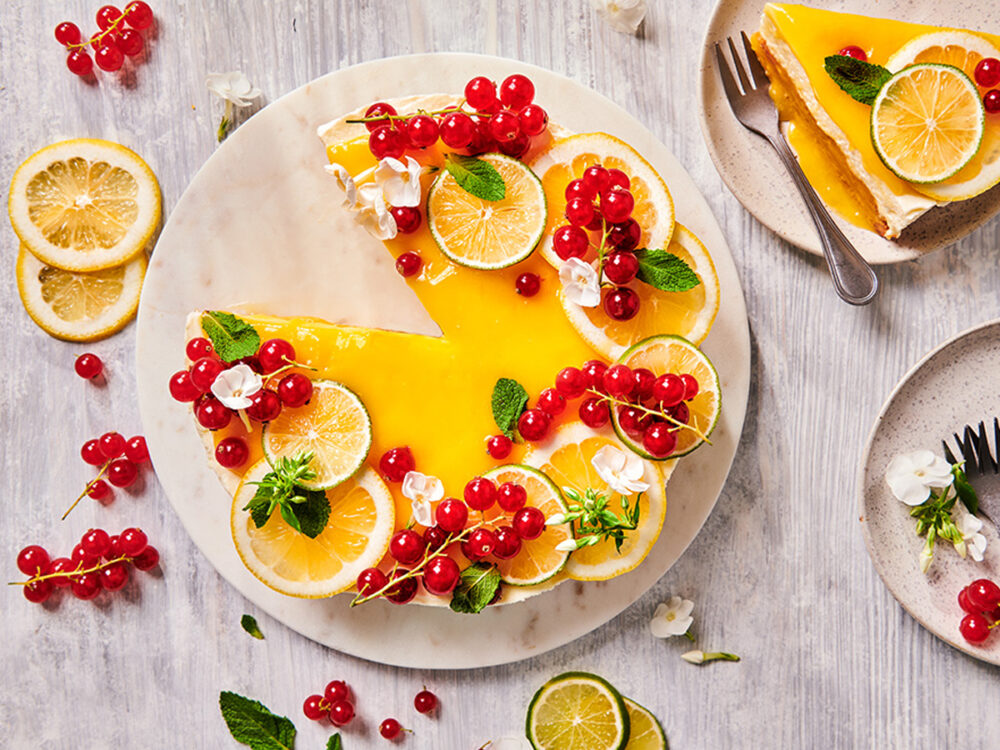 Lemon cake with fruit
A delicious fresh lemon cake decorated with all kinds of pieces of fruit and edible flowers. For the real enthusiasts!
What you need to make your lemon cake with fruit:
Ingredients
500 g FunCakes Mix for Sweet Cookie & Crust
100 g FunCakes Mix for Crème Patisserie
100 g FunCakes Mix for Bavarois
FunCakes Smaakpasta Lemon Zest
500 ml whipped cream
370 ml water
155 g unsalted butter
1 egg (approx. 50 g)
Lemon curd
Redcurrant
Lime
Lemon
Mint leaves
Edible flowers
Necessities
FunCakes Magic Roll-Out Powder
FunCakes Acetate Rol 8cm
Wilton Parchment paper
Wilton Rolling Pin 50cm
Patisse Profi Springform 22cm
Preheat the oven to 180°C (convection oven 160°C).
Knead the dough from the refrigerator well and roll it out to a thickness of about 1 to 1½  cm on a floured work surface. Place the edge of the baking pan on the dough and press out a round sheet. Place the round sheet in the baking pan and spread the crème patisserie over the dough, staying 1 cm from the edge. Bake the crust in a preheated oven for about 30-35 minutes and let it cool down by using a cooling grid.
Put the baking pan back around the cookie crust and stick some acetate foil on the inside from the baking pan with a little water. Spread a little lemon curd on the bottom and beat the whipped cream into a lobe.
Mix the 100 g FunCakes Mix for Bavarois with 120 ml water and fold this directly into the thick whipped cream. Flavour it with the FunCakes Flavour Paste Lemon Zest. Pour the mixture into the baking pan and put it in the fridge for at least 2 hours to set, preferably overnight.
Stir the remaining lemon curd without lumps and spread it evenly over the bavarois, staying 1 cm away from the edge. Decorate the cake with slices of lime, lemon, redcurrant, mint leaves and possibly some edible flowers.
Just a little while before you can enjoy your cakes. Don't forget to share your creation:
#funcakesbyme