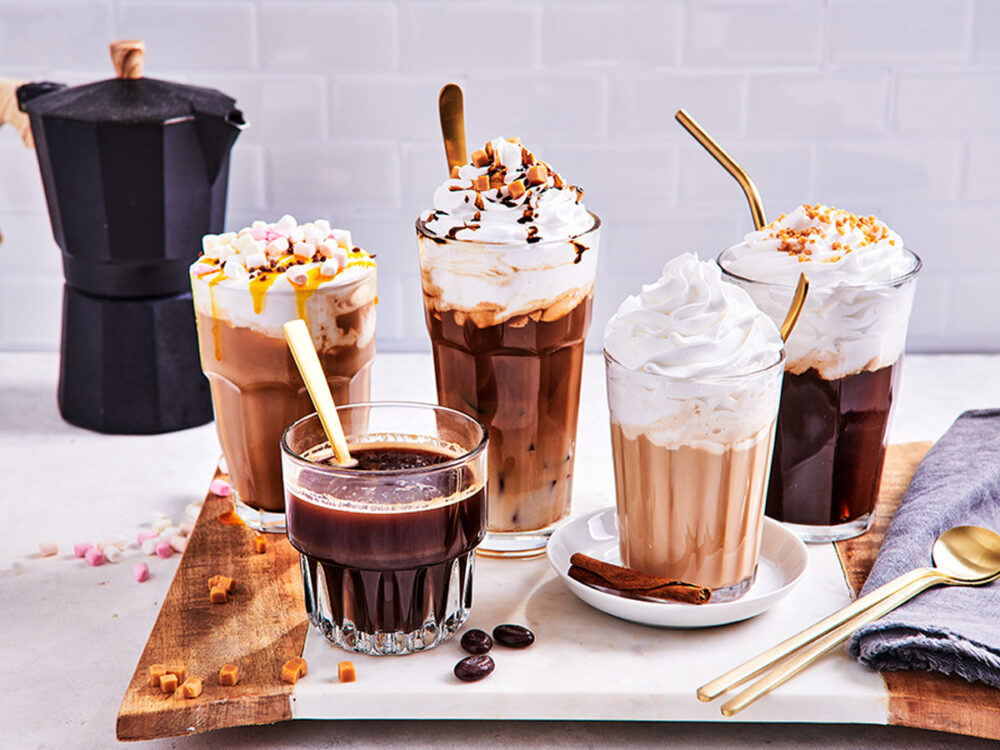 Flavoured coffee
Experience the ultimate caffeinated bliss with FunCakes' irresistible creations. Elevate your coffee game with our FunCakes Flavour Pastes and mesmerizing decorations, making each cup a truly special and unforgettable experience. From iced lattes to special blends, indulge in our trendiest and most delicious coffee concoctions that will have you coming back for more, time and time again.
What you need to make your flavoured coffee:
Ingredients
150 g Funcakes Mix Voor Enchanted Cream®
FunCakes Flavour Paste Tonka Bean
FunCakes Flavour Paste Caramel
FunCakes Flavour Paste Mocca
FunCakes Flavour Paste Cinnamon
FunCakes Flavour Paste Cookies
FunCakes Mini Chocolate Rocks Dark
FunCakes Micro Marshmallows
FunCakes Hazelnut Crunch
FunCakes Mini Fudge
500 ml milk
Coffee
Ice cubes
Necessities
FunCakes Decorating Bags
Wilton Decorating Tip #1M
Pour the coffee into a glass and add a generous teaspoon of the Flavour Paste Caramel (or a Flavour Paste of your choice) and stir briefly.
Swirl a generous tuft of Enchanted Cream on top of the coffee. Drizzle some Flavour Pasta Caramel over the tuft and top with some FunCakes Micro Marshmallows and FunCakes Chocolate Rocks Dark.
For an iced coffee, fill a tall glass halfway with ice cubes. To this, pour cold milk until the ice cubes are submerged. Stir through the cooled coffee some FunCakes Flavour Paste Caramel and pour into the glass with it. Swirl a generous tuft of Enchanted Cream® on top and drizzle some Caramel Flavoring paste over the tuft. Sprinkle some Mini Fudge cubes on top.
Tip: You can vary endlessly with the flavour pastes and make the most delicious iced coffees, lattes and regular coffees.
Just a little while before you can enjoy your treats. Don't forget to share your creation:
#funcakesbyme