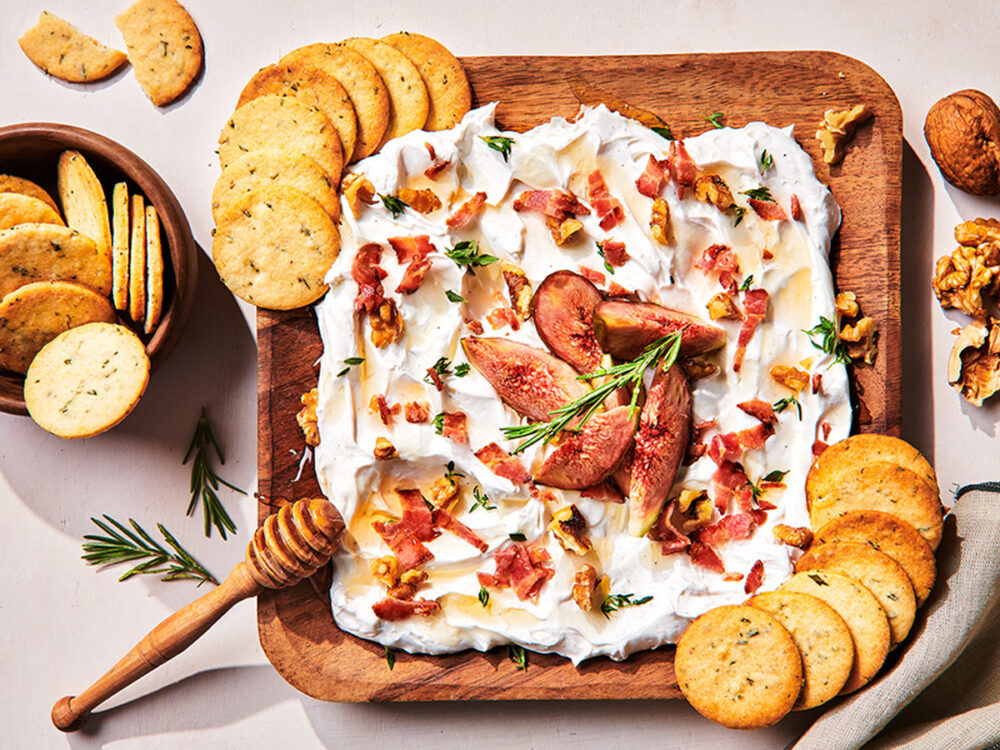 Salty butter board
Butter boards: a real upcoming trend that of course we have to give our own spin to! A butter board is nothing less than a finger food platter, but just a little bit different. Spread butter, or buttercream, on a board and top it off with your favorite snacks and toppings! Just as fun as a finger food platter, but just a little sweeter (or saltier)
1 hour and 15 min. preparing
What you need to make your salty butter board:
Ingredients
150 g FunCakes Mix for Enchanted Cream®
150 g FunCakes Mix for Cookies
1 egg (approx. 50 g)
150 g unsalted butter
150 ml water
Fresh Thyme
Fresh rosemary
Baked Bacon slices
Black pepper
Salt
Garlic powder
Walnuts and figs
Honey
Necessities
Wilton Wide Rolling Pin
Wilton Parchment Paper
Cookie Cutter Ring Ø 5 cm
Wooden board
Prepare 500 g FunCakes Mix for Cookies as indicated on the package. Finely chop the rosemary and thyme. Knead the garlic powder, salt, pepper and chopped herbs into the dough. Wrap in cling film and place in the refrigerator for an hour to stiffen.
Preheat the oven to 180°C (convection oven 160°C) and line a baking sheet with parchment paper.
Quickly knead the dough from the fridge until smooth and roll it out to a thickness of 1 to 1 ½ mm, cut out rounds and place them on the baking sheet. Bake the cookies for 8-12 minutes until light brown and cooked and let them cool flat on the counter.
Prepare 150 g FunCakes Mix for Enchanted Cream® as indicated on the package. In another bowl, mix the soft goat cheese lightly with a pinch of salt and a good amount of ground pepper. Add the lightly mixed goat cheese to the Enchanted Cream® and whisk together until you have an airy, lump-free cream.
Spread the goat cheese cream over the board. Chop a few bacon strips and walnuts and sprinkle this over the goat cheese cream along with some thyme leaves. Top with the cookies, nuts and figs and drizzle some honey on top.
Just a little while before you can enjoy your . Don't forget to share your creation:
#funcakesbyme