The way to a man's heart is through his stomach. So time to roll up your sleeves and get yourself some FunCakes products cause Valentine's Day is coming up! Many already fell head over heels for these lovely Valentine's recipes so Cupido can take some time off this year. Happy single? Lucky you! You won't have to share all those delicious treats.
Play with FunCakes for Cupido and make Valentine's day the loveliest day of the year. On this page you will find everything you need: the tastiest recipes, nicest products and handy tips & tricks. Got inspired and ready to get started? Check our points of sale to get your products right away.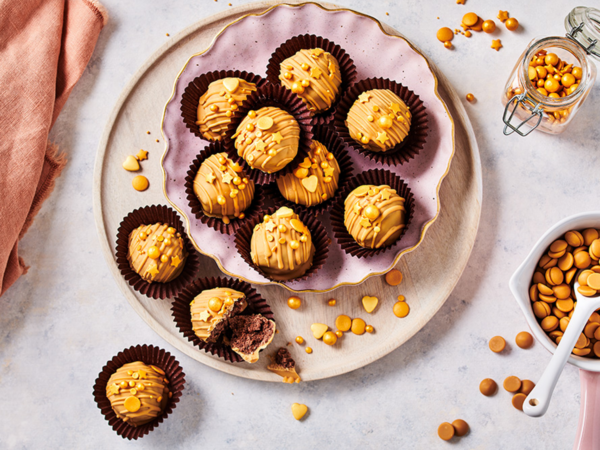 Featured recipe
Choco Balls with gold chocolate melts
For these beautiful Choco Balls, we crumbled brownies and mixed in melted golden Chocolate Melts. Not only does this give the brownie a nice caramel flavour, you can also easily roll them into balls. Divinely delicious!
Bake the FunCakes Mix for Cake Brownie according to the instructions on the packaging and crumble into pieces.
Melt the golden Chocolate Melts and mix with the crumbled brownie so that you can roll them into balls. Leave to set in the fridge.
Melt some more chocolate melts and dip the chocolate balls in it so they are covered all around. Decorate as you like.
Click on the button below to find the complete recipe with all ingredients and baking times.
Featured product
Chocolate Moulds
For Valentine's Day chocolates can not be missed. So score your heart or lips mould quickly at your nearest FunCakes reseller. Are hearts and lips a bit too cheezy for you? No worries, we've got a lot of other shapes too. What to think about diamonds for example...
Shop for Valentine's Day
Did you get inspired and ready to get started? You can easily shop your Valentine's Day products at a store nearby or online at one of the many web shops. Find a point of sale via the button below!