How to make Hot Choco, Tea or Coffee Bombs
It is the time of cozy Sunday afternoons with a cup of tea or hot chocolate on the couch. A moment which you can also turn into a creative one by making hot bombs! We already knew about hot chocolate bombs, but more and more often we see tea and coffee bombs. And making them yourself will do your decorating heart good.
Did you miss this trend completely? The idea is simple: the bombs are balls of chocolate that are filled with for example marshmallows. You put the bombs in a cup of hot milk and while the chocolate melts and mixes with the milk, the marshmallows appear. Just stir and there you have your hot chocolate with marshmallows.
It's not only very delicious, making it is a lot of fun too. Because you can vary the flavours, decorations and fillings to your heart's content. Which ones to use? We'll explain in this blog.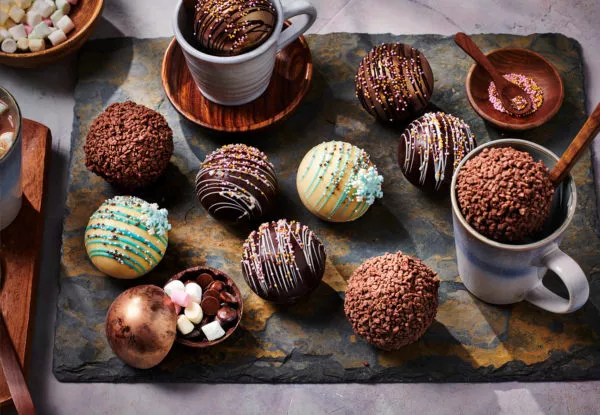 Starting with:
The ball, what do you make it from?
You choose the product from which the ball should be made based on the drink you'll be making. For chocolate milk, you obviously go for chocolate. For a classic hot choco, you go for milk or dark chocolate, depending on how intense you like your chocolate milk. But try white chocolate too, it's delicious!
White chocolate is also a good choice if you prefer coffee bombs. The ball itself gives a more subtle taste, so that the taste of the coffee you add as a filling comes more to the fore.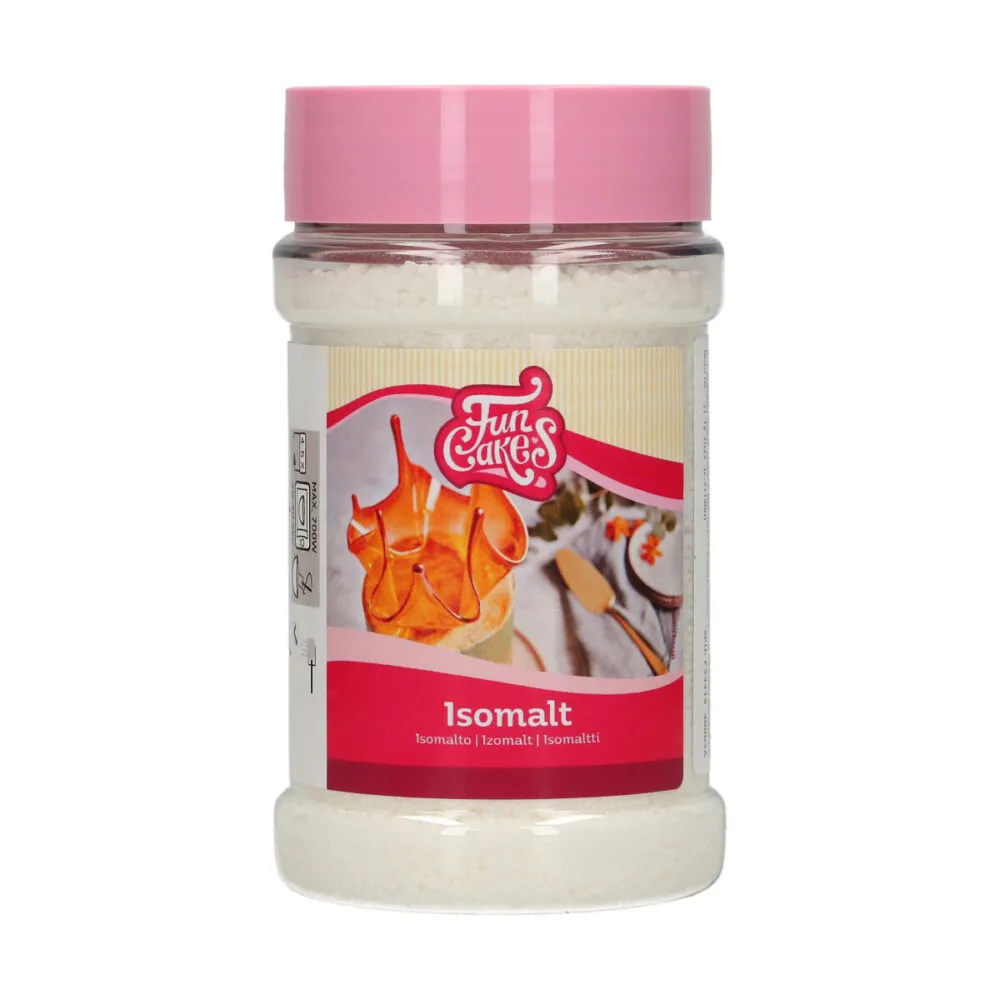 Hot tea bombs are a must-try too. Use isomalt to make these. Isomalt is a sugar-free sweetener that is less sweet than regular sugar. So it gives your tea a nice sweet taste. In addition, isomalt remains transparent, so you can see the filling of the ball. By giving it a colour, the ball gets a colourful glassy look.
And do you want to pop with colour? Then, of course, use Deco Melts to make the balls! If you go for the regular range of Deco Melts, your drink will have a subtle white chocolate flavour. But did you know that we also have flavoured Deco Melts? Go for the toffee or raspberry variant! Also great, especially for the kids: make marbled balls by lightly mixing several colours of Deco Melts.
The balls are finally made by melting the above products and applying them to a mould. You can read how to do so in this recipe.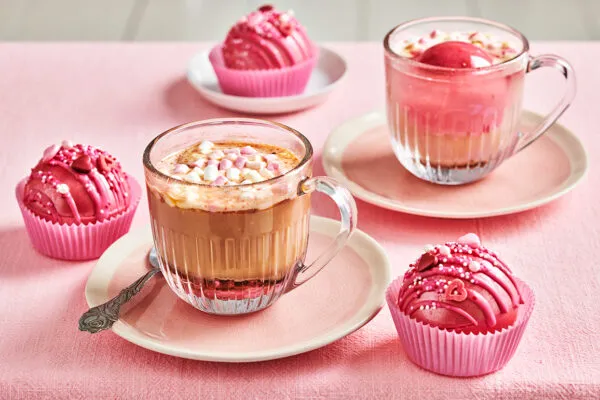 The special effect
What do you put in the bombs?
The fun thing about the filling is, you are the only one who knows what's inside. After that, it it's always a surprise for everyone what pops up after the ball has melted. So be prepared to give it a really special effect!
It goes without saying that the filling should be matched to the product you used to make the bomb. For chocolate milk, mini marshmallows are an absolute must. You can also add some (unmelted) Chocolate Melts. They will give your chocolate an extra boost. Be sure to put a FunCakes Chocolate Ball in the bomb! With its shiny look, they first look very nice and then they nicely melt away in the hot milk. Other ideas for the hot chocolate bombs: chocolate pearls, chocolate rocks, sprinkles, some extra cocoa powder, chocolate paste or caramel.
For Hot Tea Bombs of course, use tea! You can opt for a tea bag, so that you can have the string pulled through the ball and the ball lowered into the hot water, hanging on the string. Or go for nice fresh tea! Also be sure to add: tea flowers. They give the bombs a colourful look because you can see them through the isomalt. Also think of other products that can be delicious in the tea: star anise, a cinnamon stick, ginger, mint etc.
In the same way you choose the filling for coffee bombs. Your favourite instant coffee supplemented with coffee beans, of course! Mini marshmallows and a Choco Ball are also nice here, or again some Chocolate Melts callets for a subtle chocolate flavour. Don't forget to add the FunCakes Meringue drops. Have fun!
For the kids you can make it a party by filling coloured balls with mini marshmallows, smarties, chocolate figures and other meltable candy.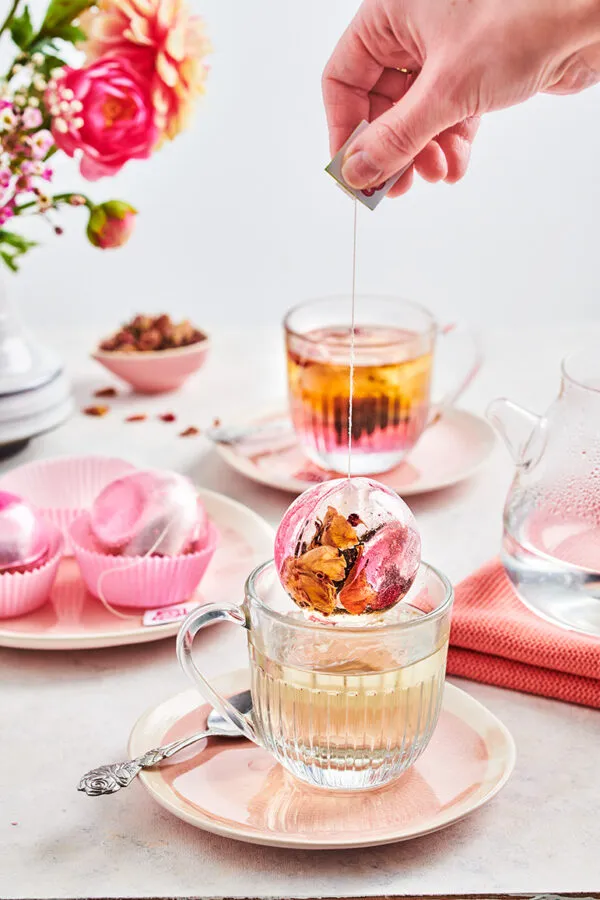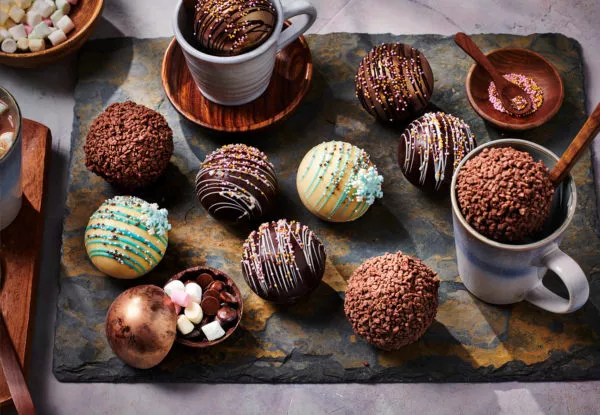 For decoration
Once the balls are filled and ready, it's time to give them their impressive look with beautiful decorations. A drizzle is certainly not to be missed here! You make them from Chocolate or Deco Melts. While the drizzle is still wet, add a subtle sprinkling: nonpareils or small stars for example. Keep in mind that everything will end up in your drink. So the decorations should either be meltable or so small that they are easy to drink. It can be fun to add one larger sugar decoration as an eye-catcher though. Even if it does not melt, it is easy to drink around it, or to remove it from your chocolate milk.
For a hot chocolate bomb with a robust look, spread the bomb with melted chocolate and gently roll it through the FunCakes Chocolate Rocks.
Prefer a shiny look? Use the FunCakes Metallic Sprays, Metallic Paint or Sparkle Dusts to give the chocolate bomb some shine and glitter. This also works perfectly for the hot tea bombs: together with the translucent look of the isomalt, it gives the bombs real shine.
And for the kids? Then of course you decorate the balls with a multi-coloured drizzle and some disco-mix or coloured sugar strands.