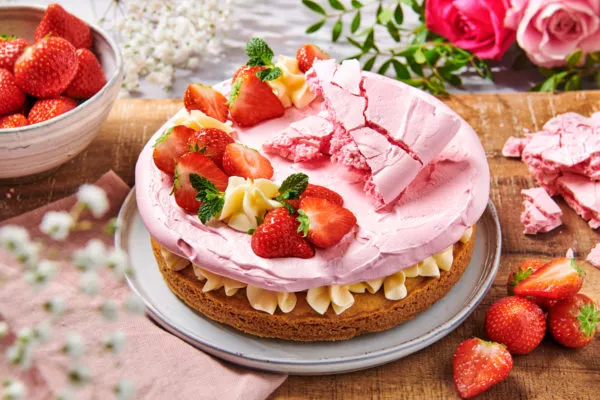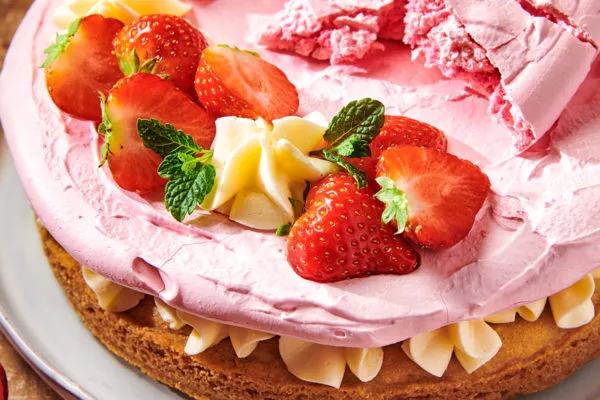 Meringue Cake
Attention to all the love birds! You will definitely score points with this Meringue Cake. Everything will be fine after tasting this sweet threat.
2 hour and 25 min. cooking
1 hour and 10 min. waiting
What you need to make your meringue cake:
Ingredients
FunCakes Mix for Sweet Cookie & Crust
FunCakes Mix for Crème Suisse
FunCakes Icing Sugar
FunCakes FunColours Gel – Pink
5 eggs (approx. 250 g)
125 g caster sugar
10 g cornflour
155 g unsalted butter
Strawberries
Mint leaves
Necessities
FunCakes Bake Release spray
FunCakes Decorating Bags
FunCakes Magic Roll-Out Powder
Wilton -Wide Glide- Rolling Pin
Wilton Decorating tip #1M Open Star
Wilton Decorating tip #1A Round
Wilton Decorator Preferred Spatula Angled
Wilton Parchment Paper
Patisse Silver-Top Springform Leakproof Bottom Ø22cm
Patisse Whisk
Bowl
Sharp knife
Plastic foil
Preheat the oven to 120°C (convection oven 100°C).
Draw  two circles of 22 cm on a sheet of parchment paper, turn the paper over and place on a baking sheet.
Make sure that the bowl and whisk are fat free and beat with 4 egg whites and 125 g of caster sugar until it's a solid white mixture, where you can pull firm peaks of. Add a bit of pink coloring and mix it a bit for a lovely equal color. Carefully fold the icing sugar and cornflower into the mix. Put this in a piping bag with nozzle # 1A and make two circles. Start in the middle and work in rounds till the circles are completely filled. Smooth the cirkles with a spatula if necessary and place the meringue slices in the oven. After they are done, let them dry for two hours.
Tip! You can make the meringues a few days earlier.
Preheat the oven to 180°C (convection oven 160°C) and spray the baking tin with bake release spray.
Prepare 500 gram Mix for Sweet Cookie & Crust as indicated on the package, place it in plastic foil and let it stiff in the fridge for an hour. Make sure your work surface is dusted with magic roll out powder. Knead the dough well and roll it out to a thickness of 1 cm on the surface. Cut out a circle of 22 cm with a sharp knife and place it in the spring form. Bake the bottom for about 20-25 minutes until it's light brown and let it cool in the mold.
Prepare 250 gram Mix for Crème Suisse as indicated on the package and let it stiff for 10 minutes in the fridge. Put the mix in a piping bag with nozzle # 1M and cover the whole bottom with tuffs. Slice some strawberries in small pieces and divide it over the crème Suisse. Cover this with a merengue disk and decorate the upper side with tuffs of cream, strawberries, mint leaves and pieces of meringue.
Just a little while before you can enjoy your cakes. Don't forget to share your creation:
#funcakesbyme