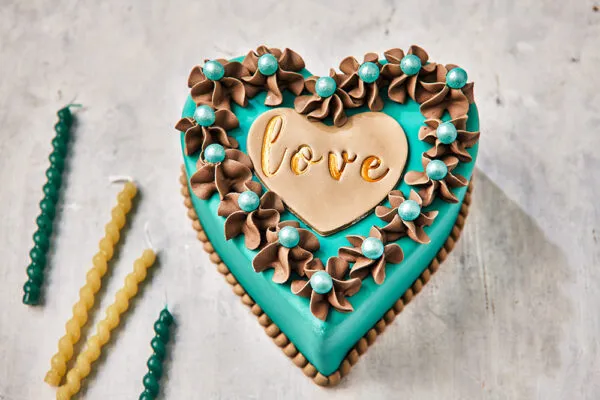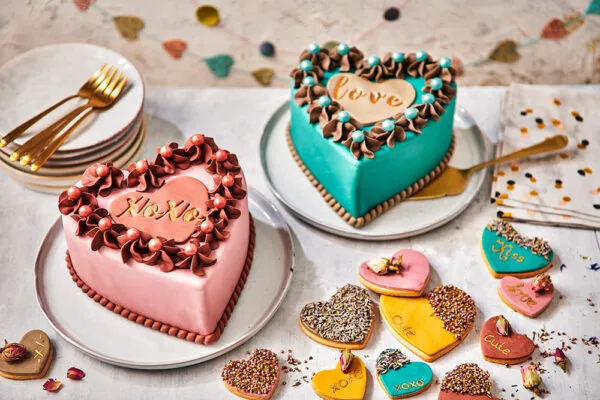 Valentines blue heart cake
Love at first sight with this blue Valentine's Day cake. Eat it with your Valentine or share it with your best friends. We celebrate love together… and, of course, with cake.
What you need to make your valentines blue heart cake:
Ingredients
350 g FunCakes Sugar Paste Teal Blue
150 g FunCakes Sugar Paste Urban Taupe
150 g FunCakes Mix for Sponge Cake Deluxe
125 g FunCakes Mix for Buttercream
FunCakes Candy Choco Pearls Large Ivory
FunCakes Sparkle Dust Pacific Blue
FunCakes Metallic Food Paint Dark Gold
FunCakes Flavour Paste Peach
FunCakes Edible Glue
FunCakes Food Colour Gel Urban Taupe
150 g soft unsalted butter
140 ml water
2,5 eggs (approx. 125 g)
Necessities
FunCakes Bake Release Spray
FunCakes Decoration Bags 41 cm
Wilton Nozzle #1M Open Star
Wilton Rolling Pin 50 cm
Wilton Recipe Right Non-Stick Cooling Grid - 40x25cm
Wilton Cake Leveler 25cm
Wilton Comfort Grip Spatula Angled 22,5 cm
PME Heart Cookie Cutter Set/6
PME Fun Fonts Alphabet Small - Collection 1
PME Deep Heart Cake Pan 15 x 7,5cm
Katy Sue Mould Cake System Rope Border
Dekofee Profi Brush 1
Preheat the oven to 180°C (convection oven 160°C) grease the baking pan with baking spray.
Prepare 150 g FunCakes Mix for Sponge Cake Deluxe as indicated on the packaging. Spoon the batter into the baking pan and bake the sponge cake for about 30-35 minutes until done. After baking, immediately dump onto a cooling grid and leave to cool.
Cut the sponge cake with the cake saw twice and fill and spread thinly with buttercream all around. Let the cake set in the fridge. Colour the rest of the buttercream with the Urban Taupe colour gel and put it in a decorating bag with nozzle #1M.
Knead the Teal Blue sugar paste well and roll it out to a thickness of about 2-3 mm and line the cake with it. Make a decorative border from the Urban Taupe sugar paste using the largest size of string from the mould and stick this along the bottom edge of the cake with some edible glue.
Roll out a piece of Urban Taupe sugar paste and use this to cut out a heart (size of your choice) and use the fun fonts to press a text into it. Use the brush and gold paint to colour in the letters. Stick this heart onto the cake with some edible glue.
Pipe small tufts of buttercream along the top edge of the cake. Put some ivory pearls in a plastic bag, add some blue dust powder and shake. Place the blue pearls on a tuft of cream.
Just a little while before you can enjoy your cakes. Don't forget to share your creation:
#funcakesbyme