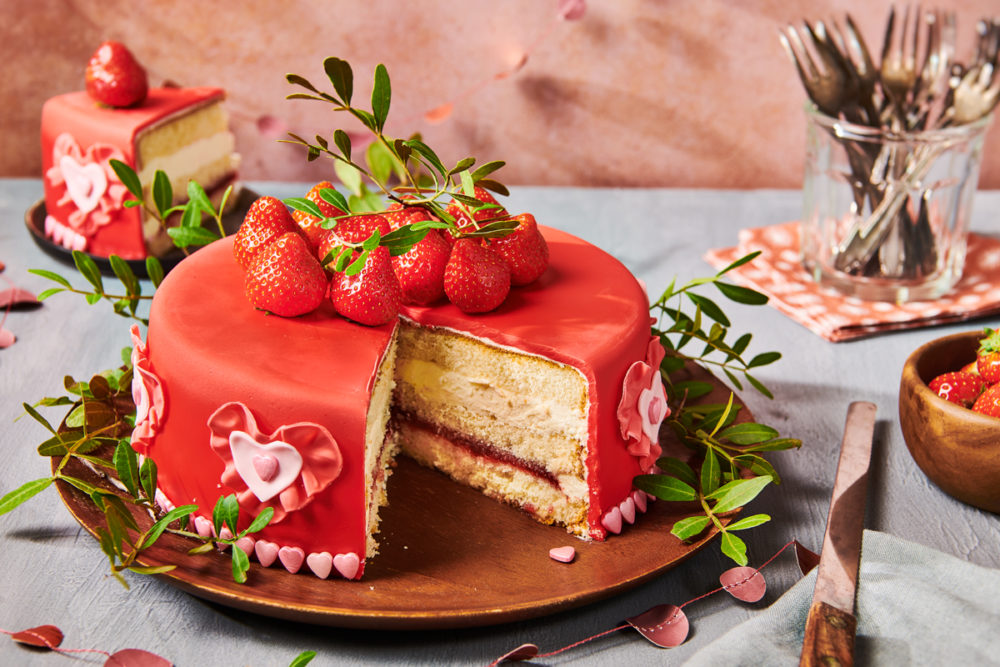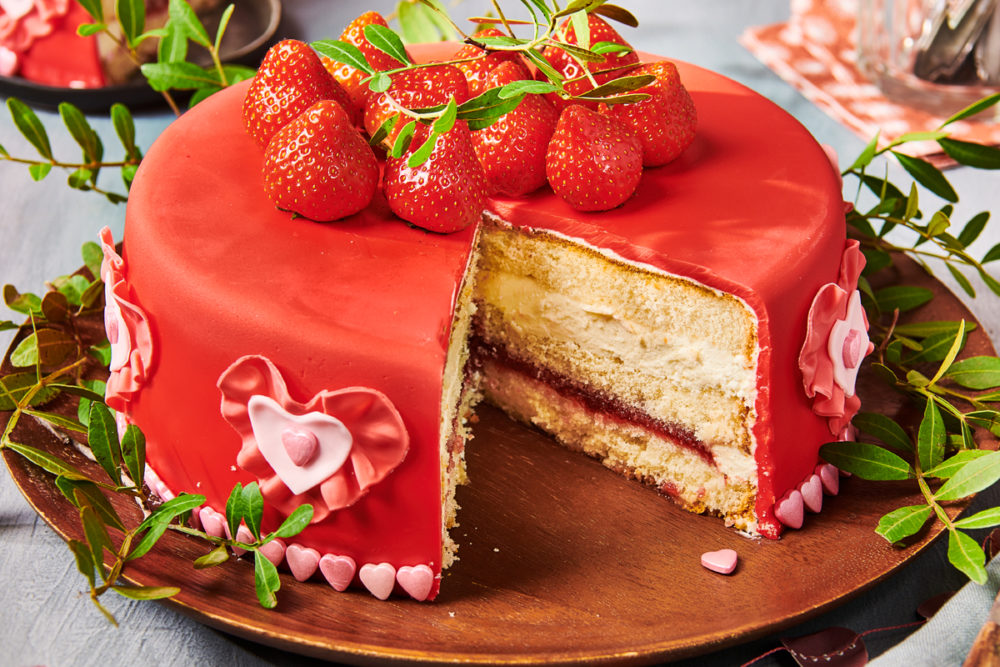 Loving Fondant Cake
We are looking on the bright side of life, especially with Valentines Day. It's the perfect time to surprise your loved ones and we are pleased to help you. Get started right away with this loving cake!
What you need to make your loving fondant cake:
Ingredients
200 g FunCakes Mix for Sponge Cake
125 g FunCakes Mix for Buttercream
450 g FunCakes fondant -red-
50 g FunCakes fondant -pink-
FunCakes flavouring -strawberry-
FunCakes Sugar Hearts -pink-
3 eggs (approx. 150 g)
250 g unsalted butter
145 ml water
Strawberry jam
Necessities
FunCakes Bake Release spray
FunCakes Magic roll out powder
FunCakes Greaseproof Cake Card Ø 20 cm
FunCakes Edible Glue
Wilton Decorator Preferred Deep Round Pan Ø 15 x 7,5 cm
Wilton cake leveler
Wilton rolling pin
Wilton cooling grid
Wilton cookie cutter heart set
Wilton Smoother
Wilton Modeling Stick Set/2
PME impression mat
JEM tool 12 - Petal Frill & Half Round
Brush
Cocktail sticks
Preheat the oven to 175°C (convection oven 160°C).
Prepare 200 g Mix for sponge cake as indicated on the package. Spray the baking tin with bake release spray and fill it half or 2/3 with the mixture. Bake the cake in 25-30 minutes. Release the cake immediately after baking and let it cool down on a cake grid.
Tip! The cake is ready when it feels springy to the touch.
Place the cake upside down on the cake board. Cut the sponge cake in 3 parts with the cake leveller, mark the three layers with a skewer. So that you can put them after filling, exactly alike.
Prepare 125 g Mix for buttercream as indicated on the package. Let the mixture rest at room
temperature for at least 1 hour. Beat 150 grams butter for approx. 5 minutes until
creamy. Add a part of the mixture to the butter and beat until the mixture has been completely absorbed before adding the next part. Once all of the mixture has been added, beat to a smooth buttercream (approx. 10 minutes). Add a tablespoon of strawberry flavour and mix it well.
Cover the first layer with strawberry jam, place the second layer on top and cover this with the buttercream. Place the last layer on top and cover the whole cake with a thin layer of buttercream.
Knead 400 g of  red fondant well. Cover your work board with some magic roll out powder and roll out the fondant. Make sure that there will be no powder on the top of the fondant. Turn the slice a quarter, after rolling three times, so it won't stick.
Just a little while before you can enjoy your cakes. Don't forget to share your creation:
#funcakesbyme