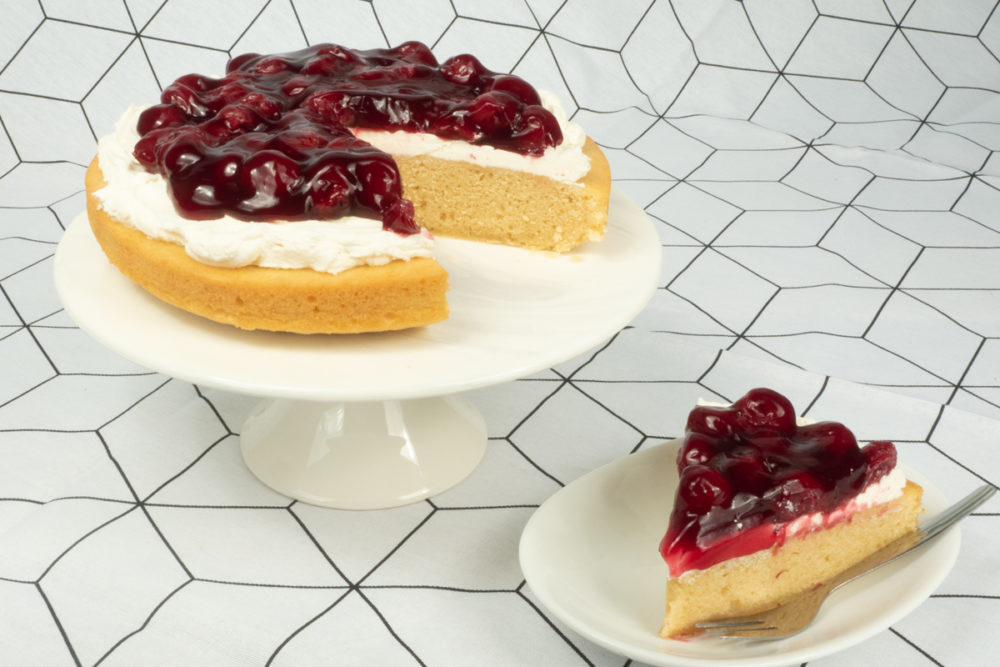 Vegan cake with cherries
This cake is vegan, but just as tasty. Complete the cake with the vegan frosting and cherries. Enjoy your meal!
What you need to make your vegan cake with cherries:
Ingredients
250 g FunCakes Mix for Vegan Cake
190 g FunCakes Icing Sugar
FunCakes FunColours Paste Food Colour White Snow
FunCakes Flavour Paste Vanilla
100 g plant-based oil
100 ml water
60 g plant-based butter
60 g Crisco
30 ml soy milk
Canned tart cherries
Necessities
Wilton parchment paper
Wilton cooling grid
Patisse springform Ø18 cm
Preheat the oven to 180°C (convection oven 160°C).
Prepare 250 g FunCakes Mix for Vegan Cake as indicated on the package. Grease the baking pan with the FunCakes Bake Release Spray and put the batter in the baking pan. Bake the cake in 25 – 30 minutes. After baking, release the cake on a cooling grid to let it cool down.
Put the 60 g plant-based butter, 60 g Crisco, 30 ml soy milk and some vanilla flavour paste in a mixing bowl and mix at high speed until creamy. Add the 190 g of icing sugar and mix it together for 6 minutes. Add some white FunColours Paste Food Colour if necessary to make the cream a bit lighter.
Use a knife to spread the cream on top of the cake and cover with the cherry topping.
Just a little while before you can enjoy your cake. Don't forget to share your creation:
#funcakesbyme