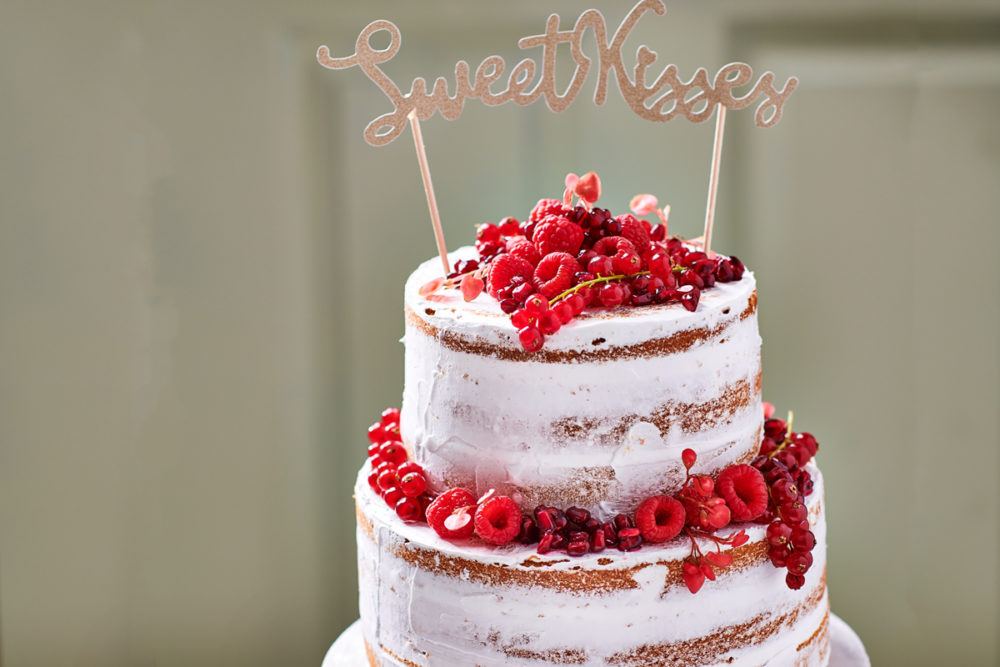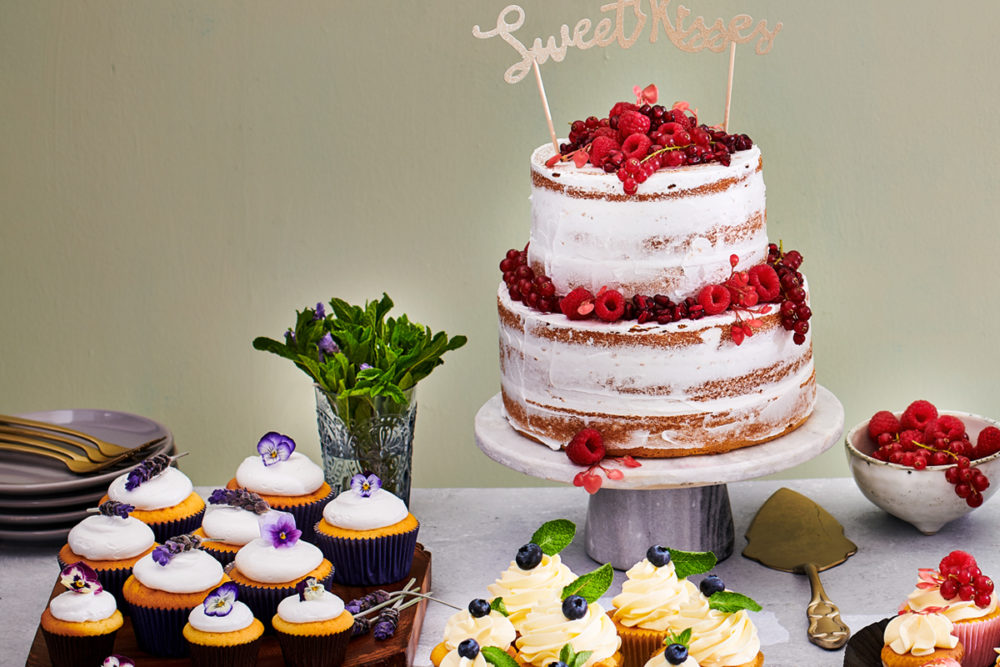 Low sugar naked cake with red fruits
Are you a huge baking fan but do you need to watch your diet every now and then? Than give our low sugar mixes a try. Use it to prepare this delicious naked cake for example.
Ingredients
500 g FunCakes Mix for Sponge Cake – Low Sugar
200 g FunCakes Mix for Enchanted Cream® – Low Sugar
7 ½ egg (approx. 375 g)
180 ml water
140 ml milk
Raspberries
Currants
Pomegranate
Apple blossom
Necessities
FunCakes Cake Board Round Ø17,5cm
FunCakes Cake Board Round Ø22,5cm
FunCakes Bake Release Spray
Wilton Decorator Preferred® Deep Round Pan Ø 15x7,5cm
Wilton Decorator Preferred® Deep Round Pan Ø 20x7,5cm
Wilton Ultimate Cake Leveler
Wilton Decorator Preferred Spatula Angled
Wilton Chrome-Plated Cooling Grid
Wilton Bamboo Dowel Rods
Cake Topper of your choice
Preheat the oven to 175°C (convection oven 160°C).
Prepare 500 grams of FunCakes Mix for Sponge Cake as indicated on the package. Lubricate the baking pans with the baking spray. Divide the batter over the baking pans (1/2 to 2/3 full). Place the cake in the oven and bake for 25-30 minutes and the 20 cm cake for 30-35 minutes. Don't open the door during baking! The cake is ready when it feels springy to the touch. Release the cake immediately after baking and let it cool down on the cooling grid.
Place the large cake on the cake carton and cut it twice with the cake leveler. Fill both layers with a layer of Enchanted Cream® and stack them back on top of each other. Cover the outside of the cake with a thin layer of cream. Repeat this for the small cake. Stack dowels in the large cake and place the small cake on top.
Place the cake topper in the cake and decorate it with raspberries, currants, pomegranate and apple blossom.
Just a little while before you can enjoy your cakes. Don't forget to share your creation:
#funcakesbyme