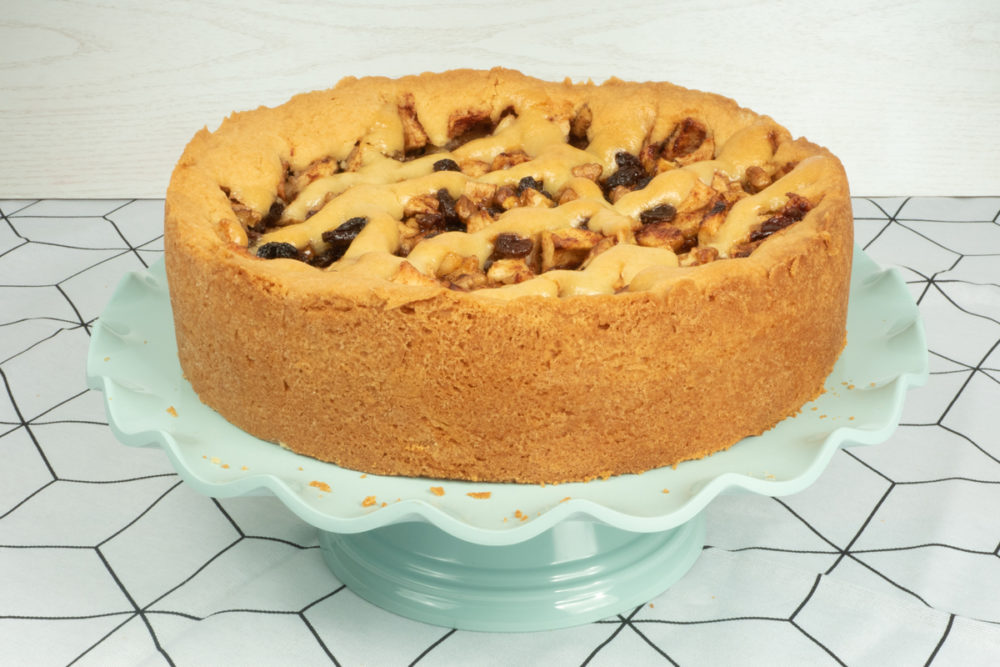 Vegan apple pie
The traditional Dutch apple pie recipe, but completely vegan. Delicious with apples, sugar, cinnamon and much more. Get started quickly!
1 hour and 10 min. cooking
What you need to make your vegan apple pie:
Ingredients
250 g FunCakes Special Edition Mix for Sweet Cookie & Crust
250 g FunCakes Mix for Vegan Cake
130 ml water
100 g plant based oil
75 g plant based butter
60 g raisins
30 g chopped walnuts
3 apples
cinnamon
sugar
Necessities
FunCakes decorating bags
FunCakes Bake Release Spray
FunCakes Magic Roll-Out Powder
Wilton -Wide Glide- rolling pin
Wilton parchment paper
Prepare 250 g of FunCakes Mix for Vegan Cake as indicated on the package. Add 200 g of the vegan  cake batter to the Sweet Cookie & Crust dough. Mix this on a low speed until it has become a nice dough. Wrap this between two sheets of baking paper, press flat and put it in the fridge for at least an hour to set. Fill a decorating bag with the rest of the vegan cake batter.
Preheat the oven to 180°C (convection oven 160°C).
Meanwhile, peel the apples and mix with the raisins, nuts and cinnamon to taste. Add a scoop of sugar if you like.
Cover the bottom of the spring form with a sheet of parchment paper. Grease the sides with Bake Release Spray and place it on top. Roll out the dough from the fridge into a slice on a with Magic Roll-Out Powder dusted surface and cover the bottom and sides of the spring form. Cut a tip of the decorating bag, pipe a little bit of vegan cake batter on the bottom and spread it with the rounded side of a spoon. Don't use everything!
Spoon the apple mixture into the baking tin and press lightly. Pipe a grid over the apples with the remaining vegan cake batter. Bake the cake in the middle of the preheated oven for 60-70 minutes.
Just a little while before you can enjoy your cakes. Don't forget to share your creation:
#funcakesbyme