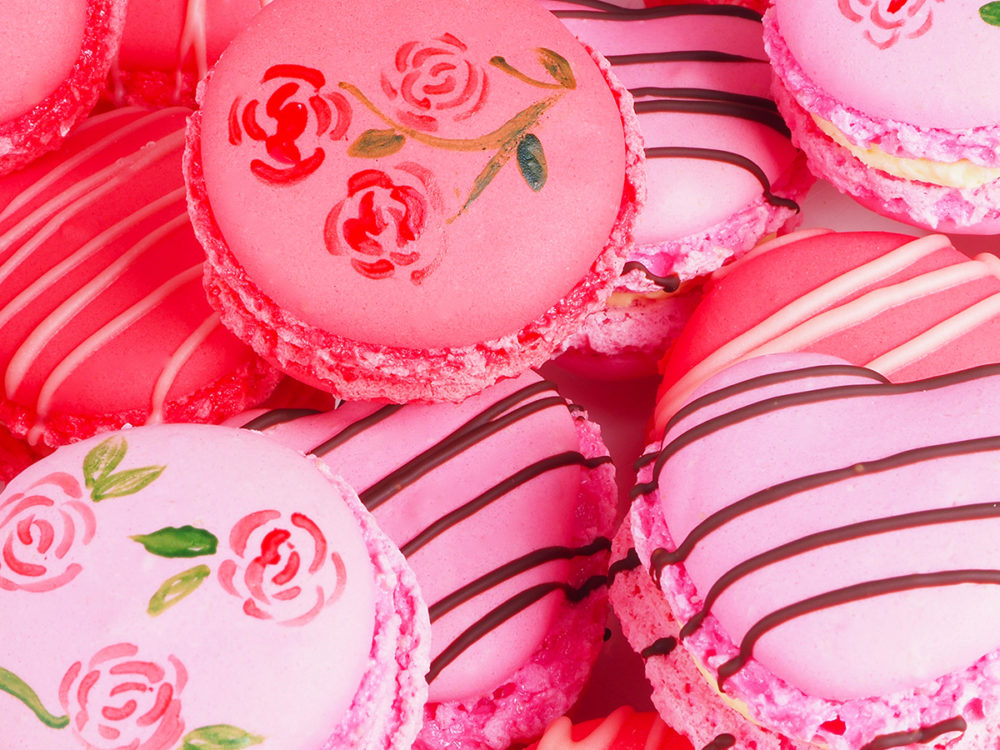 Valentine's Day macarons
Hello lover! Who is going to be your Valentine? Is it your soulmate, your best friend, your mom or the guy next door? With these Valentine macarons it will be a lovely Valentines day.
2 hour and 30 min. waiting
What you need to make your valentine's day macarons:
Ingredients
600 g FunCakes Mix for Macarons
125 g FunCakes Mix for Buttercream
FunCakes Flavour Paste - Strawberry
50 g FunCakes Chocolade Melts – Dark
50 g FunCakes Chocolade Melts – Strawberry
FunCakes FunColours Gel – Red
FunCakes FunColours Gel – Pink
Sugarflair Edible Matt Paint -Red-
Sugarflair Edible Matt Paint -Green-
140 g egg white
125 ml water
150 g unsalted butter
Necessities
FunCakes Decorating Bags
Wilton Decorating Tip #2A
Silikomart Macaron Mat
Silikomart Macaron Mat Heart
Fine brush
Prepare 600 grams of FunCakes Mix for Macarons as indicated on the package. Divide the batter into two portions, colour one portion red and the other one pink. Place each portion in a different decorating bag with decorating tip #2A. Place the macaron mats on a baking tray and fill the cavities with the macaron batter. In case of the heart shapes, help the batter a bit by pushing it in the right form using a cocktail stick. Tap the baking plate on the counter a few times to get rid of air bubbles and let it then air dry for two hours.
Preheat the oven to 140°C (convection oven 130°C).
Bake the macarons in the preheated oven for 15 – 20 minutes and let it cool down completely on the macaron mat.
Paint nice little roses and leafs on several macarons using the edible paint and let this dry.
Prepare 125 grams of FunCakes Mix for Buttercream as indicted on the package and add raspberry flavour to taste. Put the buttercream in a decorating bag, cut off a little tip and fill the macarons.
Melt 50 grams of both flavours melts in different bowls in the microwave and fill two decorating bags with it. Place the macarons on a piece of baking paper and drizzle the melted melts over the macarons. Place them in the fridge in order for the melts to harden.
Just a little while before you can enjoy your macarons. Don't forget to share your creation:
#funcakesbyme