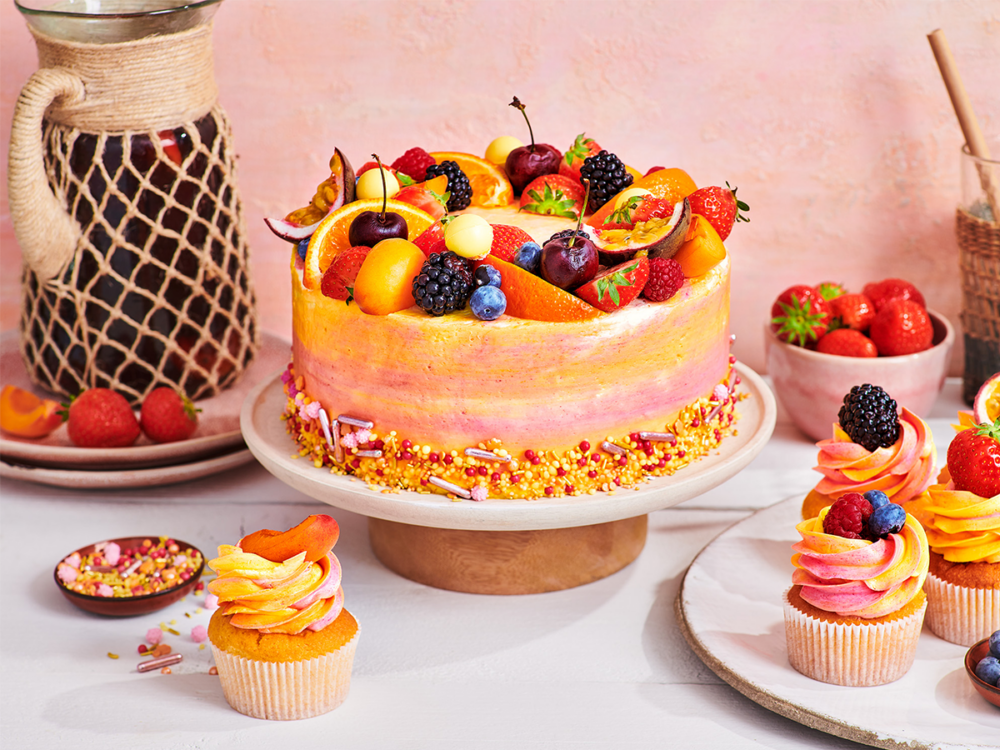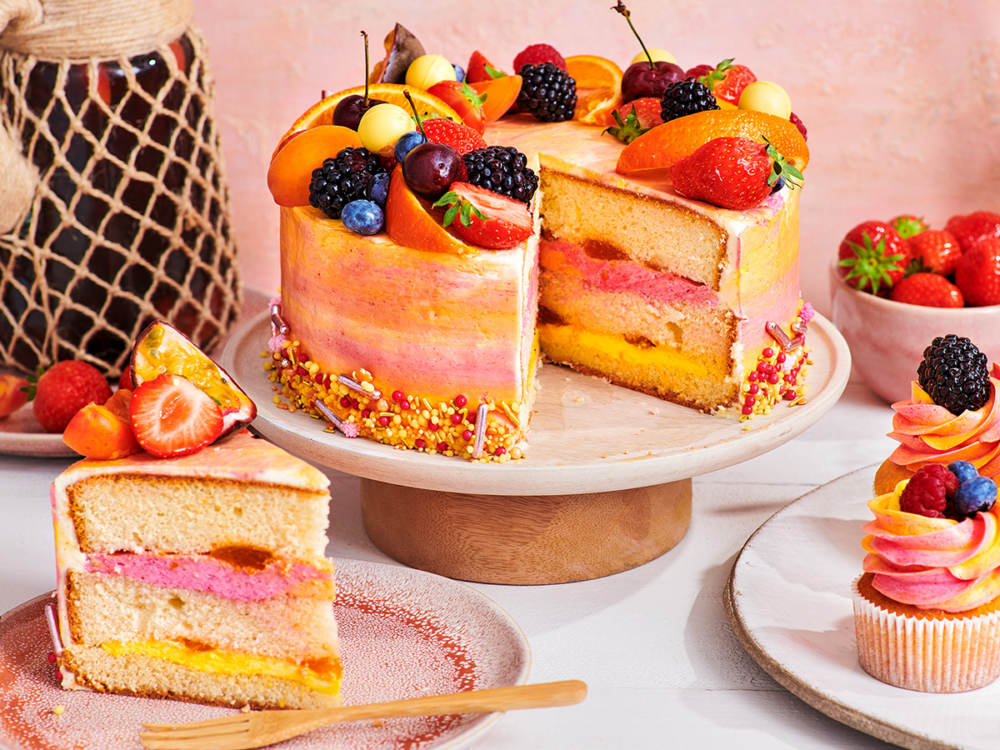 Sangria cake
Summer in a pitcher, that's sangria! This delicious drink inspired us to make this summery sangria cake. Covered with the colours of the sunset and full of summer fruit.
What you need to make your sangria cake:
Ingredients
250 g FunCakes Mix for Sponge Cake Deluxe
400 g FunCakes Mix for Buttercream
FunCakes Flavour Paste Strawberry
FunCakes Flavour Paste Mango
Food Colour Gel Pink
Food Colour Gel Orange
Food Colour Gel Yellow
FunCakes Sprinkles Mimosa Pink
FunCakes Metallic Sugar Rods XL Pink
FunCakes Sugar Pearls Medium Red Gloss
FunCakes Sugar Strands Metallic Gold
FunCakes Soft Pearls Medium Gold
FunCakes Sugar Dots Yellow
FunCakes Choco Balls Yellow
425 ml water
500 g unsalted butter
4 eggs (approx. 200 g)
2 Peaches
Other summer fruit of your choice. We used: strawberries, raspberries, blueberries, blackberries, passion fruit, cherries & orange
Necessities
FunCakes Decorating Bags
FunCakes Bake Release Spray
Wilton Decorator Preferred® Deep Baking Pan Round Ø 20x7.5cm
Wilton Cooling Grid
Wilton Comfort Grip Spatula Taps 22.5 cm
Wilton Cake Leveler
Wilton Basic Turn Table
Wilton Tip #1M
PME Plain Edge Side Scraper
Preheat the oven to 175°C (convection oven 160°C).
Prepare 250 g FunCakes Mix for Sponge Cake according to the instructions on the package. Grease the baking pan with the FunCakes Bake Release Spray and divide the batter over the pan. Bake the sponge cake for 30–35 minutes and then let it cool down completely on a cooling grid.
For the filling, add to taste the strawberry flavour paste and a bit of pink food colour gel to one portion of buttercream and the mango flavour paste and yellow food colour gel to another portion of buttercream.
Cut the cake twice with the cake leveler. Cut the peaches in pieces. Fill the first layer with the mango filling and peach pieces and the second layer with the strawberry filling and peach pieces. Cover the outside of the cake with plain  buttercream and let it set in the fridge for half an hour.
Then mix the fourth portion of buttercream with the pink food colour and the last one with the orange food colour. Place the cake on a turning table and apply the pink and orange buttercream randomly over the cake using a spatula. With the side scraper, now pull the cream tightly around the cake to allow the colours to nicely flow into each other, creating an ombre effect. Let it set in the fridge for half an hour again.
Mix all sprinkles together and cut all the fruit. Apply the sprinkles by hand to the edge of the cake and decorate the top with summer fruit. Place a few yellow choco balls in between the fruit.
Just a little while before you can enjoy your cakes. Don't forget to share your creation:
#funcakesbyme