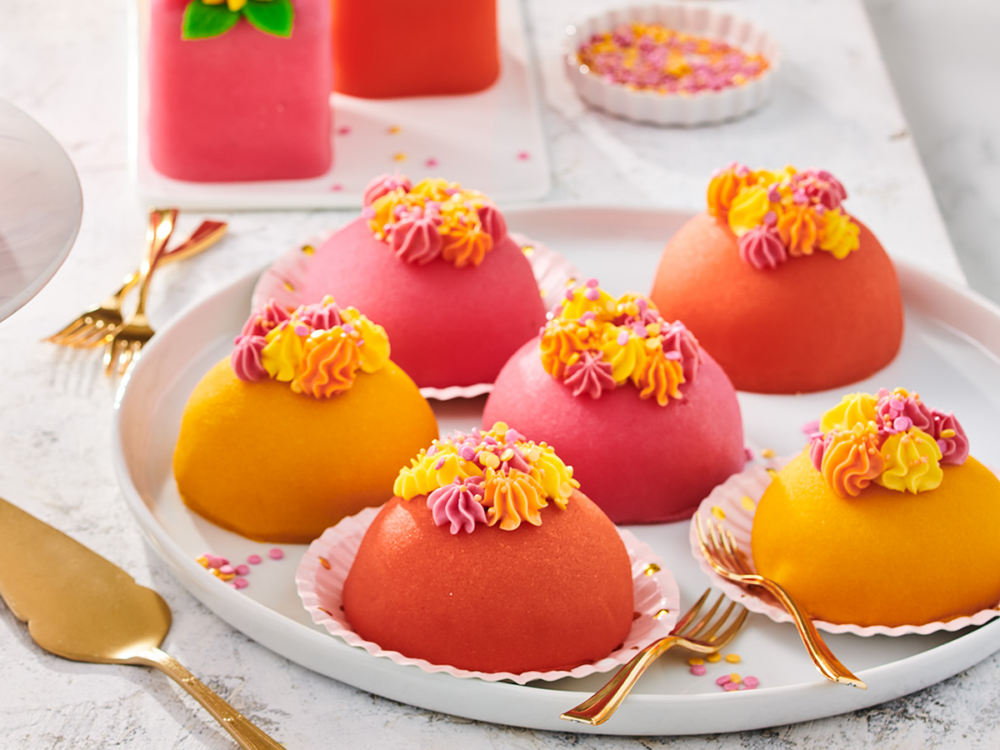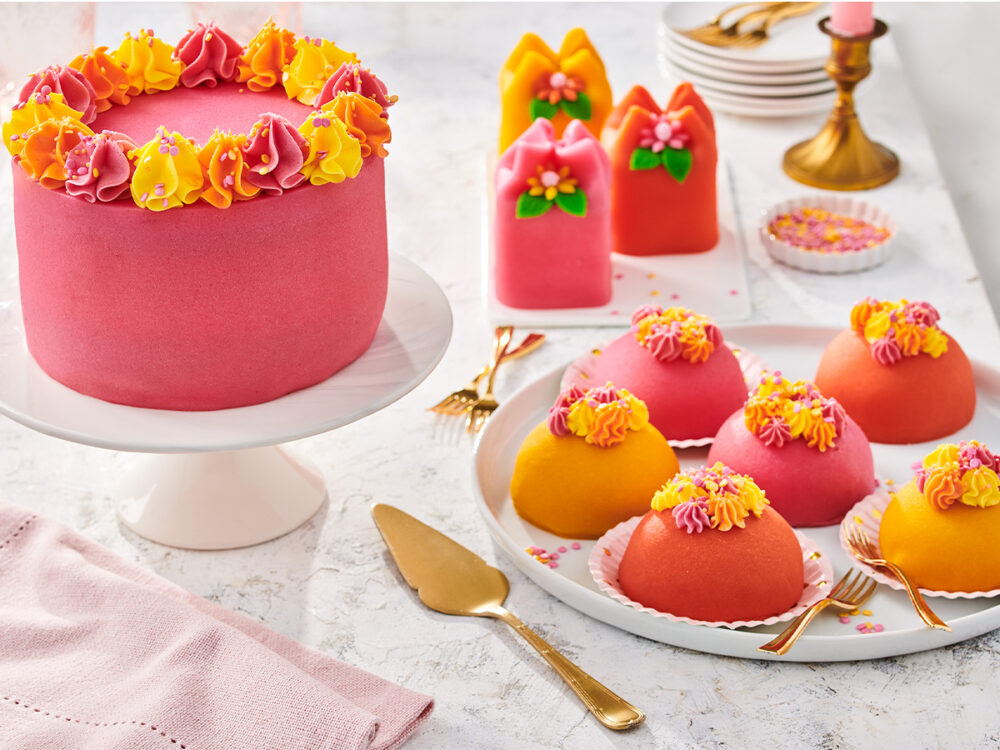 Marzipan dome cakes
Marzipan pie filled with lemon buttercream. Everyone will leave a little appetite for that… Enjoy!
1 hour and 30 min. preparing
What you need to make your marzipan dome cakes:
Ingredients
500 g FunCakes Mix for Cupcakes
125 g FunCakes Mix for Buttercream
FunCakes Flavour Paste Lemon
FunColours Gel Pink
FunColours Gel Yellow
FunColours Gel Orange
350 g FunCakes Marzipan Pink
350 g FunCakes Marzipan Orange
350 g FunCakes Marzipan Yellow
FunCakes Confetti Metallic Pink
FunCakes Nonpareils Yellow
FunCakes Nonpareils Orange
400 g unsalted butter
125 ml water
5 eggs (ca. 250 g)
Necessities
FunCakes Decorating bags
Wilton Tip #032 Open Star
Wilton Cooling Grid
Wilton Wide Glide Rolling Pin 50cm
Wilton Decorator Preferred Spatel Angled 22,5 cm
Silikomart Silicone Form Half Spheres Ø6cm
Preheat the oven to 180 °C (convection oven 160 °C).
Prepare 500 g of FunCakes Mix for Cupcakes according to the instructions on the package and fill the half spheres to about 2/3 with batter. Use the remaining batter to bake a few more cakes later. Bake the cakes in a preheated oven for about 25-30 minutes. Let the cakes cool down slightly in the silicone mold and then carefully remove them and place them on a cooling grid to cool further.
Prepare 125 g of FunCakes Mix for buttercream as indicated on the package and season with the FunCakes Lemon Flavor Paste. If necessary, cut a small cap off the cakes so that they are firm and cover them with Lemon Buttercream.
Knead the marzipan very smoothly, roll it out to a thickness of about 2 mm and use it to cover the mini cakes.
Divide the leftover buttercream into 3 portions and color each portion with the FunCakes Color Gels. Put this separately in a decorating bag with # 032 and pipe some colored tufts on top of the cakes. Sprinkle some confetti and nonpareils over it.
Just a little while before you can enjoy your pastries. Don't forget to share your creation:
#funcakesbyme