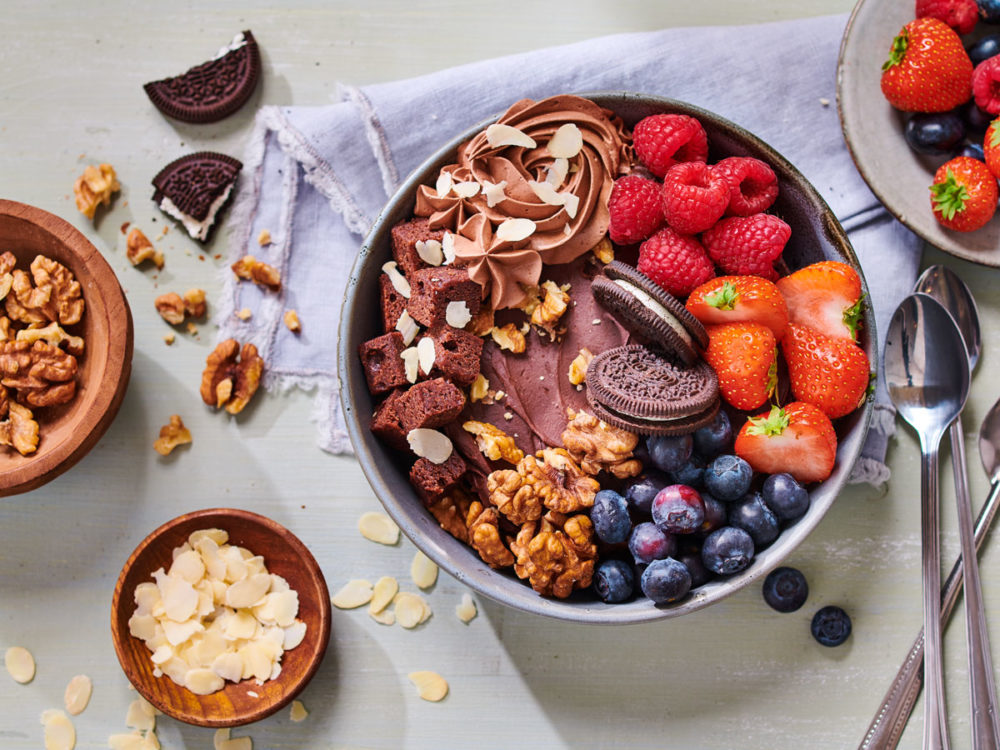 Chocolate Cake Bowl
This is for all brownie fans! We have come up with a new chocolate creation. Indulge yourself with this Chocolate Cake Bowl. What a wonderful treat.
What you need to make your chocolate cake bowl:
Ingredients
500 g of FunCakes Mix for American Brownie
75 g FunCakes Mix for Enchanted Cream® Choco
200 g FunCakes Mix for Chocolate Ganache
FunCakes Chocolate Drops Dark
FunCakes Almond flakes
250 g unsalted butter
100 ml milk
3 eggs (approx. 150 g)
Oreo cookies
Walnuts
Strawberries, raspberries and blueberries (or other seasonal fruits)
Necessities
FunCakes decorating bag
FunCakes Bake Release spray
Wilton Recipe Right® Pan 20x20cm
Wilton parchment paper
Wilton decorating tip #1M
Wilton Decorator Preferred spatula angled
Wilton cake leveler
Mixer
Round cookie cutter Ø 8–10 cm
Bowl Ø 12-15 cm
Prepare the FunCakes Mix for Chocolate Ganache as indicated on the package, let it stiffen in the fridge and then mix for 1 minute on high speed.
Preheat the oven to 160°C (convection oven 140°C) and grease the baking pan with Bake Release Spray.
Prepare 500 g Mix for American Brownie as indicated on the package and put it into the baking pan. Bake the brownie for about 35 minutes, the brownie will still be soft inside afterwards. Put the brownie in the fridge for at least 2 hours to get stiff.
Cut the brownie with the cake leveler in half and cut out two circles with the cutter. Cut the rest into small cubes.
Sprinkle some dark Chocolate Melts on the bottom of the bowl and place a slice of American brownie on top.
Coat the brownie with the ganache. Make a large rosette with the Enchanted Cream® and add some smaller swirls around it.
Decorate with the fruits, walnuts, Oreo's and brownie cubes. Sprinkle some almond flakes on top.
Life is short, lick the bowl!
Just a little while before you can enjoy your cake bowl. Don't forget to share your creation:
#funcakesbyme