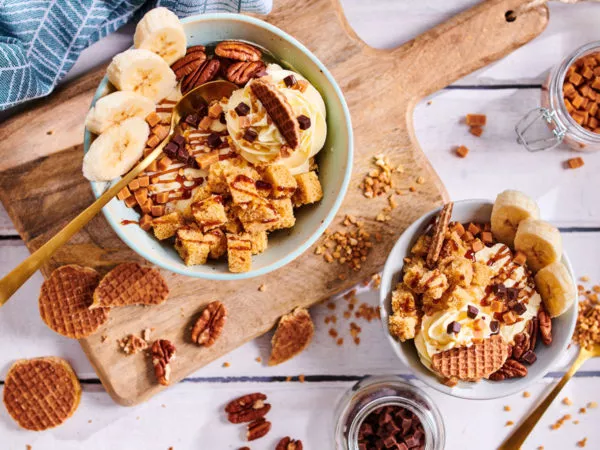 Caramel Cake Bowl
What could be better than a Dutch caramel cookie? A Cake Bowl with Dutch caramel cookies of course! This irresistibly tasty cookie gets a starring role in this delicious cake bowl. Enjoy it!
1 hour and 10 min. cooking
What you need to make your caramel cake bowl:
Ingredients
500 g FunCakes Mix for Crunchy Caramel Cake
125 g FunCakes Mix for Buttercream
FunCakes Flavour Paste -Caramel Toffee-
FunCakes Mini Fudge
FunCakes Mini Fudge Choco
FunCakes Hazelnut Crunch
FunCakes Glaze Topping Caramel
250 g unsalted butter
4 eggs (approx 200 g)
140 ml water
150 g unsalted butter
Bananas
Pecans
Mini caramel waffles
Necessities
FunCakes decorating bags
FunCakes Bake Release Spray
Wilton decorating tip # 1M
Wilton cake leveler
Wilton cooling grid
Wilton Recipe Right Large Loaf Pan 23,4 x 13,3 cm
Cookie cutter ring Ø 8-9 cm
6 bowls Ø 10-12 cm
Preheat the oven to 180°C (convection oven 160°C) and grease the cake tin with Bake Release Spray.
Prepare 500 g Mix for Crunchy Caramel Cake as indicated on the package. Put the cake batter into the baking tin and bake the cake for 60 – 70 minutes. After baking, pour it on a cake rack and let it cool down completely.
Prepare 125 g Mix for Buttercream as indicated on the package and add to taste the flavour paste.
Cut the cake horizontally with the cake leveler into large slices and cut out 6 circles with the cookie cutter. Cut the rest of the cake into small cubes.
Tip! If you can't get an entire circle out of one slice, place two slices next to each other and then cut out the circle.
Sprinkle a layer of hazelnut crunch on the bottom of the bowl. Place the cake on top and cover with a layer of buttercream.
Put the buttercream in a decorating bag with # 1M, pipe a generous rosette on the cake and put some cake cubes next to it.
Fill a decorating bag with some caramel glaze, cut off a small tip and drizzle this over the cake.
Slice a banana in pieces and place it along the edge of the bowl. Put mini caramel waffles in the rosette and continue decorating with the fudge cubes and pecans.
Life is short, lick the bowl!
Just a little while before you can enjoy your cake bowl. Don't forget to share your creation:
#funcakesbyme