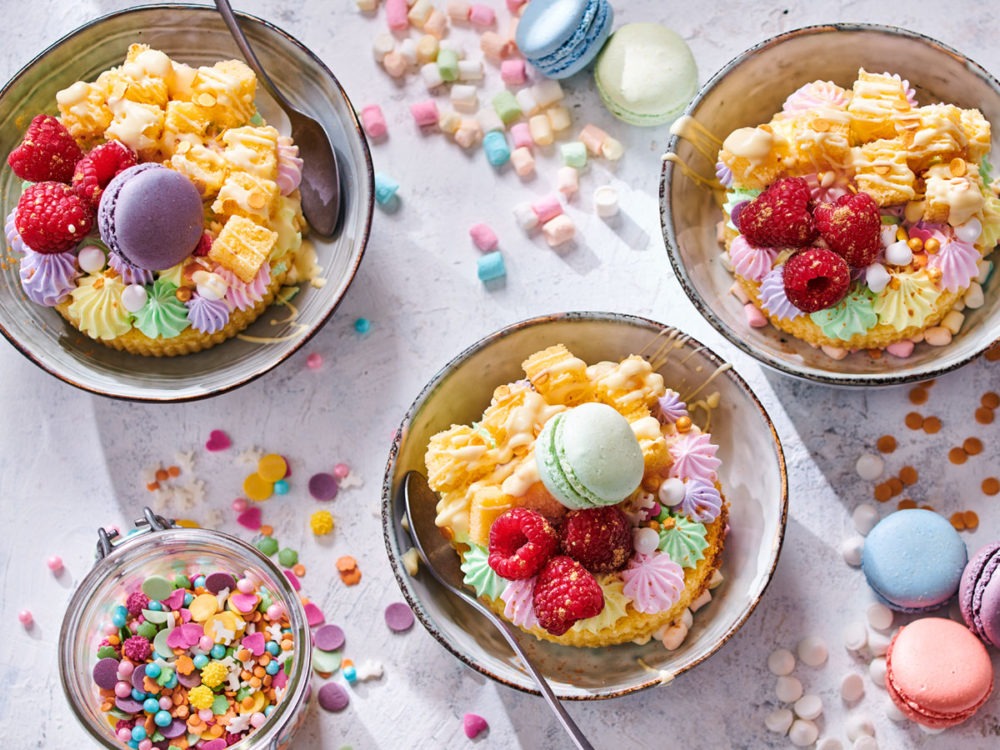 Unicorn Cake Bowl
The unicorn among the cake bowls! Two of our signature baking mixes together with a big colour explosion in one bowl. It doesn't get more unicorn than this.
1 hour and 10 min. cooking
What you need to make your unicorn cake bowl:
Ingredients
500 g of FunCakes Mix for Cupcakes
75 g of FunCakes Mix for Enchanted Cream®
FunCakes Mini Marshmallows
FunColours Gel - Bright Green
FunColours Gel - Purple
FunColours Gel - Yellow
FunColours Gel - Pink
FunCakes Sprinkle Medley – Pastel Unicorn
FunCakes Chocolate Melts – White
FunCakes Meringue Drops
FunColours Sparkle Dust – Glitter Gold
250 g unsalted butter
50 ml of water
50 ml of milk
5 eggs (aprrox. 250 g)
Raspberries
6 Macarons
Necessities
FunCakes Bake Release Spray
5 FunCakes decorating bags
Wilton cake leveler
Wilton cooling grid
Wilton spatula curved
Wilton Decorator Preferred® bakvorm Ø 20 cm
4 Wilton decorating tips #32
Wilton Comfort Grip Cutter Round
4 Bowls Ø 10 cm
Brush
Preheat the oven to 180°C (convection oven 160°C) and grease the baking pan with Bake Release Spray.
Prepare 500 g Mix for Cupcakes as indicated on the package and put it in the baking pan. Bake the cake in 60 – 70 minutes until golden brown. After baking, release it on a cooling grid and let it cool down completely. Cut the cake in slices with the cake leveler and cut out 6 circles with the cookie cutter. Cut small cubes of the rest.
Prepare 75 g Mix for Enchanted Cream® as indicated on the package, divide it into 4 portions and colour each portion with a different FunColours Gel. Put each colour in a decorating bag with tip #32.
Put a layer of mini marshmallows at the bottom of the bowls. Place a round slice of cake on top and cover the cake with tufts of the cream. Insert a macaron into the tufts. Place some cake cubes in a corner and add a few raspberries. Add some gold Sparkle Dust with a brush on the raspberries. Decorate further with the Unicorn Medley and the Meringue Drops.
Melt the Chocolate Melts au bain-marie and put this in a decorating bag. Cut off a small tip and drizzle over the cake cubes.
Life is short, lick the bowl!
Just a little while before you can enjoy your cake bowl. Don't forget to share your creation:
#funcakesbyme