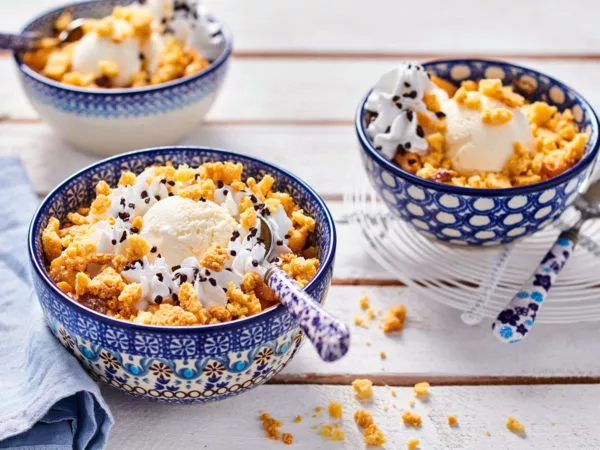 Apple Crumble Cake Bowl
Transform the classic apple crumble into this delicious cake bowl with ice cream! This variation will quickly become everyone's new favourite.
What you need to make your apple crumble cake bowl:
Ingredients
250 g FunCakes Mix for Sweet Cookie & Crust
75 g FunCakes Mix for Enchanted Cream®
FunCakes Mini Chocolate Rocks Dark
125 g FunCakes almond paste
50 ml milk
50 ml water
80 g unsalted butter
1,5 egg (approx. 75 g)
3 apples
1 el white caster sugar
2 tl custard powder
Vanilla ice cream
A handful of raisins
Cinnamon to taste
Necessities
FunCakes decorating bags
FunCakes Magic Roll-Out Powder
Wilton decorating tip #1M
Wilton -Wide Glide- Rolling Pin
Wilton parchment paper
Cookie cutter ring Ø 7 cm
4 Bunzlau Castle bowls - Seville - Ø 8 – 10 cm
Ice cream scoop
Plastic box
Baking plate
Clingfilm
Prepare 250 g of FunCakes Mix for Sweet Cookie & Crust as indicated on the package. When it is still crumbly, take out a few spoons of the mix and put it on a baking tray with parchment paper. Knead the rest of the dough into a smooth ball, wrap it in clingfilm and put it in the fridge for an hour so that it can stiffen.
Preheat the oven to 180°C (convection oven 160°C) and cover a baking tray with parchment paper.
Knead the dough from the refrigerator and roll it out to a thickness of about 1 cm on a flat surface covered with Magic Roll-Out Powder. Cut out circles and place this with the ring around it on the baking sheet.
Stir 0,5 egg through the almond paste. Pour it into a decorating bag, cut off a tip and spray a round of almond paste in the middle of the dough slice. Bake them golden for about 20-25 minutes and let them cool down afterwards.
Tip:  You can save the almond paste in the freezer if you don't use everything.
Then bake the crumbles in about 10 minutes until they are golden brown. You might want to make it crumble some more by stirring through the crumbles with a fork. Let it cool down.
Meanwhile, peel the apples and cut into small pieces. Mix this with the raisins and bake them with a little bit of butter until they soften. Add to taste some cinnamon, caster sugar en custard powder and let it cool down.
Prepare 75 g of FunCakes Mix for Enchanted Cream® as indicated on the package and put it in a piping bag with decorating tip #1M.
Put a cake slice on the bottom of a bowl. Spoon the baked apples around the cookie and put a big scoop of vanilla ice cream in the middle on top of the cake.
Pipe some swirls of Enchanted Cream® around it and add cookie crumbs and chocolate rocks on top.
Life is short, lick the bowl!
Just a little while before you can enjoy your cake bowl. Don't forget to share your creation:
#funcakesbyme