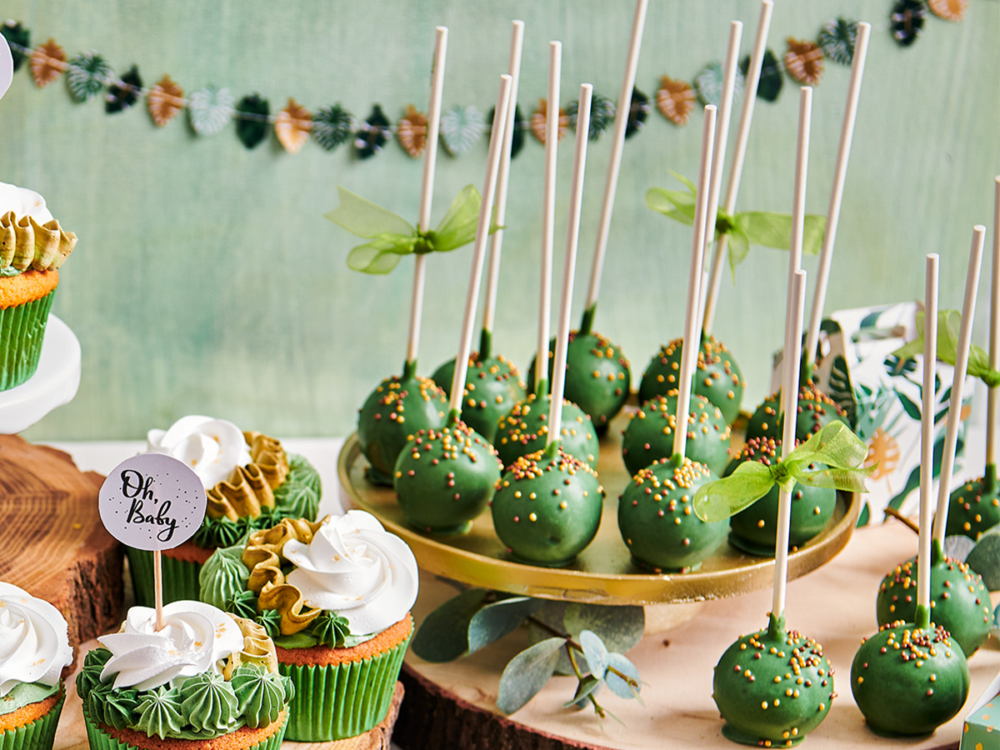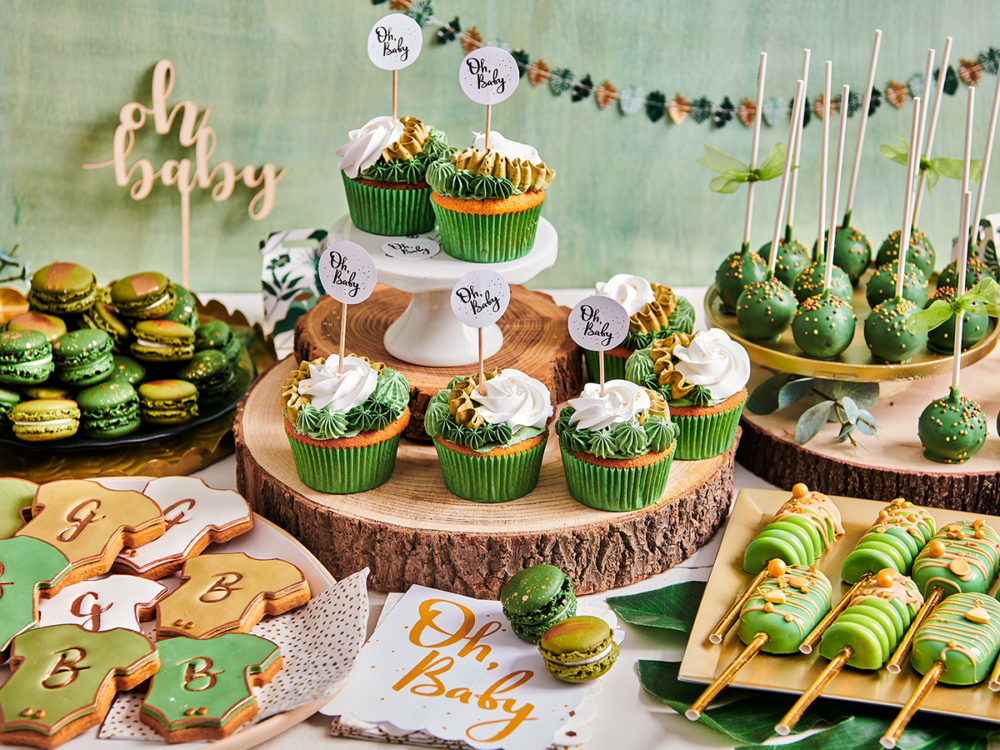 Green with gold cake pops
Dark green cake pops with subtle golden decoration. Part of our Botanical Babyshower table, but these cake pops also fit many other occasions!
What you need to make your green with gold cake pops:
Ingredients
500 g FunCakes Mix for Cupcakes
FunCakes Chocolate Melts White
FunCakes Deco Melts Green
FunCakes Food Colour Gel Holly Green
FunCakes Nonpareils Gold
250 g unsalted butter
5 eggs (approx. 250 g)
Necessities
FunCakes Lollipop Sticks 15cm pk/50
FunCakes Bake Release Spray
Wilton Decorator Preferred® deep, round baking pan Ø 20 x 7,5 cm
Wilton Parchment paper
Wilton Cooling Grid
Preheat the oven to 180°C (convection oven 160°C).
Prepare 500 g FunCakes Mix for Cupcakes as indicated on the package. Grease the baking pan with Bake Release Spray and fil with the batter.  Bak the cake for 55-60 minutes and release on a cooling grid afterwards to let it cool down completely.
Melt a some white Chocolate Melts at 450W (max. 500W). Stir the melts well every 15-20 seconds. Stop heating once the melts are almost completely melted (small pieces still visible). Keep stirring until it is completely smooth.
Crumble the cake and mix it with some melted white chocolate melts until you have reached a nice dough. Roll it into balls of about 20 g and let it rest for half an hour in the fridge.
Line a baking tray with parchment paper. Insert the end of the lollipop stick into the melted Deco Melts and press the melts side of the lollipop stick into the dough ball. This prevents the dough balls from sliding off the lollipop sticks. Then put the cake pops in the freezer for half an hour to an hour.
Melt 450 g green Deco Melts the same way and colour these even darker with the holly green food colour gel.
Get the cake pops out of the freezer and dip them in the green melts. Tap off the excess melts against the edge of your bowl and immediately sprinkle some golden nonpareils over it.
Place the cake pops back in the refrigerator to allow them to harden.
Tip! Make these cake pops for a botanical baby shower, along with the other recipes from this sweet table!
Just a little while before you can enjoy your pops. Don't forget to share your creation:
#funcakesbyme