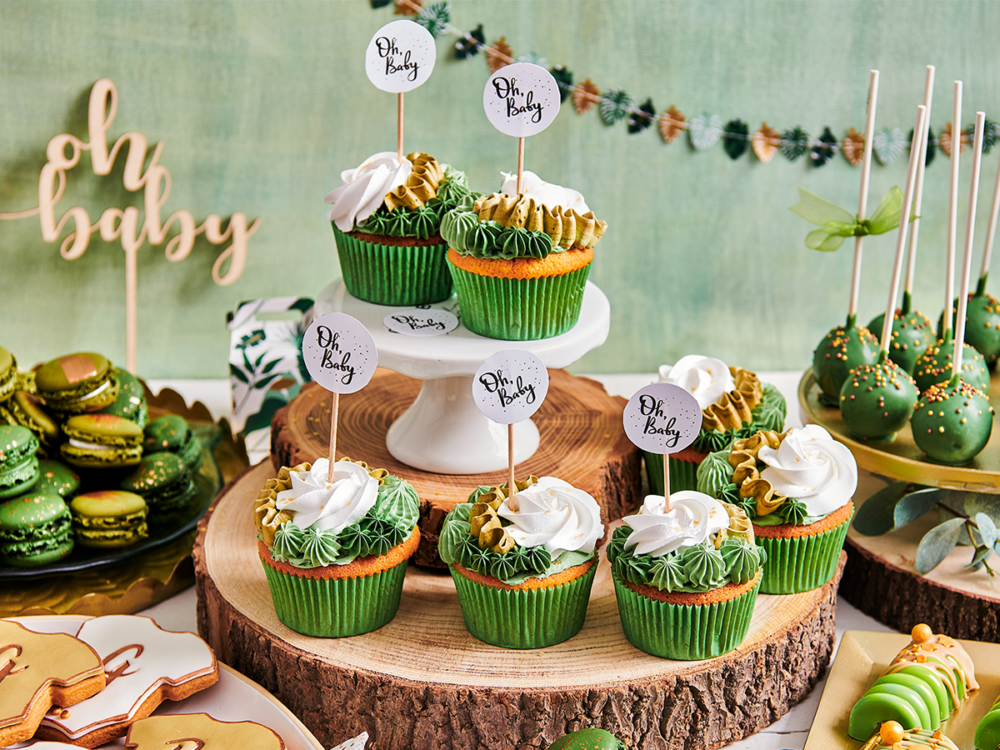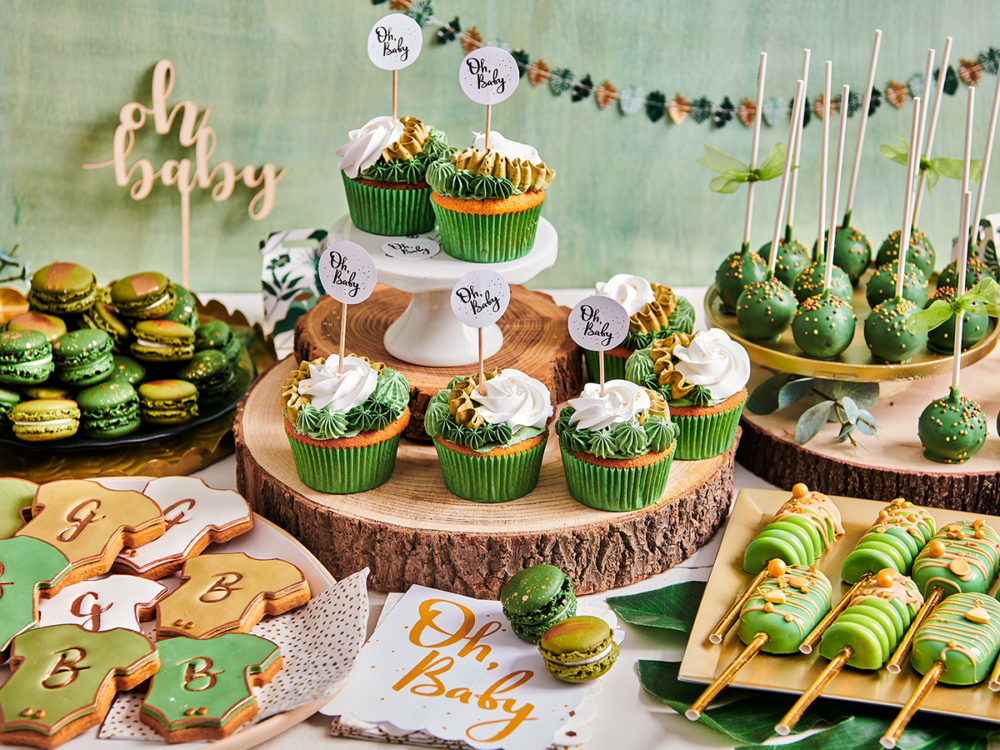 Botanical babyshower cupcakes
Are you not into blue and pink or would you like a gender neutral baby shower? Then choose a botanical baby shower! These cupcakes should certainly not be missing on the sweet table.
What you need to make your botanical babyshower cupcakes:
Ingredients
500 g FunCakes Mix for Cupcakes
150 g FunCakes Mix for Enchanted Cream®
FunCakes Food Colour Gel Leaf Green
FunCakes Food Colour Gel Holly Green
FunCakes Food Colour Mint Green
FunCakes Food Colour Paste Ivory
Rainbow Dust Edible Stars Gold
250 g unsalted butter
5 eggs (approx. 250 g)
100 ml milk
100 ml water
Necessities
FunCakes Baking Cups Mass Green
FunCakes Decorating Bags
Wilton Wilton Recipe Right® Muffin Baking Pan
Wilton Tip #1M Open Star
Wilton Tip #104 Petal
Wilton Tip #032 Open Star
Wilton Tip #021 Open Star (2x)
Cupcake topper of your choice
Preheat the oven to 180°C (convection oven 160°C).
Prepare 500 g FunCakes Mix for Cupcakes according to the instructions on the package. Divide the baking cups over the muffin pan and fill them with batter. Bake the cupcakes for 18-22 minutes and let them cool down completely afterwards.
Prepare 150 g FunCakes Mix for Enchanted Cream® according to instructions on the package. Divide in 4 different portions. Color one portion dark green with the leaf green food colour gel, one portion a bit lighter with the holly green gel and one portion khaki green by mixing the cream with the ivory colour paste and a tip of leaf green colour gel. Leave one portion plain white.
First spread a layer of green cream over each cupcake with a palette knife, this will make the small swirls stick better.
Divide the decorating tips over the decorating bags and fill them with the different colours of Enchanted Cream®. Pipe a rosette on one third of the cupcake. With a zigzag motion, pipe a spiral next to the rosette and fill the rest of the cupcake with small and large drop flowers.
Finally, decorate the cupcakes with the stars and a cupcake topper.
Tip! Make the other recipes of this sweet table as well.
Just a little while before you can enjoy your cupcakes. Don't forget to share your creation:
#funcakesbyme