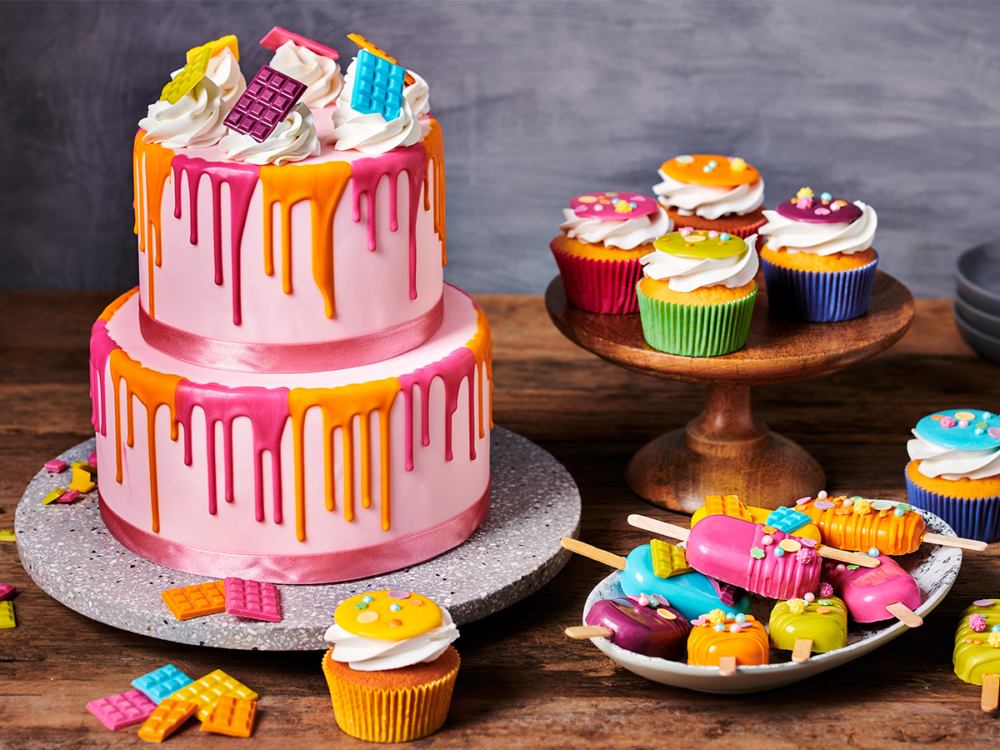 Deco Melts cupcakes
Decorating is easy and fun. Decorate together with you kids these deco melts cupcakes. Let your creativity go!
What you need to make your deco melts cupcakes:
Ingredients
500 g FunCakes Mix for Cupcakes
150 g FunCakes Mix for Enchanted Cream ®
FunCakes Deco Melts in various colours
FunCakes Nonpareils
FunCakes Pearls
FunCakes Strands
FunCakes Medleys
250 g unsalted butter
100 ml melk
100 ml water
5 eggs (aprox. 150 g)
Necessities
FunCakes Decorating Bags
FunCakes Baking Cups
Wilton Parchment paper
Wilton Recipe Right Muffin Pan
Wilton Tip #1M
Wilton Cooling Grid
Preheat the oven to 180 ° C (convection oven 160 ° C).
Prepare 500 gram FunCakes Mix for Cupcakes as indicated on the package. Place the baking cups in the muffin pan and fill the cups with the batter. Bake the cupcakes for 18-20 minutes in the middle of the preheated oven light brown. Let the cupcakes cool using a cooling grid.
Melt the Deco Melts at 450W (max. 500W) in a separate bowl per color. Stir the melts well every 15-20 seconds. Stop heating as soon as the melts have almost completely melted (small pieces are still visible). Keep stirring until completely smooth.
Line the baking sheet with the parchment paper. Fill the decorating bags with the melted Deco Melts and cut off a small dot. Spray generous caps on the baking paper and tap the plate on the table so that it is nicely smooth. Sprinkle the FunCakes sprinkles directly over them and let them harden in the fridge for about 10-15 minutes.
Mix 150 grams of FunCakes mix for Enchanted Cream®. If desired, add the Sparkling Wine flavor paste. Place the tip in the decorating bag and fill it with the Enchanted Cream. Spray a nice swirl on the cupcakes and decorate them with the slices of Deco Melts.
Just a little while before you can enjoy your cupcakes. Don't forget to share your creation:
#funcakesbyme