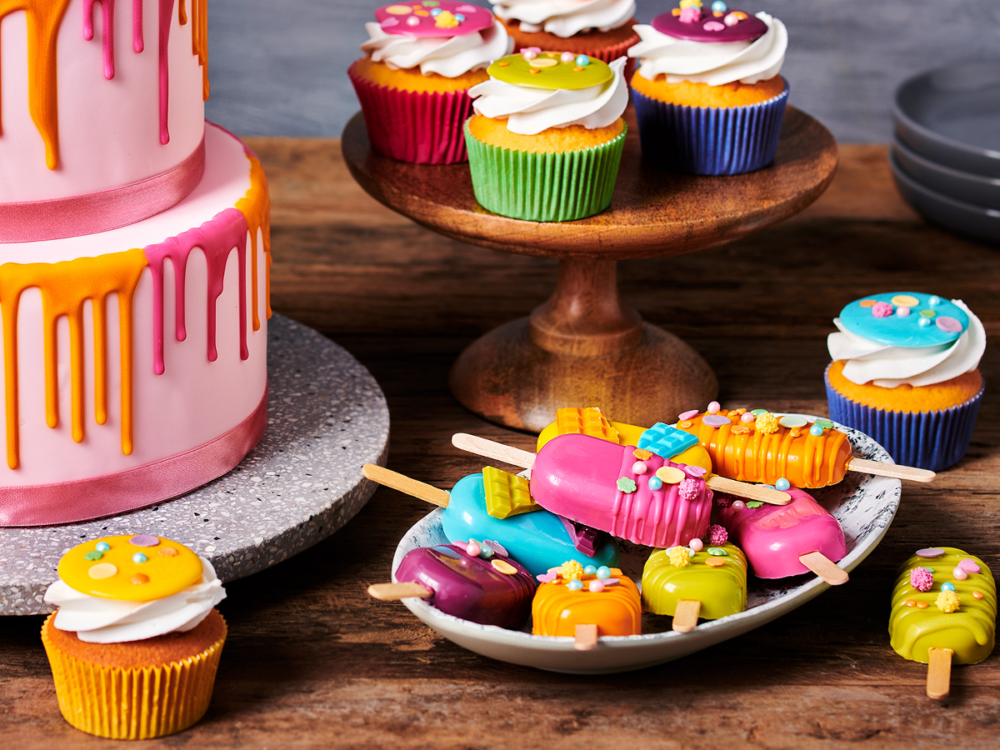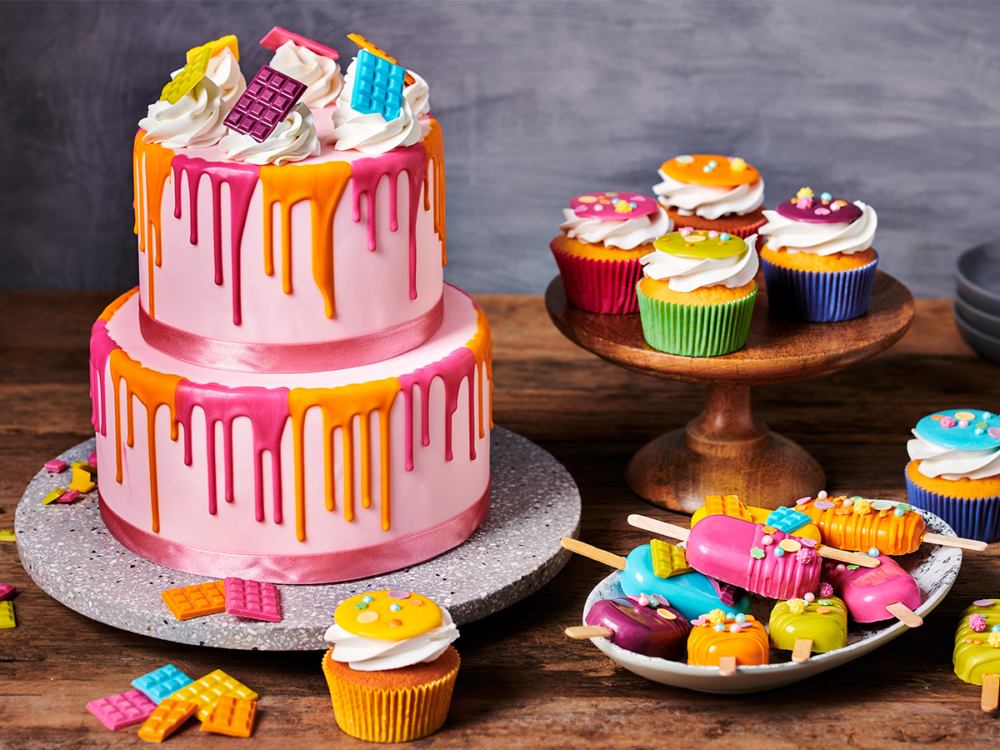 Deco Melts cakesicles
It's time for a party of colors! Make these trendy cakesicles in all kinds of different colors. Decorate them with a drip and some sprinkles and you are ready to go! Don't forget the Deco Melts cake and cupcakes! This way you have a delicious color full sweet table.
1 hour and 30 min. preparing
What you need to make your deco melts cakesicles:
Ingredients
500 g FunCakes Mix for Cupcakes
FunCakes Deco Melts Yellow
FunCakes Deco Melts Orange
FunCakes Deco Melts Purple
FunCakes Deco Melts Pink
FunCakes Deco Melts Light Blue
FunCakes Chocolate Melts White
FunCakes Sprinkle Medley – Pastel Unicorn
5 eggs (approx. 250 g)
250 g unsalted butter
Necessities
FunCakes Bake Release Spray
FunCakes decorating bags
Wilton cooling grid
Wilton Decoration brushes
Silikomart Silicone Ice Cream Mould Classic Mini
Silikomart Chocolade Mould Mini Tablets
Patisse Adjustable Loaf Pan Profi 20-35 cm
Preheat the oven to 180°C (convection oven 160°C).
Prepare 500 g FunCakes Mix for Cupcakes as indicated on the packaging. Grease the cake tin with baking spray and bake the cake for about 55-60 minutes. Let it cool down by using a cooling grid.
Melt the Deco Melts according to the instructions on the packaging, spread it with a brush in the ice cream mold and slide the ice cream stick in, also inject some into the mini tablet mold. Let this set in the refrigerator for 15 minutes. Push the mini tablets out of the mold.
Crumble the cake and mix with some melted white melts until you have a nice dough. Press this dough into the ice cream mold and cover with melted Deco Melts. Let this harden again in the refrigerator for a nice shine.
Then carefully remove them from the mold and drizzle some melted Deco Melts on top. Decorate immediately with the medley and put back in the fridge for a while so that the drizzle can stiffen. Also make a lot of colored mini tablets and stick them on the ice cream with some melted Deco Melts.
Just a little while before you can enjoy your pops. Don't forget to share your creation:
#funcakesbyme