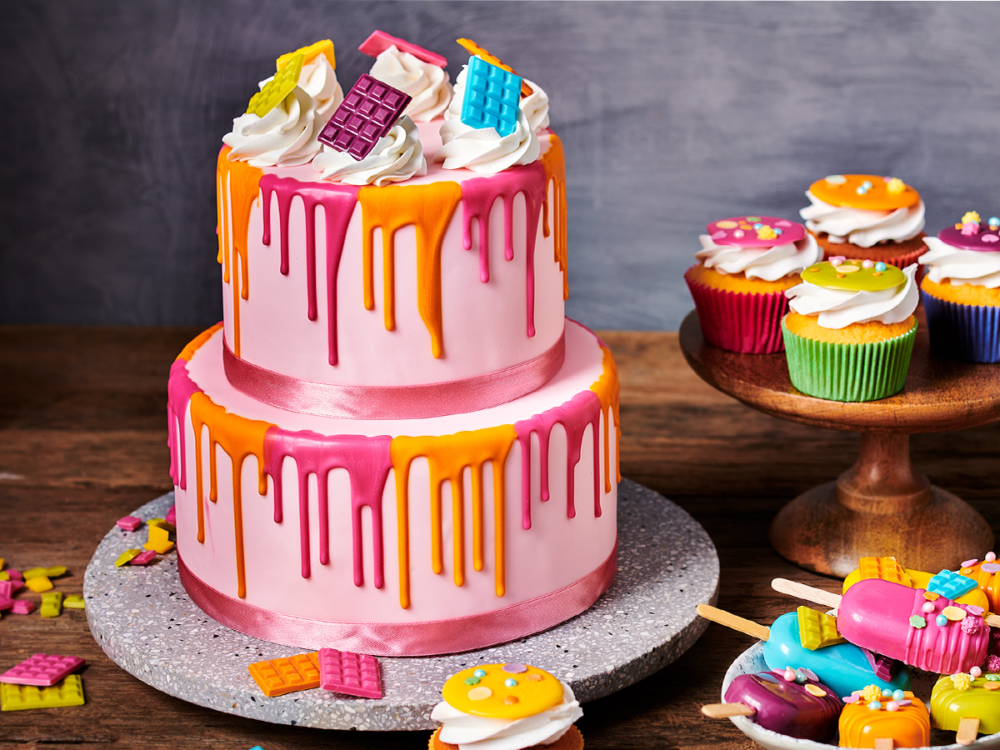 Deco Melts cake
Make decorating a sport. You can decorate your cake completely with the Deco Melts! A drip here and a drip there in all kinds of different colors. Make not only a cake, but also the cupcakes and the cakesicles to complete your sweet table.
1 hour and 45 min. preparing
What you need to make your deco melts cake:
Ingredients
500 g FunCakes Mix for Sponge Cake Deluxe
400 g FuCakes Mix for Buttercream
75 g FunCakes Mix for Enchanted Cream®
800 g FunCakes Fondant White
FunCakes Flavour Paste Lemon Meringue
FunColours Gel Pink
FunCakes Deco Melts Pink
FunCakes Deco Melts Orange
500 g unsalted butter
450 ml water
100 ml milk
8 eggs (approx. 400 g)
Lemon curd
Necessities
FunCakes Bake Release Spray
FunCakes decorating bags
FunCakes Cake Cards Silver/Gold – Round – 15cm
Wilton cooling grid
Wilton Rollin pin 50cm
Wilton Decorator Preferred® Deep Round baking pan Ø 20x7,5cm
Wilton Decorator Preferred® Deep Round baking pan Ø 15x7,5cm
Wilton Basic turn table
Wilton Decorator Preferred Spatula Angled 22,5 cm
Wilton Tip #1M Open Star
Wilton Cake leveler 25cm
Wilton Plastic Dowels Sticks
Silikomart Chocolate Mould Mini Tablets
Preheat the oven to 180°C (convection oven 160°C).
Prepare 500 g FunCakes Mix for Sponge Cake Deluxe as indicated on the package. Grease the baking pans with baking spray and divide it between the two baking pans and bake the biscuits for 30-35 minutes. Let them cool down by using a cooling grid.
Cut the biscuits twice with the cake leveler and fill them with lemon curd and buttercream. Cover the cakes both all around with buttercream and let them stiffen in the refrigerator for half an hour.
Color the fondant with the color gel light pink and cover the two cakes. Stack them together using cut-to-size dowels and a cake card.
Melt the pink and orange Deco Melts according to the instructions on the packaging, put it in a decorating bag and let it slide down alternately along the edge of the cake. Put the cake back in the fridge so that the drip can stiffen and get a nice shine.
Make Deco Melts mini tablets in this way with various colors. Put the Enchanted Cream® in a decorating bag and pipe tufts on top of the cake. Insert a mini tablet here.
Just a little while before you can enjoy your cakes. Don't forget to share your creation:
#funcakesbyme