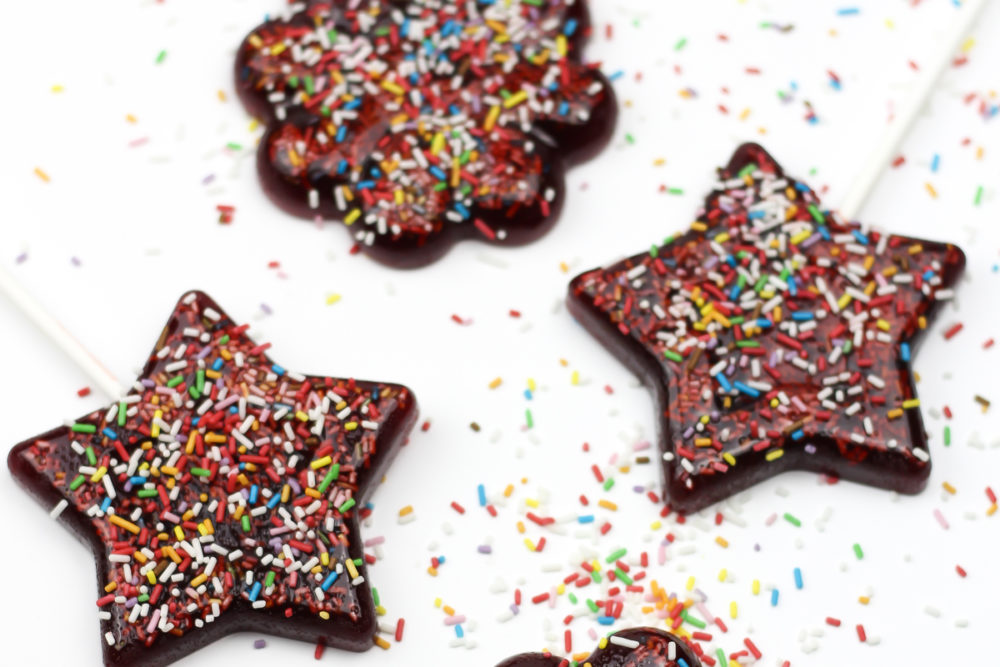 Cherry lollipops with sugar strands
Lollipops, who doesn't like it? It is one of the most famous types of sweets and comes in a variety of colors, shapes and flavors. What is your favorite lollipop taste?
1 hour and 15 min. preparing
What you need to make your cherry lollipops with sugar strands:
Ingredients
FunCakes FunColours Paste – Red
2 tbsp FunCakes Flavour Paste – Cherry
FunCakes Sugar Strands -Colour Mix-
300 g sugar
100 ml water
50 g glucose
Necessities
Wilton Lollipop Sticks
Wilton Lollipop Mould
Sugar thermometer
Insert the lollipop sticks in the mould and sprinkle the bottom of the mould with sugar stands.
Bring 300 gram sugar, 100 ml water and 50 gram glucose to a boil until the sugar is dissolved. Boil the syrup up to 150℃. Remove the syrup from the heat and stir the food colouring and 2 tablespoons of cherry flavour paste through the lolly mixture. Pour the syrup into the lolly mould. Make sure that the sticks are well trapped into the syrup by turning the sticks for a bit. The syrup will harden immediately.
If you don't have a sugar thermometer you can make sure the temperature is good by letting a drop of the mixture fall in cold water. If the drop is hard you reached the right temperature.
Remove the lollipops from the mould and brush the front with water using a brush and add some extra sugar sprinkles.
Just a little while before you can enjoy your pops. Don't forget to share your creation:
#funcakesbyme