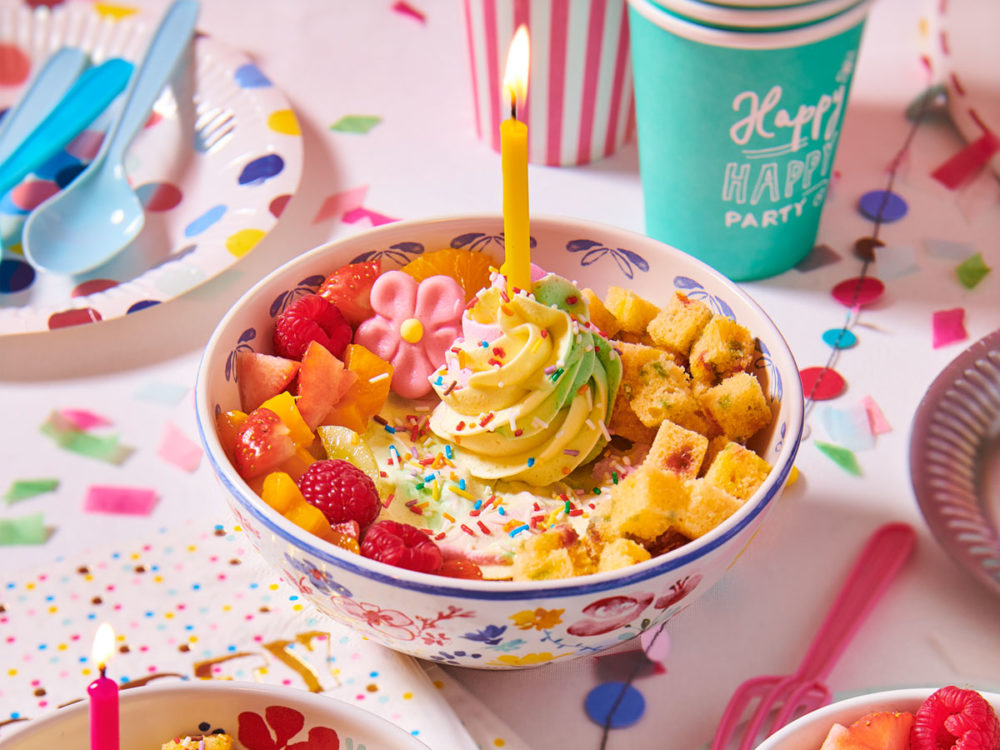 Birthday Cake Bowl
Hip hip hurray! With this delicious cake bowl, a birthday becomes extra tasty and special. Buy some garlands, after eating this cake bowl the party can begin.
1 hour and 10 min. cooking
What you need to make your birthday cake bowl:
Ingredients
500 g of FunCakes Mix for Cupcakes
75 g of FunCakes Mix for Enchanted Cream®
FunCakes Mini Confetti Mix
FunCakes Sugar Strands Colour Mix
FunColours Gel – Pink
FunColours Gel – Bright Green
FunColours Gel – Yellow
250 g unsalted butter
100 ml milk
5 eggs (approx. 250 ml)
Raspberries
Strawberries
Mango
Mandarin parts
Necessities
FunCakes Bake Release spray
FunCakes decorating bag
Wilton Recipe Right® Large Loaf Pan 23,4 x 13,3 cm
Wilton cooling grid
Wilton round cookie cutter - Comfort Grip Cutter
Wilton decorating tip # 1M
Wilton cake leveler
Wilton Birthday Candles Tall Multicolor
6 Flora Castle bowls Gwen Ø 10-12 cm
Clingfilm
Preheat the oven to 180°C (convection oven 160°C) and grease the baking tin with Bake Release Spray.
Prepare 500 g Mix for Cupcakes as indicated on the package and gently stir the whole jar of mini confetti through the batter. Put the batter in the cake tin and bake the cake for 60-70 minutes. After baking, release it on a cooling grid and let it cool down.
Meanwhile, wash the fruit and cut the mango and strawberries into small pieces.
Prepare 75 g Mix for Enchanted Cream® as indicated on the package and divide it into 3 portions. Colour each portion with a different colour of the FunColours Gel.
Place a piece of clingfilm on the kitchen counter and apply with a spatula the coloured Enchanted Cream® in strips next to each other onto the foil. Roll it up loosely and carefully. Put this in a decorating bag with tip #1M.
Cut the cake horizontally into large slices with the cake leveler and cut out circles by using the cookie cutter. Also cut some slices of cake into small cubes.
Tip! If you can't get an entire circle out of one slice, place two slices next to each other and then cut out the circle.
Place a round slice of cake on the bottom of the bowl. Add a layer of Enchanted Cream® on top. Then pipe a nice high swirl with the cream.
Place the pieces of fruit on one side of the Cake Bowl and some cake cubes on the other side. Sprinkle some Sugar Strands over it and put a candle in the swirl.
Life is short, lick the bowl!
Just a little while before you can enjoy your cake bowl. Don't forget to share your creation:
#funcakesbyme