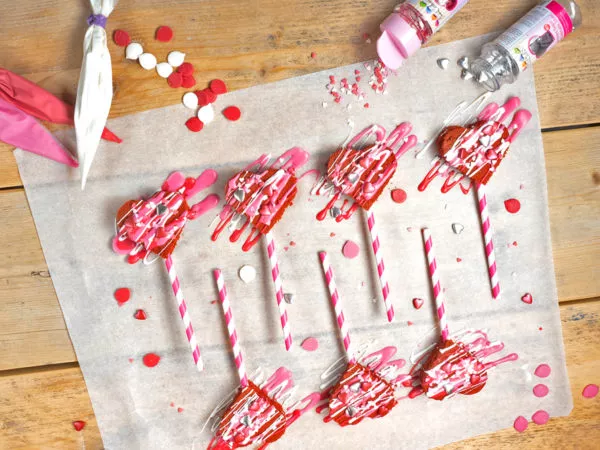 Red velvet Valentine's Day lollipops
Valentine's Day is a day filled with love, the day that you love someone a little more and let the other person know how much that person means to you. We don't know a better way to do that than with these red velvet Valentine lollipops. Who are you going to declare your love to?
1 hour and 5 min. waiting
What you need to make your red velvet valentine's day lollipops:
Ingredients
400 g FunCakes Mix for Red Velvet Cake
FunCakes Deco Melts - Red
FunCakes Deco Melts - Extreme White
FunCakes Deco Melts - Pink
FunCakes Mini Hearts - Pink / White / Red
FunCakes Sugar Hearts Bordeaux
FunCakes Sugar Hearts Metallic Silver
2 eggs (approx. 100 g)
80 ml vegetable oil
160 ml water
Necessities
FunCakes Bake Release Spray
FunCakes Decorating Bags
PME Deep Square Pan 20 x 20 x 7,5 cm
Wilton Cooling Grid
Wilton Cake Leveler
Wilton Parchment Paper
Cookie cutter heart 8 cm
Colored straws or popsicle sticks
3 microwave safe bowls
Preheat the oven to 180°C (convection oven 160°C).
Prepare 400 grams of FunCakes Mix for Red Velvet Cake as indicated on the package. Grease the baking pan using a baking spray and fill the greased baking pan with the batter. Bake the cake in the middle of the preheated oven in 35 – 40 minutes. After baking, release the cake and let it cool down on a cooling grid.
Cut the red velvet cake in half using the cake leveler and cut out hearts out of both slices. Carefully insert a straw or popsicle stick into each heart and place them on a piece of parchment paper. Melt at max. 500W in a bowl. Stir well every 15 – 20 seconds. Stop heating when the melts are almost completely melted (small bits of melts still visible). Keep stirring until the melts are smooth and completely melted and put the deco melts in decorating bags. Cut off a small tip and drizzle the melts over the cake hearts. Decorate directly with the sugar hearts. Let the deco melts stiffen in the refrigerator for 5 minutes.
Tip! Cover the cakes with plastic foil and store it at room temperature.
Just a little while before you can enjoy your pops. Don't forget to share your creation:
#funcakesbyme